Today, I'm back with an easy and beautiful
wine bottle craft
 for you. You may have seen my post about the
Winter Centerpiece
I made from wine bottles and Epsom salt, if you haven't you can click over and take a look. It's OK, I'll wait here for you. 🙂 In this post I'm going to show you how to put it together.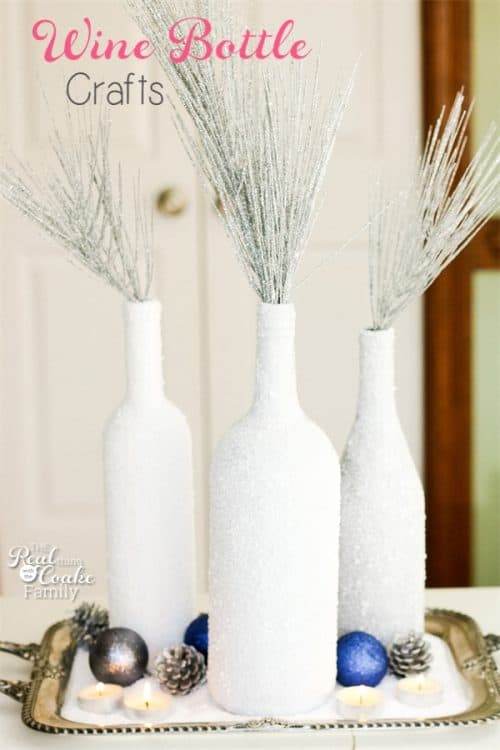 I got the inspiration for this project from, Cleverly Inspired: 
Wine Bottles= Christmas Display
. I made my wine bottles very similar to her tutorial. I did change a few small things in my effort to try to make crafts and be the most environmentally friendly I can figure out how to be and/or have the resources to be.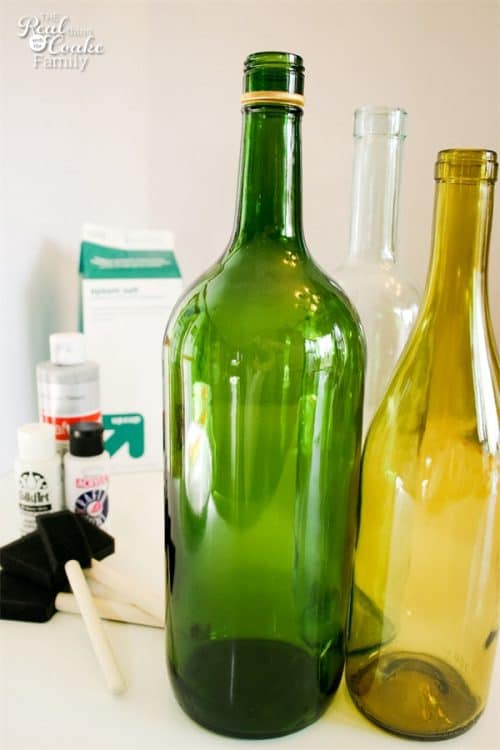 Supplies:

You will need to start with empty wine bottles with all the labels and such removed. I used 3 different shapes and sizes because that is what I like, but you could use the same size and shape if that is your preference.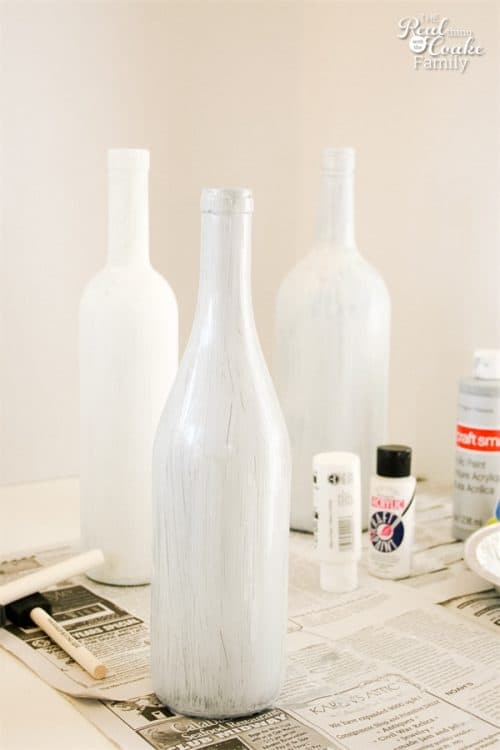 Paint your bottles. This pictures shows only one coat of paint. I used 2 colors of paint to achieve 3 slightly different color bottles. I used a white paint and a silver paint. I painted one bottle white, one silver and one a mix of the two colors.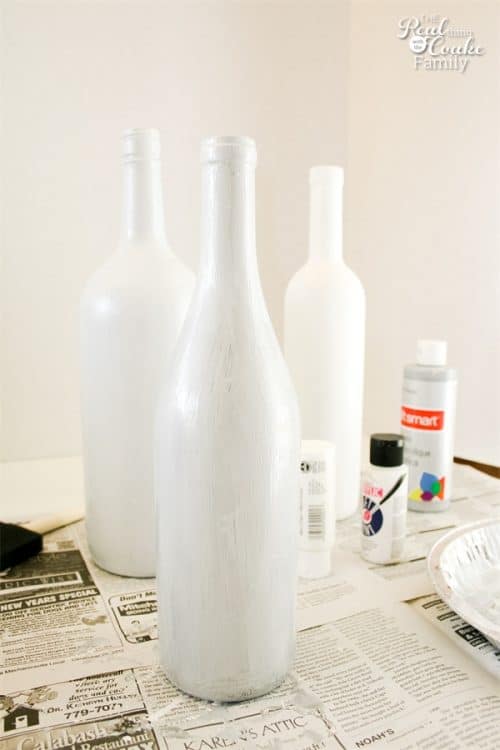 After two coats of paint there will be less streaking. If your paint is like mine, it will be very easy to peel off…or maybe that is because I was impatient and didn't wait the full drying time and such and so on.
I was a little nervous to try the silver paint, but it turns out it is my favorite bottle and I kind of wish I had painted them all silver. With the Epsom salt on it, it makes the bottle look like sparkly jewels and makes the white of the Epsom salt pop even more. It just seems to sparkle more than the solid white bottle.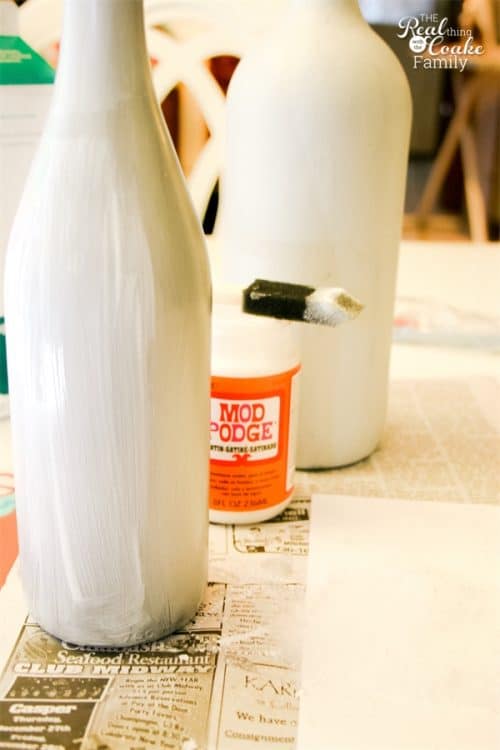 I didn't want to use the spray adhesive that was used on the  
Cleverly Inspired
 site. I don't like aerosols, they are just so bad for the environment. I decided to try Mod Podge. It worked perfectly. Paint the Mod Podge onto your bottle. Have your Epsom salt ready. I poured mine out on the white piece of paper you can see a little of in the picture above. Roll your bottles in the Epsom salt to cover completely.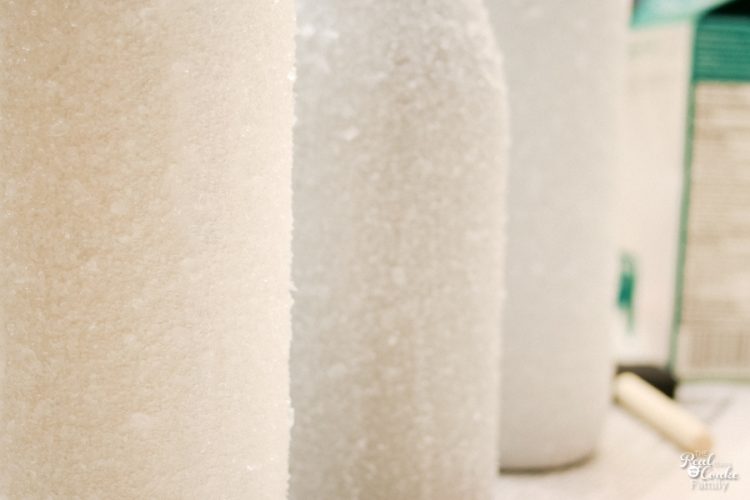 Using this method you won't be able to cover the necks of the bottles. I then covered the tops with Mod Podge and took them to the sink. It was messy, but I really wanted the whole bottle covered. So, I poured Epsom salt onto the bottle necks to get them covered. I first tried doing this at the table…please learn from me and pour at the sink. Unless you like crunching around on salt for days and such.
Let the bottles dry and they are done. So easy and so pretty!
If you saw my
Winter Centerpiece
post, then you know what I did with these bottles. For those who haven't seen it, below is a sneak peak. Then I want to show you how I did one more part of this centerpiece.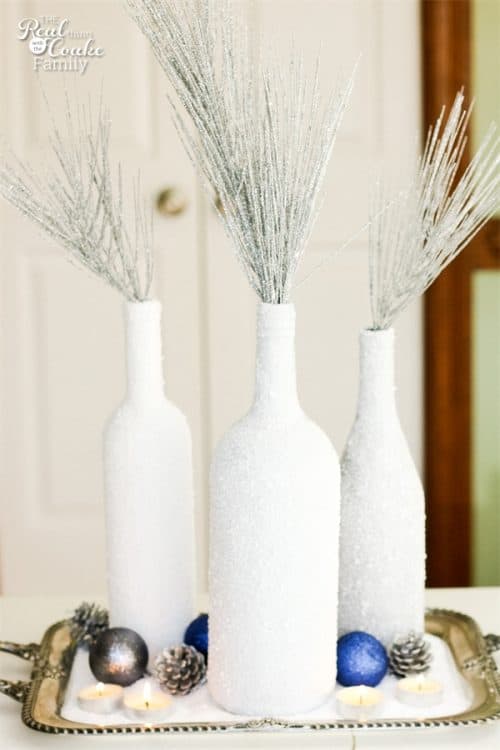 Do you see those three branches? I picked up 1
sparkly branch

(affiliate link) on clearance after Christmas for $3. Which made this centerpiece super cheap! I (well Mr. T) cut it into 3 branches.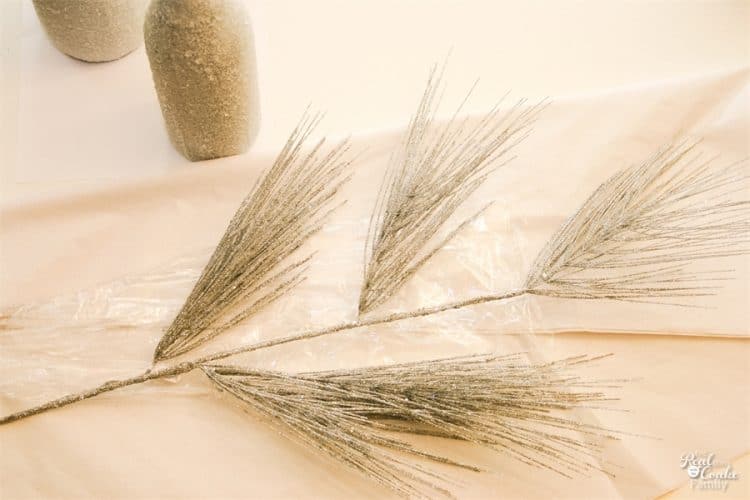 You will want to cut your branch below the top two pieces and separating the other two portions into their own branch, so that you end up with 3 different sections.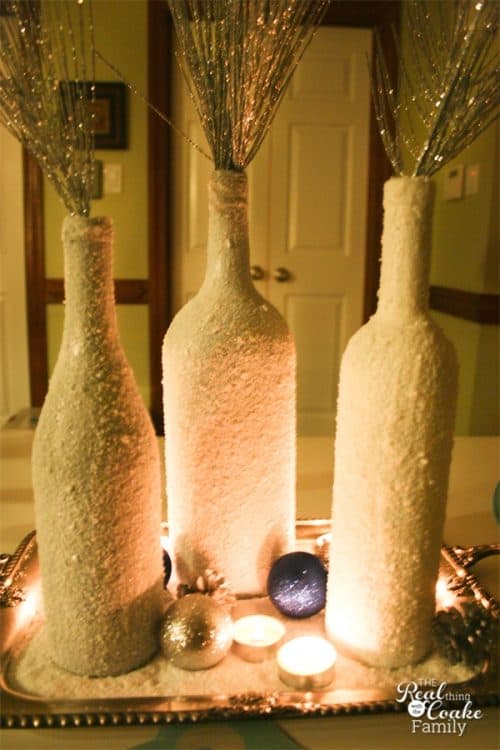 When you are all done, you will have a beautiful centerpiece that was easy and inexpensive to create! Love that combination! Of course, there are so many other ideas of what you could do with these bottles. I have a feeling they may be on my mantel next winter.
Follow me on Facebook or Instagram to see even more fun crafts and ideas.