Today, I get to show you one of my favorite gifts I gave or received this year! I made my girls Girl Scout uniforms for their American Girl Dolls. I'm going to show you what I made as well as show you the free American Girl Doll patterns so you can make your own.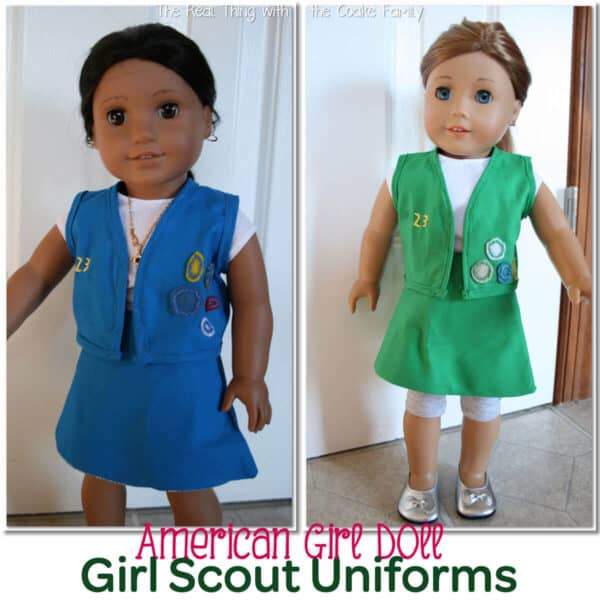 I have a Daisy scout and a Junior scout. I made one uniform for each of those levels. I made white t-shirts for the girls. I used the same Liberty Jane pattern I used in this post.
Sewing American Girl Doll T-Shirts
. This time I used a regular cotton fabric rather than a t-shirt fabric. It was much easier to work with, though I think I like the look of the jersey fabric better.

For the vest, I found this pattern and tutorial on
Bear, Dolly, and Moi
:
Doll Brownie Vest
She shows you three different ways to make a vest. I went for the first one, the most authentic looking and also the most challenging. It wasn't that hard, I just had never made bias tape before.
You will need to make or buy bias tape. I didn't buy it because I wanted it to match my fabric exactly. I had never made bias tape before (and I am sure you can tell that if you look closely at the vests). I found a tutorial for making continuous bias tape on Coletterie. Continuous Bias Tape Tutorial. It was very helpful. I cut mine in half from what she recommended which made it smaller to work with. It was the right amount for this project. I ended up getting the bias tape maker

(affiliate link) tool she shows in the tutorial. I can't imagine making it without that tool. It was really helpful, but I still found bias tape to be a challenge.

To add embellishments to the vest, I used embroidery floss and felt. Above, you can see the detail of the Daisy vest. I cut out a few pieces of felt and used blue embroidery floss to sew them into place (another job done while earning continuing education credits during the holidays). As you can see, I tried to make the center blue Promise patch and some of the petals the Daisy's earn.

The Junior badges are round, so I cut circles out of different colors of felt. I used green embroidery floss to attach them. I thought the way that I sewed them on kind of approximated the edge of the badges, but Snowflake told me it was weird…so there is a 10 year old opinion for you. Of course, then she wanted to take it to the next Girl Scout meeting where she proudly showed it off. So, you can pick what you think about that.

I used my favorite super easy skirt pattern to complete the uniforms. I have written about these skirts multiple times (
Sewing American Girl Reversible Wrap Skirts
and
Free Doll Clothes Pattern: Holiday Reversible Wrap Skirt
). You can click through to either of those posts for the free pattern as well as my recommendations for sewing these skirts. They are reversible, super easy, and I think super cute. I love the fabric I found for Pumpkin's Daisy uniform. Snowflake loves her fabric. I'm not super in love with it, but it was the best I could find that went with the uniform.

We caught the girls while they were working on being caring and considerate and a pet care badge. 🙂

One last look at the vests.
Special thanks to my models, Josefina and Samantha. Josefina is a new addition to our family this Christmas. Additional special thanks to Snowflake, doll stylist for this photoshoot! You did a fantastic job, sweetie! Thank you.

Do you follow me on Instagram? You should! I love IG and share all kinds of other ideas and inspiration that I can't share here. 🙂 Can't wait to see you over there!