I was totally planning to show you my playroom re-organization and purge today, but I have been fighting a cold this week and am behind. I just couldn't do it to put together those pictures. It was more detailed than I could handle today. I hope you understand. Instead I'm going to show you a peek of that project and show you a storage solution we came up with for our playroom. It involves some shelving as storage for some of our kid's toys AND it was cheap, but it also looks really nice! Love it!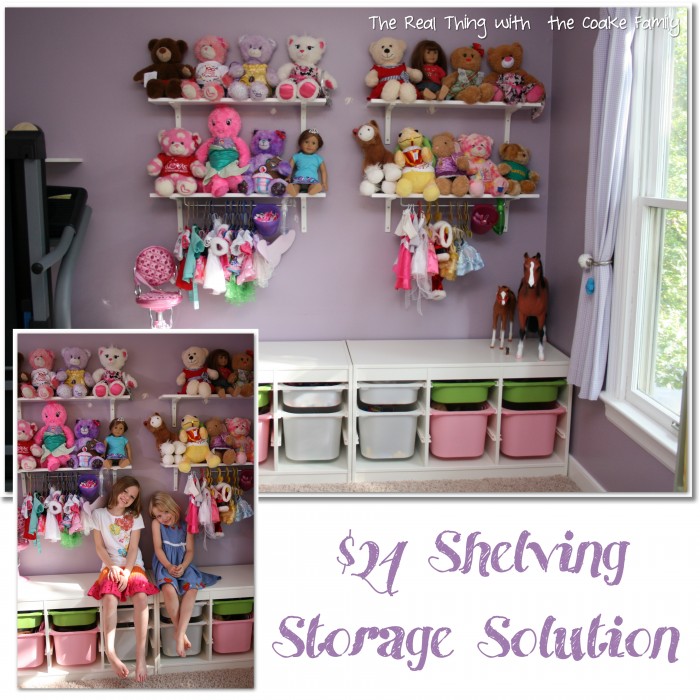 Do you think they like it? Ummmm, yep, they are really happy with the final product!
This project all started with my oldest daughter, Snowflake, knowing that every year around this time, we reorganize and purge the playroom. She loves Build-A-Bears and has nearly 30 of them. We were running out of room under her bed to store them all (Her bed is open underneath and has space that she can actually display them under there). She came up with the idea to put up lots of shelves and have them all on display. She also wanted some kind of hanging bar on which to hang all her Build-A-Bears clothes. Initially, I had no idea how I was going to pull off her request as the only ideas I could think of, would cost quite a bit more than I had budgeted.
While on a trip to IKEA, I spotted these:

The boards are unfinished and a little over 31″ long. They were also only $2.99 each. Yes, put those in my cart…now! I picked up 4 of them. 2 for each girl. I know that is not enough shelving to hold 30 Build-A-Bear's, but I gave up on having the wall space for that long ago. We already knew we were going to add the TROFAST you could see in the first picture, so I wanted something that would go above it and hold 8 to 10 of each of their stuffies.

With the boards for the shelves, I need a way to hang them on the wall and a way to make a hanging rod. Inspiration hit while perusing IKEA. First I found the white brackets you see above. They were $0.50 each, so $4.00 for 8 of them. I then found the rod($2.99) you see and figured it could be secured underneath one of the shelves to act as hanging storage. We added the fun hanging cups($0.99 x2) to add some color, but also to store some little things.

Here are all the item numbers and names for you, in case you want to make this yourself. If you don't have an IKEA, I am sure you could find substitutions for these items at a local home improvement store. I am sure the prices would probably be a little bit more, but I think you could likely find a good deal.

My lovely $3 boards ready for their makeover. Of course I knew I didn't want to use the boards 'as is.' So Mr. T and I primed and painted them white.

Primed but not painted yet.
After priming and painting them, Mr. t and I had to have serious discussions about the depth of the rod and exactly where it went. Suffice it to say, if you do this, pay attention to your hanger and how much clearance room they and the clothes will need from the wall. It isn't hard, it just needs to be planned out before you start drilling, which we did.
Mr. T is quite particular about the types of screws he uses in projects like these, so he did needed a trip to the home improvement store to get just the right type, because of course we don't have them among the hundreds we already have. He wants me to tell you that you will need 2 different types of screws. You will need one with a shorter depth to go into the bracket and the wood and a longer screw to go through the bracket and into the wall. If you want more tips on that, just leave questions in the comments and I'll get the answer for you. I just let him do this part because it is easier than us fighting about his way or a way I think would work.

Mr. T hard at work getting those shelves screwed to the wall and getting them all level, which is a hard task in our house. Poor Mr. T got me for his wife. I seem to have eyes that can tell if something is even 1/16″ off level. He does a great job, I just have laser level eyes apparently. Anyway, he got them all up, working hard one night while the girls slept.

They woke up to find this! AND they love it! Of course, even though this was Snowflake's idea from the beginning, she did have to prove she is 10 and ask my why on earth I put up the hanging rod. Then roll her eyes at me when I told her it was her idea. Anyhoo…she likes it so I'm not sure what that was about.

As you can see, the shelves get used for both Build-A-Bear's and American Girl Dolls. I love how the hanging rod turned out. Well, really I love the whole thing. It looks so cute and cheery and it is fun to see their cute dolls and stuffies on display, when they are there and not being played with.

You can see above, we found that our water bottles (for spritzing the American Girl Dolls hair before you brush it) fit well over the hanging rod. Pumpkin uses her pink hanging cup to store a few small accessories. If you noticed, Snowflake uses her purple hanging cup to store her hundreds of bows for her Build-A-Bears.

Technically the cost of this whole shelving storage solution was $23.92, but I didn't think you would mind if I just said it was $24. Can't believe I figured out a stylish, pretty shelving storage solution for only $24! Yippee!
The shelving and the Trofast make such a difference in the playroom. I can't wait to show you the whole playroom next week. 🙂
More Organizing Fun For You: