I've got another cute
American Girl Doll clothes pattern
 for you today. This time I set out to make a maxi skirt for our dolls to match the
maxi skirts I made for my girls
.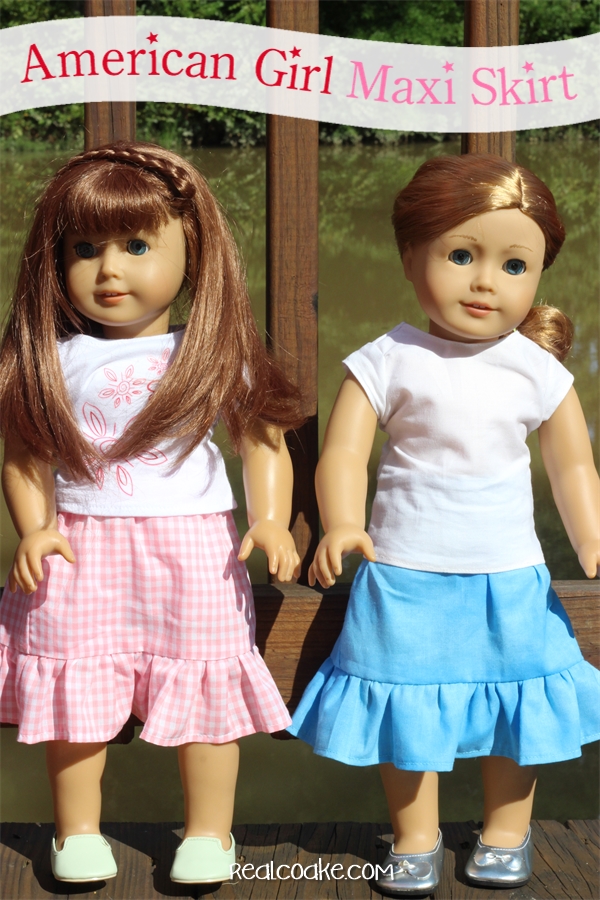 This was another easy pattern with cute results. Gotta love that combo! As usual I have a tip or two for you if you decide to make this pattern as well.

As I told you last week, the nice folks at Liberty Jane Patterns gave me a few patterns to try. We picked out the American Girl Doll backpacks I showed you last week as well as this Trendy Maxi Skirt pattern and one additional pattern I hope to show you next week. The maxi skirt pattern is $3.99 and is fairly easy to make.

When I left you last time, I was showing you the
maxi skirts for girls
I made. My girls wanted to match their dolls for their first day of school. So, this cute maxi skirt for the dolls was the perfect solution. I only had one issue with the pattern and I have a tip for you so you can avoid my issue.

The instruction tell you to sew three lines across the top of the skirt as casing for the elastic. I didn't pay quite enough attention when I was sewing mine, so I didn't leave all of them wide enough for the 1/4″ elastic to fit in. Therefore I was only able to use 2 pieces of elastic at the waist instead of the recommended three. The skirt will work and fit just fine with only 2, it just makes it look slightly different….very slightly.
When you get to the point of pulling the elastic through the casing, I highly recommend that you pull all two or three pieces of elastic at the same time. On my first skirt, I pulled one piece then the other piece. I ended up having to hold the first piece while trying to wiggle the second piece through. In the end I lost one end of the first piece of elastic and couldn't get it back out. I could have re-threaded it, but I just decided to sew it in place and leave it be.
With the second skirt, I pulled both pieces of elastic through at the same time and found it to be so much easier.

The result of the pattern is a very cute skirt with a cute ruffle at the bottom. I'm not sure I would really call this a maxi skirt, but it is a cute skirt and my girls and their dolls are happy with them.

Felicity and Paige came out to the pond with us for the photo shoot. They really like this deck overlooking the pond.

Paige was wondering why the water was so muddy. I had to tell her it was because we have had lots of rain lately. Too bad we couldn't see any turtles or fish today.

My gorgeous Snowflake with her doll, Paige, and their matching skirts (and new braces, too)!

My gorgeous Pumpkin with her doll, Felicity, and their matching skirts.
All in all this was another easy pattern that I enjoyed making. I liked sitting down and knocking out two skirts in an hour or so. Those are my favorite kinds of projects!
What are your favorite kinds of projects? The involved kind or the quick and done kind?