Oh my goodness…I'm so excited to show you today's post. I've got a cute idea for American Girl Crafts for you today.
I was asked to take part in
Camp Doll Diaries
over on
Doll Diaries
. Since we love our American Girl Dolls so much, it was an easy yes to say I would take part. Then she gave me a choice of themes…I knew we must take part in the Horse camp!
Today, I've got an activity for you and your dolls as well as a super cute craft I came up with for the dolls and their horses.

On my site today, I've got the cute activity for your dolls and their horses. It is a show jumping competition. You can see Felicity and Saige surveying the course here and getting ready for their turn to show jump. It looks like a pretty challenging course, but I'm sure they and their horses (Penny and Steps High) are up to the challenge.

Before we get to the show jumping competition, let me show you the cute jumps I crafted for our dolls and their horses. There are 3 jumps featuring a fence and bars along with grass, water, and sand features.You can see the tutorial on how to put the jumps together at Doll Diaries: Horse Jumps.
I can't wait to show you the competition we held at our house between Felicity riding Steps High and Saige riding Penny.
We cleared the living room floor and set up our doll ranch (my husband made this from the plans on Bear, Dolly and Moi for Pumpkin for Christmas) and all our show jumps. Then the girls got dressed for the occasion and got their horses tacked up and ready to ride.

Felicity and Steps High were first to take on the course. Felicity is a very experience show jump rider and felt pretty confident about this challenging course.

She set off toward the first jump. The single pole jump with grass beneath it. This jump was featured two times on the course today.
As you can imagine the course can be set up many different ways to vary the ride and the challenge for the dolls and the horses.

She and Steps High easily cleared the first jump and headed toward the fence jump with the water feature.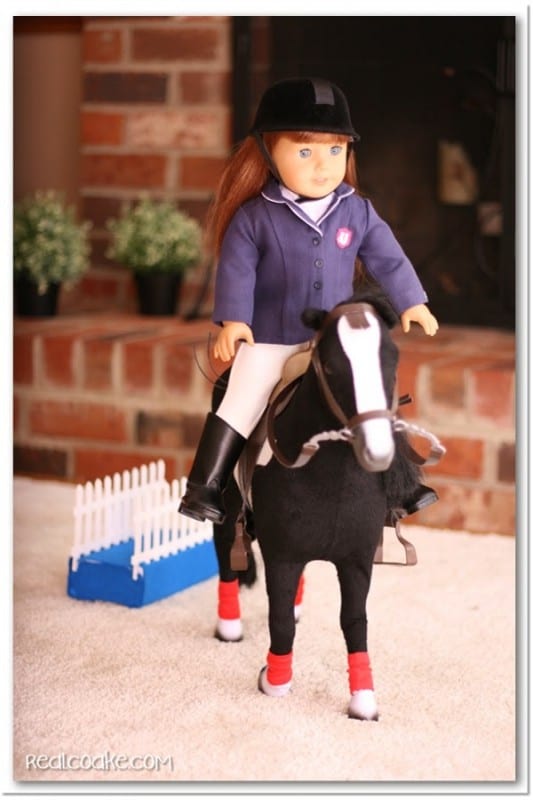 Another easy jump for them to clear. They are now onto the most difficult jump in today's show jumping competition.

The double bar jump with a sand feature is the most challenging for sure. So much can go wrong…so easy to knock a bar of and get a penalty. Felicity and Steps High look very confident.

They clear the double bar jump and head back to the single bar jump with the grass feature to finished the course. Then they ride all the way through the gates to stop the clock.
Our first rider on the course got a perfect score with no penalties. This looks like it is shaping up to be quite the competition.

Saige is up next and she is an experienced rider as well, though riding bareback may be a bit challenging for show jumping. Saige has not ever competed in show jumping and the crowds can sometimes make her feel nervous. Did you see how she got through that at the parade in her movie? Well, I won't spoil that surprise if you haven't seen it, but sometimes she get a little scared in front of crowds.
Today she looks very focused. She heads through the gates and toward the first jump. Oh no! She and Penny hit the first gate and will get a penalty. Saige looks a little bit scared and worried after that mistake.

I think Saige learned her lesson at the parade, because even though she hit the bar in the last jump and was a little scared, she got focused again and made it over the fence/water jump with ease. Way to go Saige!

Saige heads toward the double bar jump and…Oh no! She knocked down another bar and gets another penalty. Showing her true spirit, she just keeps right on going and heads for the last jump.
She clears the last jump and gets through the gates to stop the clock. She didn't get a perfect score, but she sure did a great job for her first time show jumping. She also did  great at finishing the course no matter what.

Saige and Felicity met up after the competition. They were so excited and congratulated each other on how great they each did. It sure was a fantastic competition!

Then the judges came out and awarded the trophy to the winner. Felicity and Steps High are the winners of the first annual American Girl Doll Show Jumping Competition!
Congratulations to Felicity and Steps High on winning!
We hope you and your dolls have a fantastic and fun time with the show jumping American Girl Doll craft…we sure have!
More American Girl Doll Fun for You!