I love having something pretty on our kitchen table and I also love for it to be quick and simple to put together. At our house, our centerpiece also needs to be easy to move because our kitchen table gets a lot of use. Today, I'm showing you my simple and pretty fall centerpiece idea.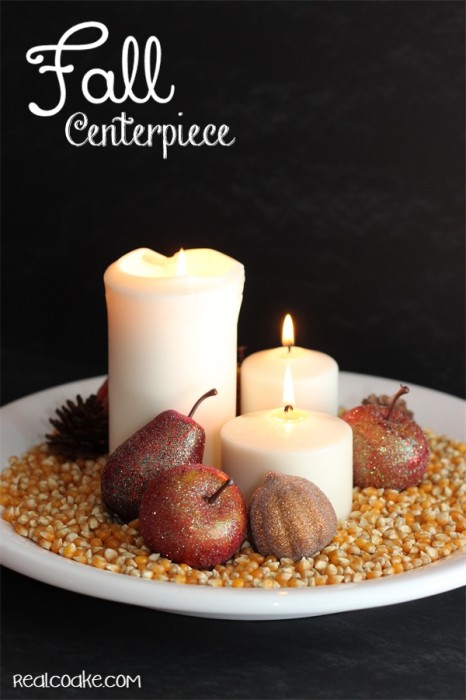 I'd love to show you how I put this together and give you a tip or two on how to quickly add a little bit of Halloween to this centerpiece as well. 

To make this simple centerpiece, start with a large platter or other base on which you want to build your centerpiece.
This is really important, place your candle on the plate first! Then place your filler (popcorn kernels in this case). Building your centerpiece in this order will keep the candles from tipping over and being uneven with popcorn kernels underneath them.
The popcorn kernels are a perfect inexpensive fall filler. You may notice that this seems very similar to the
fall apothecary jars
I showed you earlier this week. They sit in the same room, so it works well to have a similar theme.

Next add your pretty items. I added the
glitterized apples
/pears I made and show you how to make as well.

I also added a few pumpkin and acorns I got in a package in the dollar spot at target. They were packaged as sugar pumpkins.

My family was sitting at the table while I was putting this together. They felt like it still needed a little something. I added a pine cone or two to complete the look.
The centerpiece looks so pretty on our table and so pretty all lit up.

While we love the look of the centerpiece just by itself, we wanted to add a little something Halloween to the table. We added the same feather boa we used in last years
Fall/Halloween centerpiece
. We also added the
glass etched wine bottles
 I showed you how to make last year as well. They still had the red drippings on them from our using them last year. Perfect!

Gorgeous and simple…love it!
After Halloween, I will likely change out the wine bottles to the leaf ones I made last year and add some artificial leaves under the plate much like last year because it is just so pretty. You can see that here: 
Thanksgiving/Fall Centerpiece
.
How do you like to decorate your table? Do you change your decor from Halloween to fall?