While I was on a roll making clothes for my girl's American Girl dolls, I also made some t-shirts. I made two different t-shirts and wanted to share my experience and tips with you.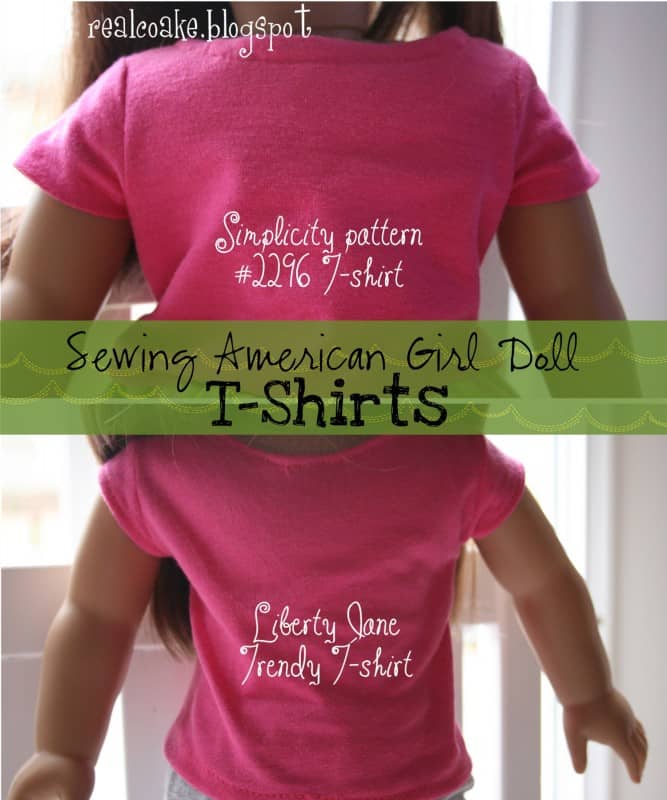 Can you see the differences between the two shirts pictured above. The simplicity pattern has more substantial sleeves as well as interfacing near the collar. The Liberty Jane t-shirt looks more form fitting (that sounds weird to write about a doll t-shirt) and narrower hems, which look a little more t-shirt like to me.
Regardless of the differences in appearance, one of these t-shirts was much easier to make and work with, even if it took a little more time. Although I am not actually sure it did take more time. The Simplicity pattern, with the interfacing, just felt so much easier to work with . The jersey knit was challenging to work with on the Liberty Jane t-shirt pattern. It just had me sew up the small hem. It was so frustrating to work with the jersey material and try to get it to stay so I could sew it. With the Simplicity pattern the most difficult part, the neckline, had the interfacing. It made it sooooo much easier to sew it and get a 'professional look.' It does change the look of the t-shirt from a casual t-shirt to perhaps a dressier t-shirt (again weird to write about doll clothes, but I will continue on). I feel like the larger sleeves on the Simplicity pattern made it easier to get them to come out even and look right versus on the Liberty Jane t-shirt which has small sleeves. Of course those smaller sleeves do look more trendy and 'current,' hence it's name as the Liberty Jane Trendy t-shirt.

Close up of the different sleeves.

Looking at the back of the shirts, there is a problem. The Liberty Jane t-shirt uses a piece of Velcro along the full opening in the back while the Simplicity t-shirt said to sew the shirt 1/2 way and use Velcro only at the top. As you can see from the pictures, this method does not work for my Pumpkin. The t-shirt had this rip in it after only 1 day. I think she only put it on and off once or twice. It was just too hard for her to do it carefully and if you have kids, you know that finicky things don't last long. The full Velcro just works so much better and easier for kids. That must be why the Official American Girl items like this all use a full Velcro back opening!
So what's a girl to do? I think when I make t-shirts again, I will probably make the Simplicity shirt again. I think I like the look of the Liberty Jane t-shirt a little better, but I just found it so much more frustrating. I think when I make shirts again, I will meld the two patterns together. I will use the interfacing at the neckline(Simplicity). I will use Velcro for the complete opening in the back(Liberty Jane). I think to make the Simplicity t-shirt look a little more like I prefer, I would make it a little longer and a little more narrow through the waist. I might even try to make the sleeves a little smaller, but that intimidates me a little, so maybe not. I guess those are quite a few changes, but that is how we get what we like, right? I think of that as one of the points of making things myself, besides the huge savings!
Here is a link to the 
Liberty Jane Trendy T-shirt pattern
, which is free, and to Amazon for the
Simplicity Sewing Pattern 2296

.
If you make or have made any doll t-shirts, please leave a comment with other tips or patterns that work really well. I would love to hear all about it for my future sewing endeavors.
Thanks for stopping by!
More American Girl Doll Fun: