A little while ago I showed you one of the gifts I made for a
teacher's gift
. Today I want to show you what I made for our
Girl Scout Leader Gift. 
This year I decided to find an 
inspirational quote
 to put in a cute frame for the Girl Scout Leaders in our lives.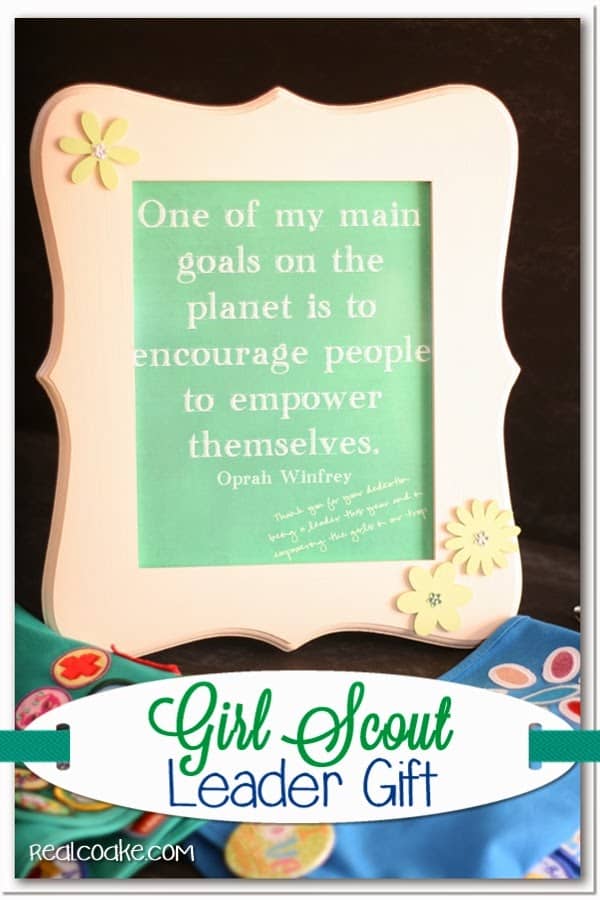 I absolutely love the shape of these frames. I hope the women we are giving them to, love them as well. Let me show you  how to put this simple but pretty gift together. 

Supplies:
Frame ( I have 3 there because I made 1 for our main leader, 1 for the Junior leader and 1 for my Daisy assistant leader)
Paint
Paint Brush
Primer
Decorative Embellishments
Adhesive
Inspirational Quote
To make these frames. I tried to pick neutral colors with which to paint them. I am hoping they will go with the decor of the leader's home.
Start by painting a coat of primer over the frames. I didn't want the wood grain showing through, so I felt this step was necessary. Then paint two coats of your base paint on the frame. Your frame is already finished, but let's add a little something else to the frame for some added interest.

I found these cute wood flowers at Michael's and thought they would be a perfect addition to a Girl Scout leader frame. Juliette Gordon Low, the founder of Girl Scouts, was  nicknamed 'Daisy.' So, the flowers seem like a great fit. I chose a light green color for them as a nod to the main color for Girl Scouts but again trying to make sure they would be neutral enough in which to fit in peoples homes. They took 3 coats of paint to cover. Adhere the flowers to the frame and add an additional embellishment. Your frame is complete, now you just need an inspirational quote.
You can see above, that I typed a note at the bottom of my inspirational quote. I really wanted to thank our leaders. They put so much time and effort into the girls all year long. They created such an empowering environment for our girls. I really appreciate it!

I made the printable to go in the frame. I chose the quote by Oprah because I have seen our leaders really work to empower the girls, to allow them to try new things, and to spread their wings. They really are fantastic at bringing out the best in our girls. I hope this quote brings some of that to life for them. I have the printable available for you either with the Thank you to a Girl Scout leader or by itself, so you can use the quote regardless of if you have a scout or not. You can download them here:
Inspirational Quote
or
Inspirational Quote for a Girl Scout Leader Gift
.

I love how the frames turned out. I wish I made one for myself, since I am the Daisy leader, but I would never actually make myself a gift and it wasn't in the budget. Here's hoping the leaders who are receiving these will love them as well and will feel our love and appreciation for all their hard work this year.
Do you give your Girl Scout leaders a gift? What do you like to give?
You might also like:

Teacher and Girl Scout Leader Gifts {Free Printable}