Today I'm going to show you my tricks and tips on how to meal plan on a budget.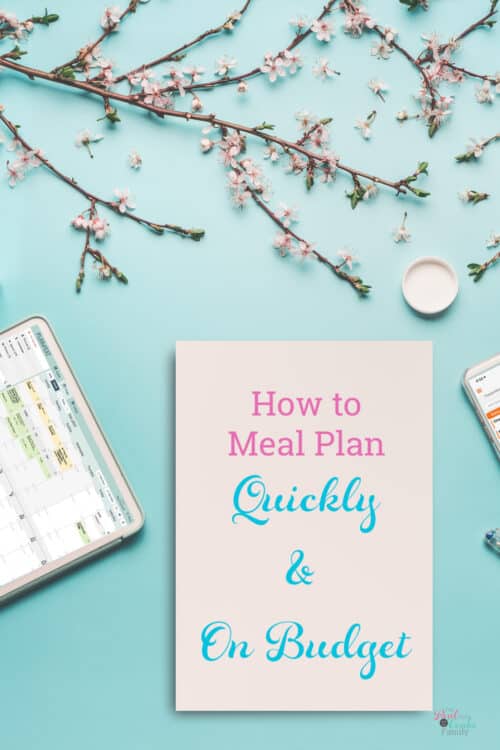 For years, I've needed to feed my family while still managing to stick to a budget. At the same time, I didn't want it to take me hours and hours to weekly family meal plan, because I don't have time for that. I'm sure you don't either.
I also don't want to face the hangry family because I have no clue what to do for dinner tonight. So, I've tried a bunch of things to make meal planning fast and easy over the years. Like having themes and these ideas and this. Currently, I'm loving using some tech fun to help me get the job done.
Today, I'm gonna share my current process of planning meals and sticking to a budget. Both parts of the process take me about 30 minutes each week. The majority of that is the time for me to make my grocery list.
To learn that's been working for me, you only need to read this post, sign up or download the apps, and get planning. It's that easy. I promise!
You can also sign up for my free weekly emails so you don't miss other great organization ideas for hardworking moms.

How to Meal Plan on a Budget
Supplies:
Step 1: Look at calendar
TIME: 1-2 minutes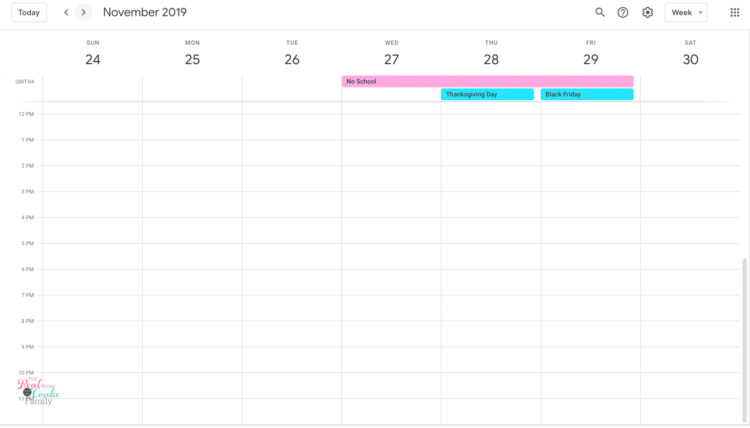 This is a quick but important step.
Check your calendar for the week you're planning meals for. Look for nights you won't be home or will be running to activities.
Either keep your calendar out/open and with you while you plan or make notes of any nights that you'll need quick or meals on the go.
Step 2: Assign who's cooking
TIME: 1 -2 minutes
I'm a huge proponent of getting your partner and kids involved around your house. There is NO reason you should be doing it all. They eat as well and can help as well. It's also a great life skill to teach your kids to cook, so if you haven't, this is a great time to work on that with them.
At my house, my kids each cook 1 dinner per week and 1 lunch for every one per week during the school year. They help out more in the summer. My kids are 17 and 12 and can cook meals without any help. So, I don't have to do anything those nights. It's SO nice! Of course, it didn't start that way. I started by letting them pick out something they wanted to make for dinner and cooking with them. Teaching them as we went and letting them do more over time. It does take more time at first, but it's well worth it because now they can cook anything which is helpful and great for them when they move out of the house.
Step 3: Plan meals
TIME: 5 – 10 minutes
Now that you know what types of meals you need on what night and who's cooking them, it's time to plan the meals. And this is where the easy fun begins!

I recommend that you sign up for Plan to Eat (affiliate link). They say they're the meal plan service for the DIY'er. That's me! and you, too! Instead of giving you a pre-planned meal plan, you add your recipes to Plan to Eat and add them to your meal plan calendar.
Adding recipes in Plan to Eat is so easy and makes creating a weekly family meal plan fast. You can go to any website that you found a recipe you want to try or know you love and import it into Plan to Eat. It takes less than a minute. You can also easily add your own recipes. Here's how to keep your printed recipes organized.
It allows you to categorize your recipes in all kinds of ways. I have categories for when we meal planning by themes, and I have categories for quick and easy cooking for busy nights. You can organize it any way you want. That's what makes it fast to meal plan this way.


As you're ready to add recipes to your weekly family meal plan, you can search for what you want to eat. As you can see above, I was searching for pizza recipes.
It found 45 pizza recipes in my database…we may have an issue. Lol!

Once you find the recipe you want, drag it onto your calendar for the day you want to cook it.

You'll do that for the whole week. It will take you 2 – 10 minutes, depending on how quickly you can pick what you want to make.
TRICK: You can integrate the Plan to Eat calendar with your Google or other digital calendars, so you'll always know what's on your weekly family meal plan. (Search their help database to see the details on how to do this.)
TIP: There's a Plan to Eat app as well, where you can plan, shop, and see what's for dinner tonight.
SAVE MONEY: Plan to Eat(affiliate link) does a 50% off sale every year near black Friday. You can start using the service any time, and they'll let you buy a year at 50% off in November. You can apply that year to the next year of your service, no matter when that service begins or ends. So you can do what I did and start using Plan to Eat now and get it for 50% every November after. I never pay full price to use the service.
Step 4: Print shopping list
TIME: 1 -2 minutes
Once you've created your weekly family meal plan, you can print a shopping list right in Plan to Eat! It makes it SO easy and fast!
Or you can use the Plan to Eat app for your shopping list rather than printing it out. If you prefer that, skip this step. That doesn't help me stay on budget, so I spend a few extra minutes and plan my list differently.

To print your list, select the dates you'll be shopping for in the left sidebar.

The list will populate. Click the printer icon in the upper right hand corner.

This is personal preference, but I like to click the button to "Print stores and recipe key on separate pages."
That way, when I'm done making my list, I have a one page sheet that has the full weekly family meal plan. I stick it in the front of my planner, which makes it easy to reference what's for dinner without needing to look at my calendar or the Plan to Eat app.
Step 5: Make grocery list
TIME: 5 – 20 minutes
Take your grocery list from plan to eat and go through each item. Check your fridge and pantry to see what you already have and what you need. Add what you need to your actual grocery list for the week. 
These are the 2 big secrets to staying on budget.
Check what you have and only buy what you need.
Have an app that will help you know what you're spending before you even get to the store. If you prefer a paper list, I've got this cute printable grocery list in my shop.
SAVE MONEY: The main thing you want in the app you pick is that it'll allow you to enter prices for items and that it'll save those prices from week to week. That means you can know how much money you'll spend before you set foot in the store. AND that means if you can see everyone has picked expensive meals for the week, you can make changes to the meal plan before you leave the house. Which means you'll stay on budget. I have more details sprinkled throughout this section of the post.
I recently switched to an iPhone from an Android phone, so I've got suggestions and screenshots from my favorite apps for both types of phones.
iPhone app – Grosh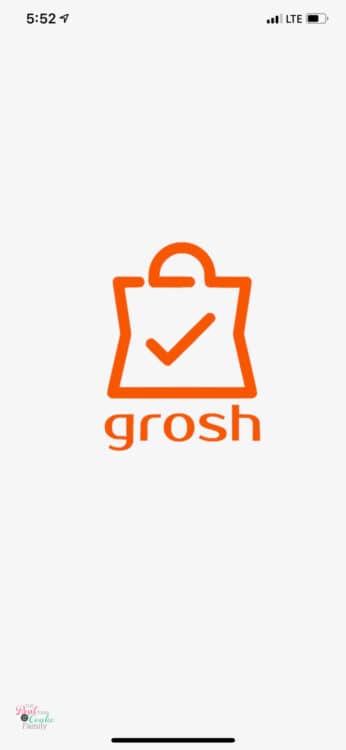 I've had a tough time finding a grocery list app on iPhone with the capabilities of the app I'll show I used on Android.
So far, Grosh is the best app I've found.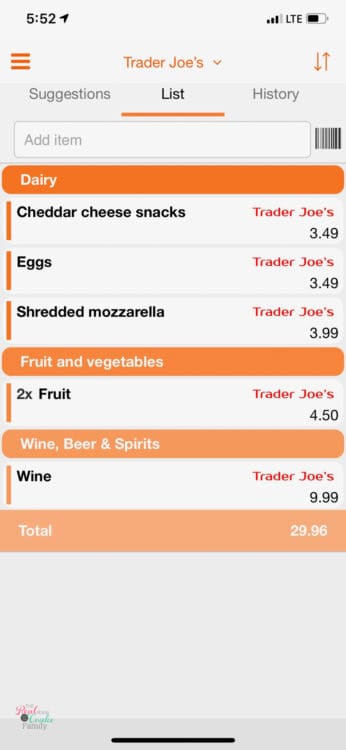 It allows you to create different lists as well as enter the price of each item. It saves that price as long as you've entered the store in the item description. It doesn't seem to keep the price if you forget to enter the store in the item description.
As you can see, at the bottom of each list, it gives you a total of how much you'll spend at that store.
It doesn't give you a total of things you've purchased as you mark them off your list. You only get the total for what you still need to buy. That's frustrating to me when I add extra things to my cart and want to know what my new total is.
You can't add a tax rate to this app, so if you have tax on groceries, you'll need to remember your total will be more than the app says.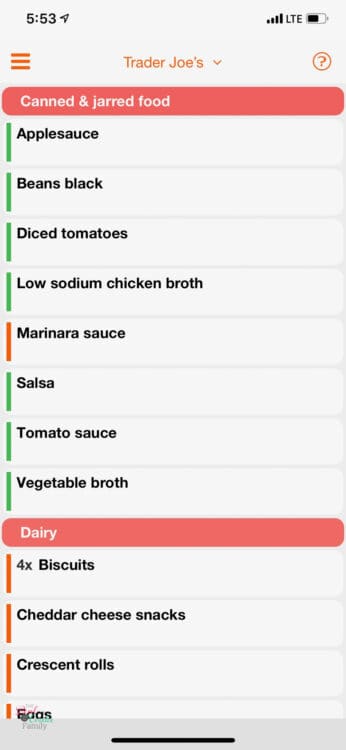 One feature this app has that I love as a busy mom is the suggestions list. Based on my previous buying habits, it makes a suggestions list for each store. The list is color coded based on how much it thinks I'm gonna need that item this week
I love using the suggestions list after I've made my list to double check the basic things I may have forgotten.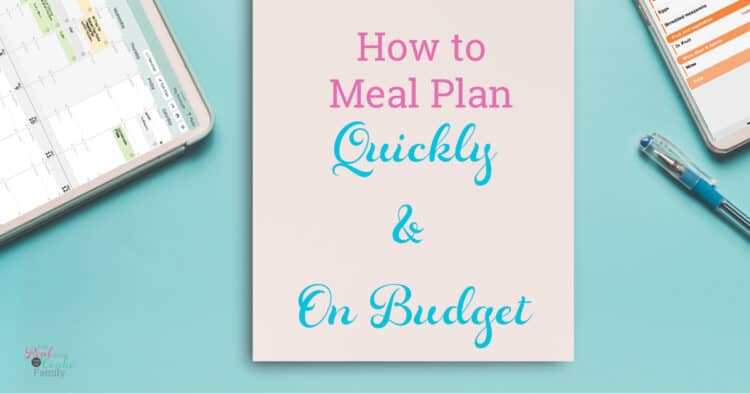 Android app – Mighty Grocery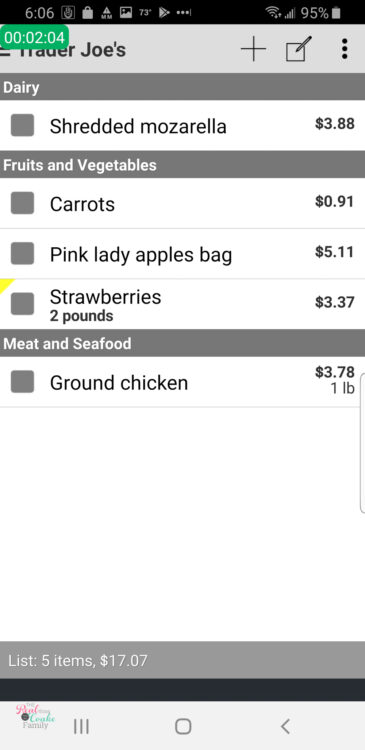 Hands down Mighty Grocery is the best app, and I wish it were available on iOS. Years ago, I spent a few bucks for the paid version. It's worth every penny(and it wasn't very expensive).
Again, like Grosh, this app will let you set up multiple lists. It also enters and saves prices for you. It even keeps a price history, so you can see how much that item has cost and what store you bought it at. (Which is a handy feature for those weird items you rarely buy that you can't remember where you last bought it.)
It also has a total at the bottom of each list for how much all the items on your list will cost. You can add your tax rate to the app, so you will know exactly how much you'll spend at that store.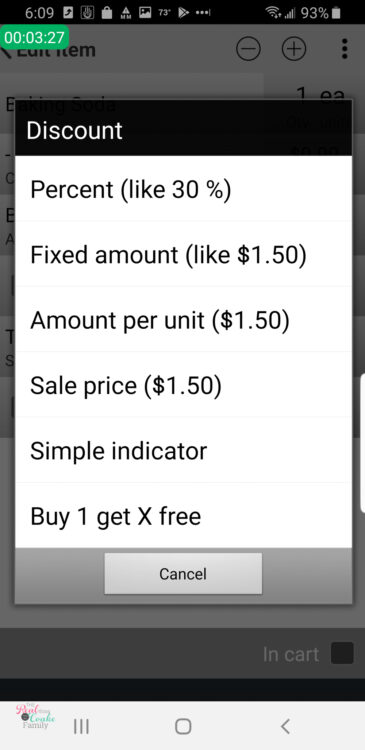 What sets this app apart from Grosh is that you can add sales to it. You can have the regular price saved and put in the sale price as well as when that sale price ends. If you plan meals based on what's on sale at your local grocery store, this feature will be super helpful and can save you huge amounts of money!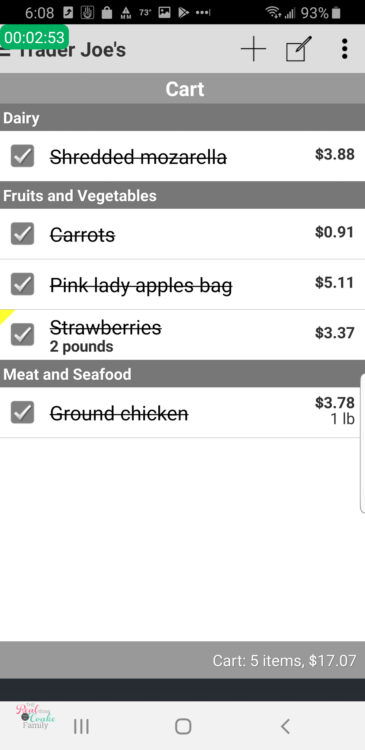 As you shop, you'll mark things off your list, and it'll give you a total for what's in your cart.
You can postpone an item, as well. So, you can tell the app your not buying it today, and once you checkout, it'll add it back to your list, so it's not forgotten next time you shop.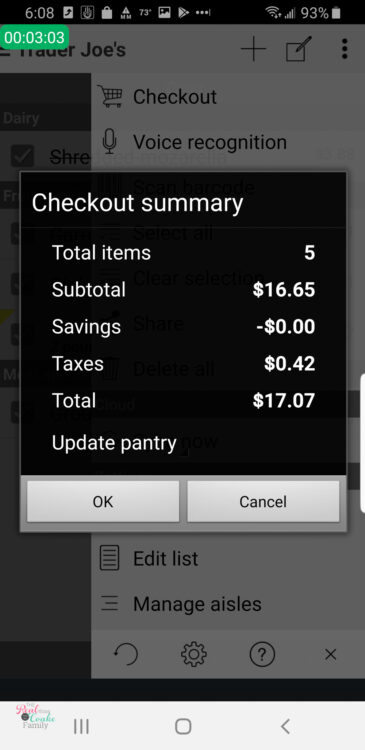 When you're done shopping, you'll need to 'checkout' in the app. It'll show you how much you spent and if you had any savings.
After check out, if you postponed any items, it'll ask you if you want to add them back to the list.
The postpone feature helps with staying on budget. If you only kind of need something and see it is taking you over budget, postpone that sucker and buy it next week.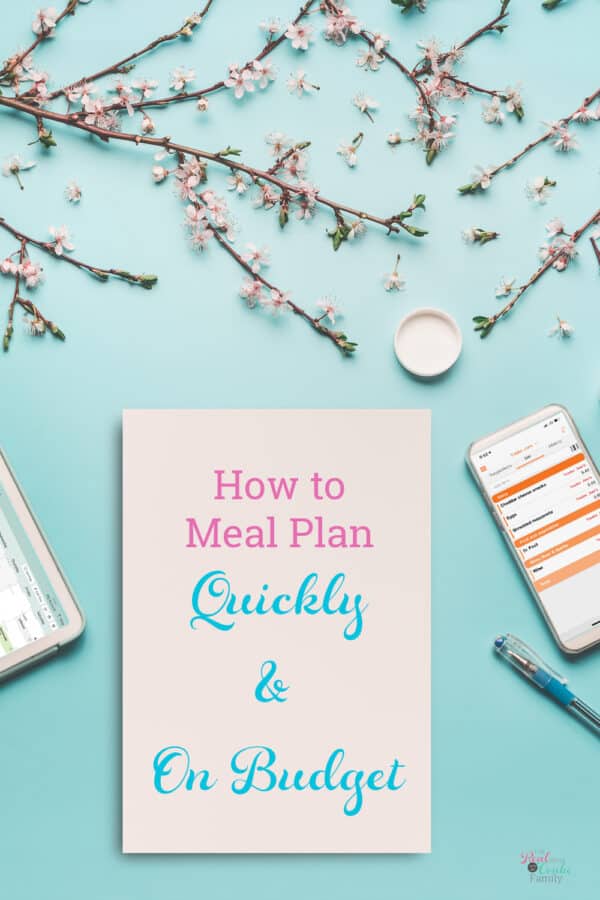 Step 6: Repeat steps 3-5 (if needed)
TIME: 5 – 10 minutes
If you look at the total, the app shows you'll spend and it is over budget for the week, repeat steps 3 – 5 to get yourself on budget.
Changing menu items to something less expensive is the easiest way to adjust your spending for the week. Sometimes you can wait a week to get that jumbo pack of toilet paper or hold off on buying something else. Other times you have to switch to your cheap meal alternatives. Work at it until you get yourself on budget.
After years of working like this, I can now usually look at a weekly family meal plan and tell if I'm gonna go over budget. I can usually spot the expensive meals and tell people to change their meals. It's something you'll learn, too.
You're done with planning and ready to shop.
I used to take forever to plan meals and make sure I was going to be on budget. It took me an hour or two per week. I no longer have time for that. I love that this new system takes me about 30 minutes per week. FYI: the biggest chunk of that time is the time it takes me to make my grocery list, not that actual meal planning, thanks to Plan to Eat(affiliate link).
The best way to stay on budget is by combining a meal plan and a grocery app that'll save your prices. Use that app every week. That way, you'll know before you ever leave home if you're over budget and can make changes to the meal plan for the week. It's easy once you get used to it.
What are your tips and tricks to meal plan fast and stay on budget? Do you have a favorite grocery list app? Leave a comment below…we all get smarter when we share! Thanks! And Yay!