Have you ever made a craft that you were super happy with how it turned out and thought it was super cute? I just made an American Girl craft like that. Earlier this week, I showed you our Doll & Horse Show Riding Fun activity. Today I'm super happy to show you the tutorial on how to put the show jumps together that you will need for your own show jumping competition.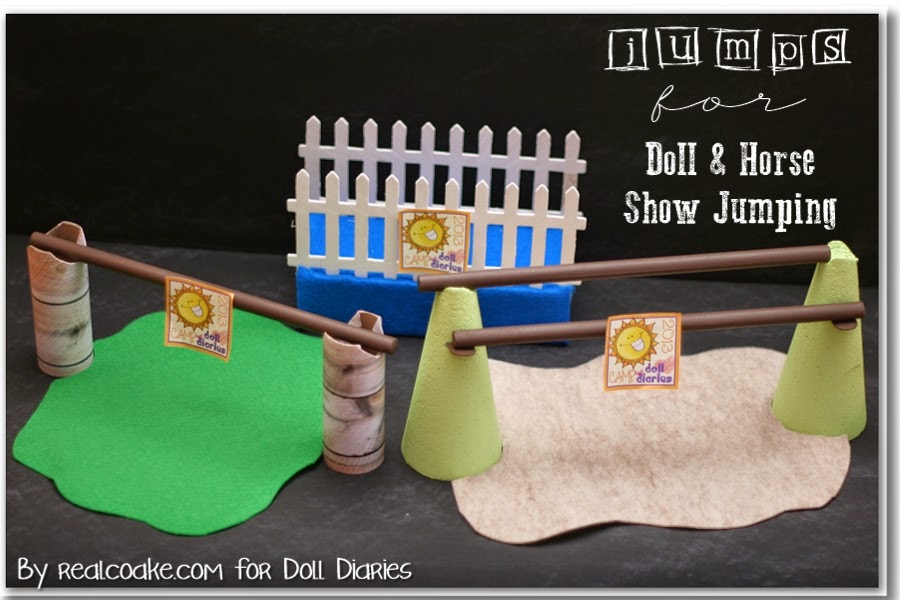 Aren't they adorable? One of my daughters loves horses, so of course her American Girl dolls love horses as well. We set out to make some cute show jumps for her horses and dolls to be able to compete just like the Olympics.

You will need some supplies to get started. To make these three jumps cost me about $10.
Supplies needed to make all three jumps (It costs us about $10 for supplies):
Empty toilet paper roll
Wood scrapbook paper (1 piece)
Glue or scrapbook adhesive
Scissors
1 – 36" dowel rod cut into 3 – 12" sections (or you could buy 3 – 12" dowel rods pre-cut)
Brown paint
Paintbrush
Felt – 1 piece each of green, tan, and blue
2 Styrofoam cones (smooth foam will work best as we are going to paint it)
Dinner knife
Paint
2 Jumbo craft sticks
1 Styrofoam brick
2 wood fence pieces (I found them in the unfinished wood section at our craft store)
Utility knife or Exacto knife
To see the rest of the tutorial, head on over to Doll Diaries (Week 6 – Just Horsin' Around) where I guest posted on making these show jumps as part of Camp Doll Diaries.