As I shared with you already, Snowflake turned 10 last month and we had a Hello Kitty slumber party to celebrate.
I started with these invitations.

I got the idea/inspirations to make these from this site: Handmade by Odette. While they are simply amazing and I love them, what she charges for her invitations on her etsy shop is almost my total budget for this party! So, I used my wonderful 40th birthday present, my Cricut, and made my own. I'd say they turned out quite nice!

Sorry for the annoying pink boxes on the pictures of the invitations, just maintaining my privacy! 🙂
Another activity we used that I didn't tell you about in the first post was a roll of hello kitty coloring sheets I found at Michael's for $1. I cut them apart and had them out on the table at the beginning of the party. I was really surprised that the girls actually sat and colored multiple pages each. Not only that but they seemed to enjoy it! I just put it out and wasn't sure if they would actually want to color. I actually had to force them to stop so we could eat.
Of course, we had to have yummy cake at some point during the evening, so I made a Hello Kitty cake inspired from this site: Squidoo Hello Kitty Birthday Cakes

I think it turned out nicely. My only dissappointment is that I forgot to look at the picture while making the cake, so I fogot to make the frosting the 2 shades of pink. That would have added such a nice touch, oh well, can't change it now.

I did order the Hello Kitty rings from Amazon as I was not able to find them locally and the price was less than $4 with free shipping (and I didn't even have to spend $25 to get the free shipping b/c this seller was just offering free shipping! LOVE That!)

We had another party with our co-op where I made some additional cupcakes. So, here is another idea for you if you are planning a Hello Kitty party.

For this party I made cupcakes. I used my Cricut to cut out the Hello Kitty faces. (Cricut Hello Kitty Greetings

) I was resistant to doing this as I had made something similiar to this with the invitations and the time and patience it took to glue all the little pieces was more than I had for making this many for the cupcakes. However, Mr. T came up with the idea of using a marker to color in the faces rather than cutting out the little pieces and gluing them. You know what, it worked great! I only cut out the bows and everything else is done with marker. Once I got the Hello Kitty faces together, I taped them to a toothpick and voila, cuteness on a cupcake!


The cupcakes are just a box mix with premade frosting. I used my handy dandy Pampered Chef Easy Accent Decorator to make the swirl on top (may my Easy Accent Decorator RIP, after I don't even know how many years of making me look like I know how to decorate a cake, it broke while making a valentine heart cookie….such a sad day!).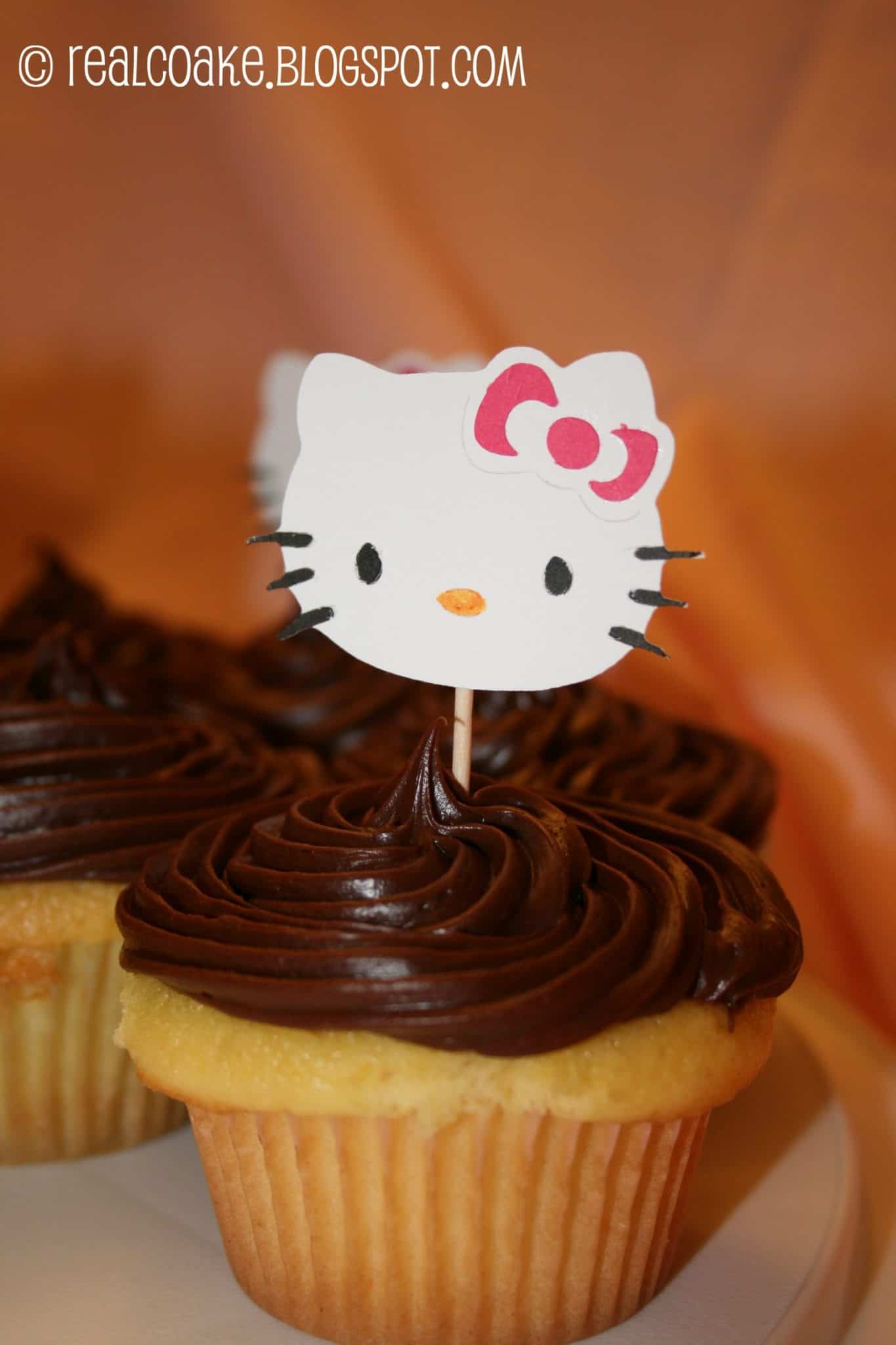 Tune in next week for my final installment of this Hello Kitty party. I will go over what we did with the pillowcases I made as well as the favor bags and one game idea.
Thanks for stopping by!
Visit My Other Hello Kitty Slumber Party Posts:

How to Make your Own Pillowcases
Hello Kitty Slumber Party: Part 1
Hello Kitty Slumber Party: Part 3