I'm back today with another post about our epic family road trip. As you may remember, my two daughters and I went on a 7,000-mile journey to the Northwest together this summer and had a great time. We learned a few things along the way and saw so many amazing sites.

This week, I wanted to share our 5th week on the road with you. It contains my absolute favorite thing that we did…which we only did by accident!
One of the things we learned this year is that 5.5 weeks for a road trip is too long for us. Last year, our road trip was 4.5 weeks. We had about 2.5 to 3 weeks with family in 2 locations. This year, we had 3 times that we were in the same location for 3 or 4 nights. The rest of the time, we were on the move. It was just about 1 week too long for us. We would have preferred that our trip be about 4.5 weeks OR that we would have stayed in one place for a week a couple of times. It just feels nice to unpack and settle in and relax a bit versus a different hotel most nights.
Anyway, let me show you the things we found on our journey home from the west coast to the east coast.

We had flown back to Portland from California and picked up our car. We decided we wanted an extra day in Portland. I needed the time to get the car repacked and get laundry done and just relax a day before we headed out across the country.
After taking care of the laundry and repacking the car, we were able to hit up a touristy site. We took a ride on the Portland Aerial tram. It had been built since we moved and I thought it would be a fun way to show my girls the city.
The views did not disappoint. It was a slightly overcast day, but for Portland, this is pretty good.

The view from the top looking at the Arial tram coming up.
When you get to the top, you are at a hospital. From what I understand the tram was built as a way to allow employees to park down the mountain and get to work at the hospital. Parking at the hospital on the hill was a problem and this was a solution. A pretty solution that allows for transport of employees and a great tourist attraction.

This is Portland's newest bridge. It was opening a bit after we were there. I thought it was really pretty.



While we were in Portland, Pumpkin decided to keep the tooth fairy super busy! The first night we were there she lost one tooth. The second night we were there, she lost 2 teeth! She lost 3 teeth in Portland within 24 hours. Good thing the tooth fairy could find her even though we were in a hotel.

Then, sadly, it was time to go. We really wanted to stay. I miss Portland. If you have ever been or lived somewhere that just had your heart and have to leave it…it is hard. That is Portland for me. It has had my heart since we lived there 10 years ago. I was kind of hoping going back would make me think, why did I like this place? It didn't. I cried as we left. My girls were sad as well. They finally understood all the great things Mommy would tell them about the Pacific Northwest.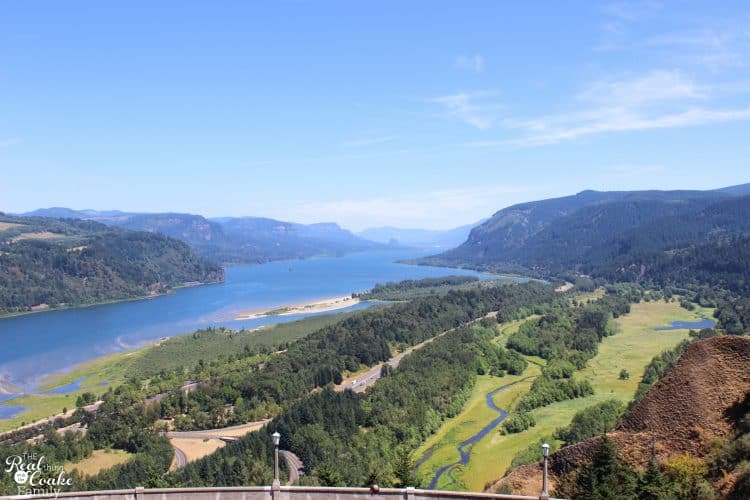 Our first night we were headed from Portland to Spokane, WA. We were able to take the scenic drive along the Columbia river. The freeway is right by the river and if you have time, there is an 11 (I think) mile drive that contains tons of waterfalls as well as the
Vista House
, which is where this picture was taken.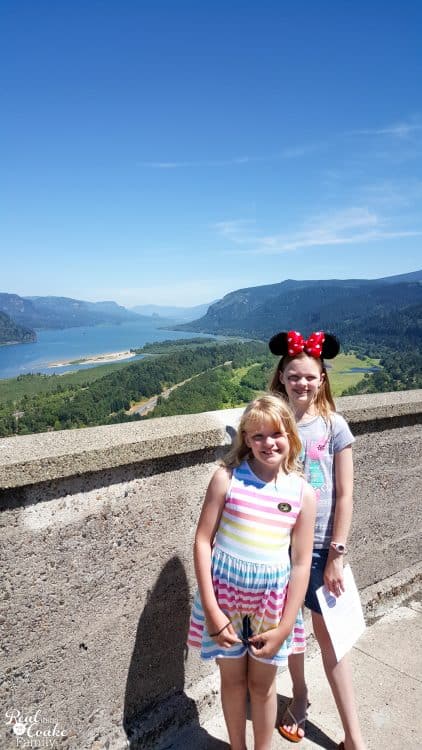 The girls enjoyed the views from the Vista house. We spent a little too long there though for the drive we had ahead and the fact that we were going to fit in a few of the waterfalls. The speed limit on the
road to the waterfalls
is pretty low and once you are on it, there isn't a different way to get back to the freeway.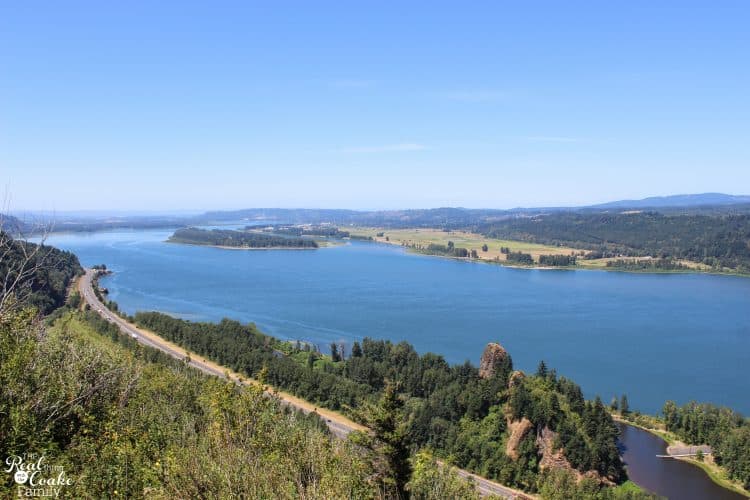 The views make the time worth it, but by the end of our time, my girls were ready to move on and get going.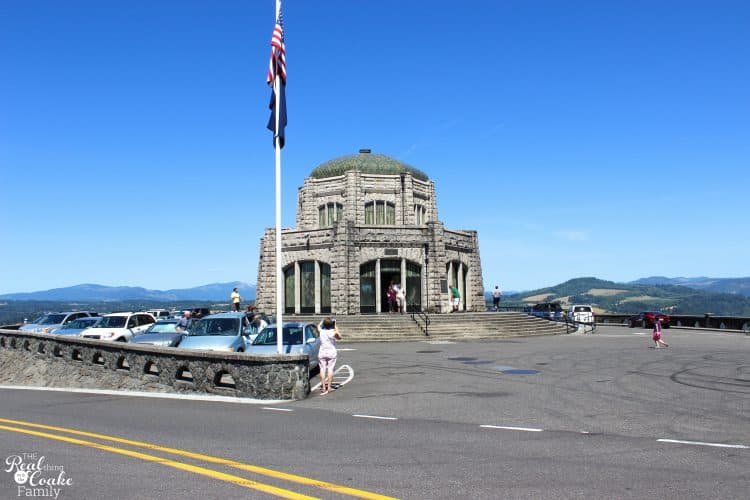 This is the Vista House. It was super busy the day we were there. I've never seen so many people there.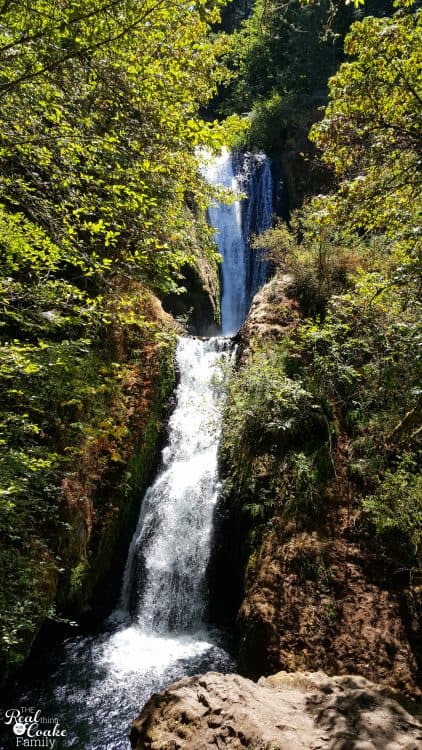 We ended up stopping at only
two of the waterfalls along the route
. This is Bridal Veil falls. It is a little bit of a hike from the parking lot. I always try to find some kind of hike or walk for us when we are on the road. We spend so much time sitting, that it is really nice to get out and move. Of course, proper shoes are always a good idea and for this one, we were in flip flops. In case you go, flip flops are not appropriate for the hike to Bridal Veil. 🙂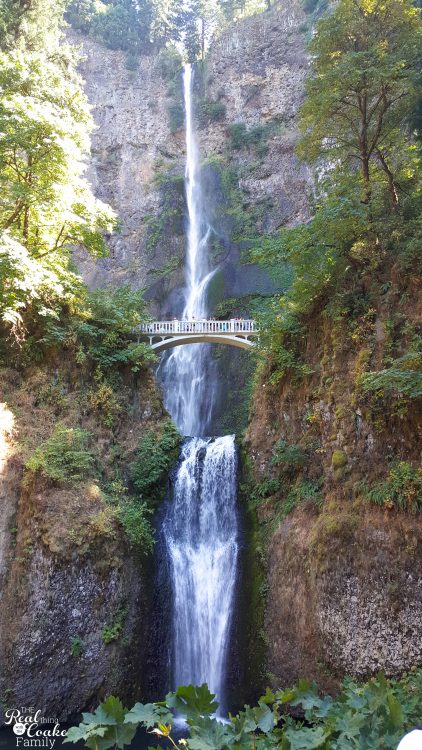 The mac daddy falls along the route is Multnomah Falls. It is over 600 feet high. You can walk up a paved path to the bridge that you see as well as a small observation point just above that. I love these falls and find them so impressive. Once of my daughters did as well. The other daughter didn't really like them.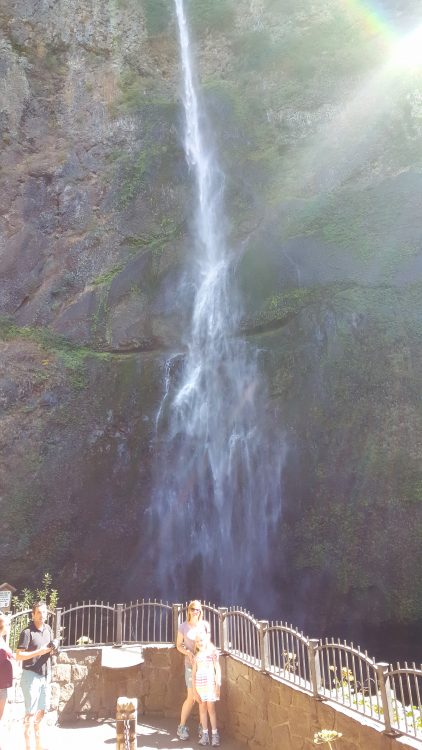 This is the viewpoint that is just above the bridge on the path. You do get a little bit of spray from the falls here. If you have the time, you can continue on the path to the top of the falls. We did not do that though I really wanted to, we just didn't have the time.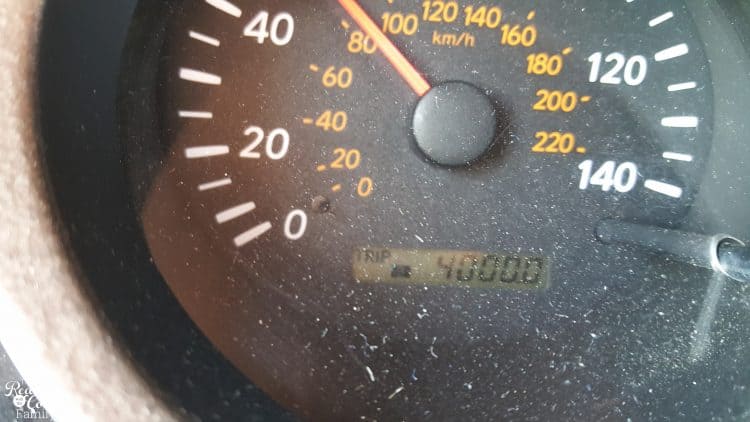 We hit another milestone en route to Spokane, 4,000 miles driven!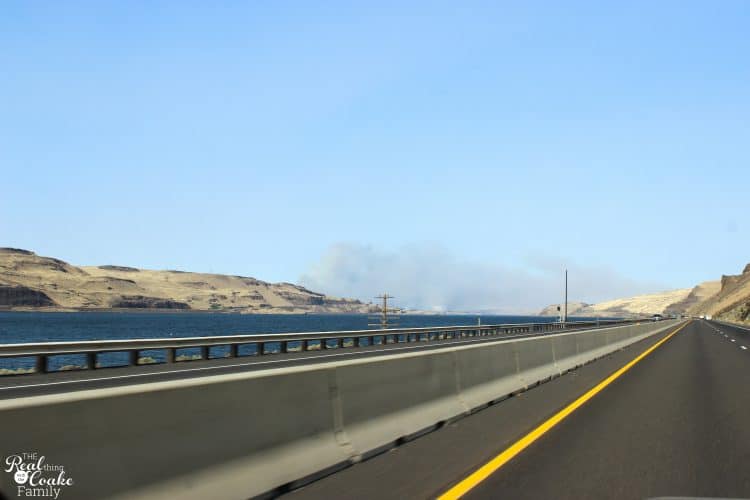 Along the drive to Spokane, we had the chance to see something I've never seen. From quite a distance away, we could see dark smoke rising in the sky.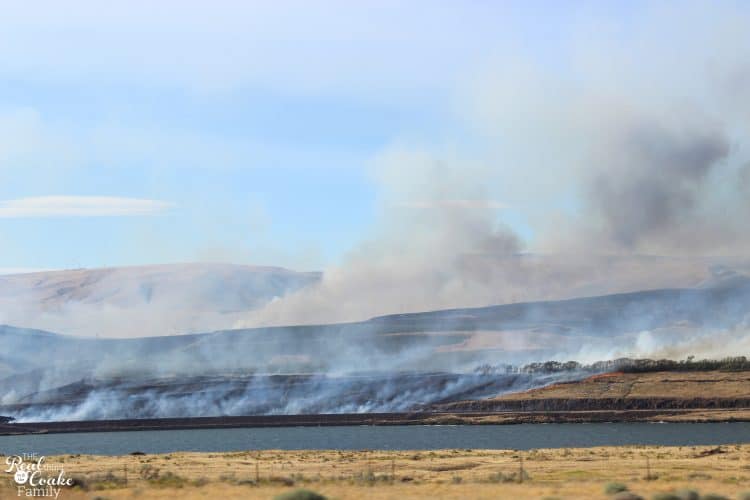 As we got closer, we discovered that the dark smoke was from a fire burning on the Washington side of the river. None of us had ever seen anything like that before. It was amazing how many miles the smoke followed us for…well over 100 miles we could still see smoke in the sky. We were concerned because one part of this fire looked to be quite close to a small town. It was scary, sad and amazing to see all at once.
After a very late night in Spokane. I think we got to our hotel around 9:30 and still needed to get dinner, we slept in and checked out of the hotel at the last possible moment. We managed to find this amazing diner. Frank's Diner. It is built in an old rail car. The food was great, but the girls weren't too sure about the conductor that was on the other side of the glass at our table. He was deemed unwanted breakfast company. lol!

After a delicious breakfast, it was time to head out on the road again. We quickly made it to Idaho and then into Montana. 

In Montana, we made a stop in Missoula to see this carousel. We found it in the Roadtrippers app and the girls thought it looked fun.

It is called, A Carousel for Missoula, and it located in what I think is a downtown or older area of the city.

The girls thought it would be fun to ride. Though the first go around, Snowflake chickened out. The carousel goes really fast! They also have a dragon, which you can see pictured above my girls, that has rings in it. If you sit on one of the outer horses, you can grab for rings as you go by. If you get the final ring, a golden ring, you win a token for a free ride on the carousel. It made a standard carousel, just a bit more fun for this grown up.
It was a nice stop. While there we walked around the area right there and found tons of great restaurants. We ate at Biga Pizza…which was delicious!

The following day we headed to Yellowstone. The views of the mountains in this area of the country just don't stop. It is amazing. I would be driving and just loving the views and assuming that when we turned the next corner there wouldn't be any mountain views. I was wrong every time.
Our plan was to drive through Yellowstone to Gillette, Wyoming. I discovered that my plan was totally unrealistic and we had to change our plans.

We arrived at Yellowstone at the North entrance and drove to the main visitor center. It was at that point, when the ranger told me it was at least 2 hours to drive from there to Old Faithful (only 51 miles away) and that just driving with no stopping out the other side of the park would take us at least 5 hours, that I realized I totally had to change our plan or I was going to be driving until 3 am. I'm good with late days, but not that late.

We took the time to see the Mammoth Hot Springs that are fairly close to the visitor center. It was neat to see how they have changed the landforms and get out and walk around a bit. Thankfully, I had gotten us some sandwiches before we left civilization because it was so busy at Yellowstone and I'm sure crazy expensive to get any food there.


Somewhere along our walking around the hot springs is when I figured out we were going to have to leave the park at a different place and take a different path. It was disappointing for sure as we all wanted to see Old Faithful, but as one adult driving it all, I have my limits and I knew this was beyond that.

After seeing the hot springs, we headed back toward the visitor center and out the Northeast entrance of the park.

At one interchange of roads, I took the wrong path and we ended up getting to see this amazing view. So glad I took the wrong turn and realized it at this point so we could get back on track.

Gorgeous falls we saw along the way. I think this is Tower Falls

We got out and did a circular walk that had some placards along the way. 

I loved the way this tree fell over with the roots up. The roots look so neat just sticking up like that.

My professional photo bomber got me again…she gets me whether it is Stitch Fix or Yellowstone. 🙂

Near the exit that we were taking out of Yellowstone, we finally got to see some Bison. Can you see all those little dots way out in the field? Those are all Bison. Huge herds of Bison.

Driving just a bit further, we got to get up close and personal with the Bison. Since the ranger had mentioned that sometimes they can stop traffic for hours, I skedaddled pretty quickly on out of that area because my goal was to get to the hotel by midnight or at least this day.
Truthfully, for us, Yellowstone was a big disappointment. Had I realized how much time it would take to do what we wanted to do, we probably wouldn't have even attempted it and we would have missed out on what was to come and my absolute favorite part of our 7,000 mile road trip. 

Now this is where it got fun! We left Yellowstone at the Northeast entrance/exit. We were in Montana, but then went into Wyoming and back into Montana. This entrance/exit has only one main way to get to it, but before I get to that.

We were able to stand on the 45th Parallel..the exact midpoint between the Equator and the North Pole.
So, this is where our road trip got fun…we got lost…even though we weren't really. I mentioned that the Northeast entrance has only one main road…that road is Beartooth Highway or Beartooth Pass.

Beartooth Pass or Beartooth Highway is an AMAZING drive! You can not believe the gorgeousness and the mountains upon mountains upon mountains that you will encounter.
It was not part of our plan at all. I had no idea we would drive it. I had no idea we would have no cell service for hours as we made this drive. It was one of those moments that I just needed to relax and go with what was for this portion of our road trip. My girls kept saying things about us being lost. I guess in one way we were because I had no real idea where we would come out from this portion of the drive and without a cell signal I had to go old school and look at a map. Shocking!! My youngest daughter knew exactly what Beartooth Pass was because she had seen it in her Kids Road Atlas

(affiliate link). It was just a time to surrender to the drive and enjoy. And enjoy we did.
This drive was so breathtakingly beautiful I think everyone should drive it at some point in their life. Everyone should see and encounter the beauty of the all those mountains and the winding roads and snow in August. Maybe be a bit more planned out about it and know where you are going and such and so on, but if you have the chance, this is an amazing drive.
We stopped a million times to take pictures. It kept getting colder and colder as we got further up in elevation. I wish my cell had been working because I would have loved to have an idea what the temperature was. It was cold!

At the top of the summit, we had to take a pic. My girls were so cold, they wrapped themselves in their blankets. It was crazy how cold it was.

Someone else stopped for pictures and quickly snapped a pic with me in it as well. We were having so much fun! THIS is why I love our road trips. The unexpected beauty that we get to see and the fun that we get to have.

Seriously…look at the views and those mountains! That is snow…this was the beginning of August.

For sure, if you are going to make this drive, do it in the summer. I'm pretty sure it is closed a good part of the year.

Ahh..Just ahh and wow!

Then it was time to head down the mountain and call the hotel we were supposed to stay at that night and cancel that reservation. We ending up in Billings, Montana rather than Gillette, Wyoming. We ended up at an Old Chicago Pizza at 10 pm eating dinner while booking a hotel. I wouldn't trade one ounce of that for the amazing day that we had. Plus, that hotel was one of our favorite on the whole trip.
I'm going to leave you hanging here…on my favorite mountaintop, and I'll finish out our journey in one last post.
More posts you are going to love: