I have some
Daisy petal
activities for you today. I am a Daisy leader this year. I have tried to make the meetings fun and interactive for the girls. I'm going to show you two different activities today, but I've got more
Girl Scout ideas
for you as well if you just click that link.


Girl Scout Law/Promise Bracelet
For one of our first meetings, while we were working on learning the Girl Scout promise and understanding that each of the petals is part of the law or promise, we made bracelets. If you are a Girl Scout leader, you have likely seen bracelets similar to this using plain plastic beads (pony beads). I wanted to cute ours up a bit for our cute Daisy's. I also thought that flower beads would be much better for my Daisy scouts!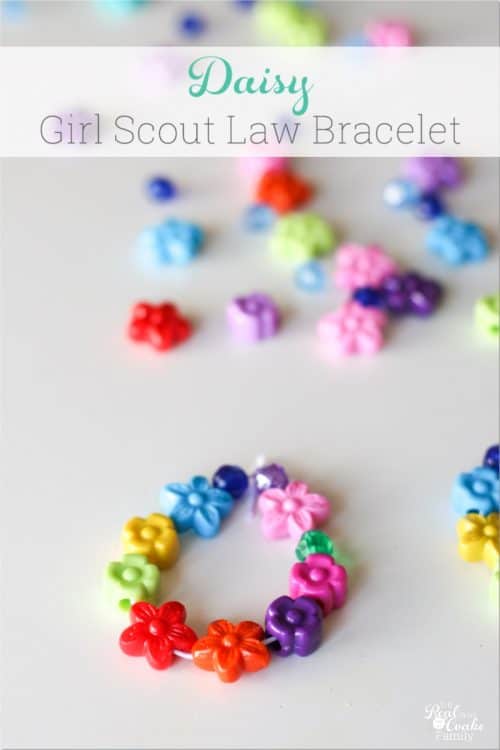 Aren't they so cute? To make these bracelets, you will need
flower beads

(affiliate link) and elastic cording. The beads I found didn't have quite enough colors to make the whole representation. I just added some
cute plastic crystal beads
(affiliate link) to add a little sparkle and glamor for my Daisy's.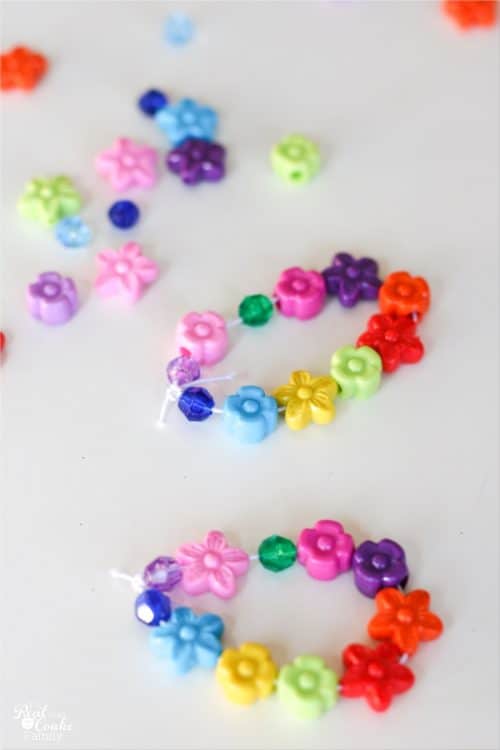 You will need beads in dark blue, light blue, yellow, spring (light) green, red, orange, purple, magenta (mine wasn't very magenta), green, rose (or light pink) and violet. I made up a 'kit' for each girl. I had one of each bead and some elastic cording in a bag for each girl. It made it easier to get the activity going rather than try to distribute everything with 9 Daisy's clamoring around.
I have 8 Kindergarten Daisy's and 1 1st Grade Daisy. They were all able to make these bracelets with small amounts of help. Then we practiced the Girl Scout promise and talked about the law and the petals we would be earning.
Yellow Daisy Petal
The other activity I want to show you today is for the Yellow Daisy petal. The yellow petal is working on being friendly and helpful. I used my
Cricut
(affiliate link) before the meeting and cut out 3 blue flowers and 3 yellow centers for each girl. If you don't have a Cricut, you could use foam flowers from the kid's craft section at a craft store. Using paper was less expensive because I only needed a few sheets of paper rather than a huge pack of foam. It also allowed me to have all blue flowers rather than a multi-colored pack. I wanted blue Daisy flowers….can you guess why? (In case you really don't know, a Daisy Girl Scout vest is blue.)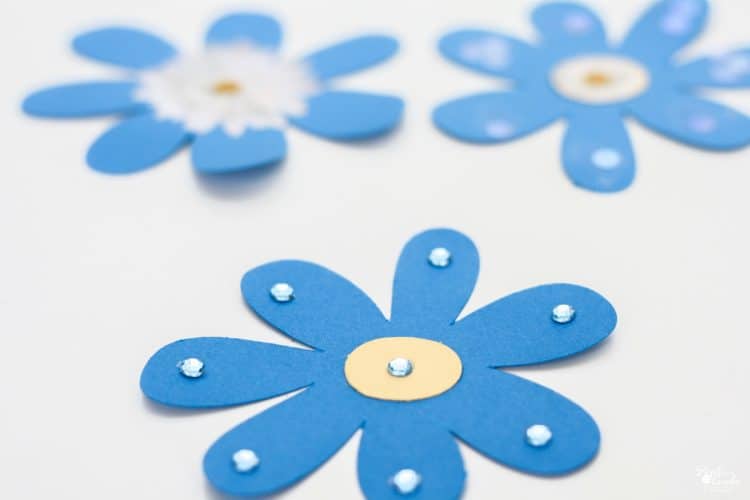 I bought one pack of Daisy stickers, gems, and some sparkly pieces so we could decorate our flowers. Because there was a limited number of each of those items, we had to talk about how it would be fair to split things up (working on our honest and fair petal from the week before). We talked about some ideas of what it means to be considerate and caring and acted out one idea as well.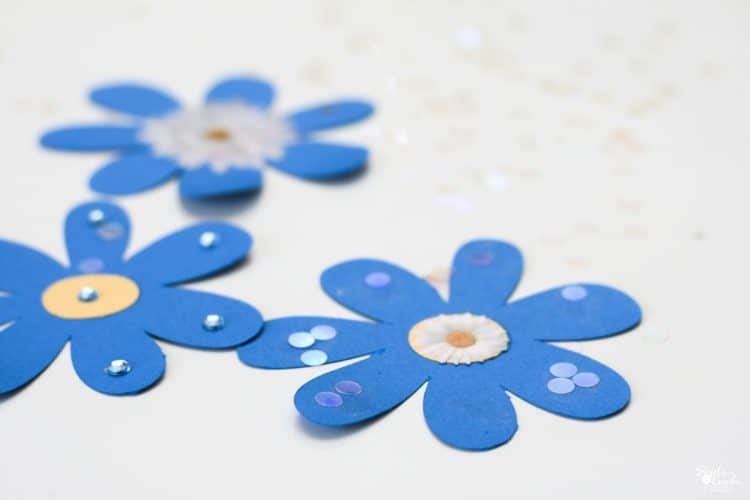 Each girl then took home the 3 flowers they had decorated. They were to do some of the considerate or caring things we had talked about. Once they completed a caring or considerate act for a friend or family member. They were to leave their Daisy flower behind. That would let the person know a caring or considerate Daisy scout had been there.
I found a blue flower in my shoes that had been put away. Snowflake, my older daughter, found a blue flower on her bed, which had been made. Pumpkin, my Daisy scout, also did a bunch of things for Momo (my mom), who was visiting at the time. Momo kept giving the flowers back and kept getting them back. Suffice it to say that Pumpkin got lots of practice being considerate and caring.
We did another cute
Daisy Girl Scout craft
making this flower together at another meeting. Check it out for more ideas.