As you may remember, I was a Daisy Girl Scout leader this year. I had a lot of fun with the girls. Today, I've got a cute craft we completed at our last meeting for this year. I think it was such a nice craft to remind us of all we have learned this year.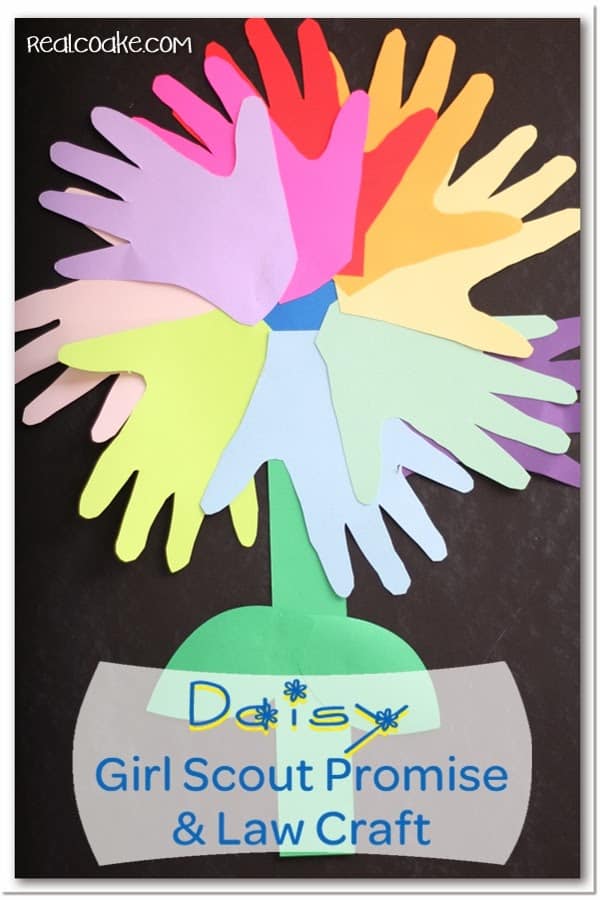 Isn't it adorable? For our last meeting, we were having our celebration tea for completing the
Daisy Flower Garden Journey
. The girls in the book have a celebration tea for all their work in the garden, so we had a celebration tea as well. We let each Daisy give ideas of what they wanted at their tea. We were able to incorporate most of their ideas into our tea party. One thing they all wanted to do was a craft. I was happy to come up with one for them. I found (actually, I think my assistant leader came up with the idea) a way to make this craft a little bit easier that I would like to share with you.
I had seen this idea for a
Mother's Day Flower of Love Craft
 by Maggie Mackay and just loved it. I immediately thought that it could easily be modified for a Daisy craft, one that would use all the colors of the petals (and blue center patch) the girls had earned all year long.

The meeting before our party, I traced each of the girls hand on a piece of paper and labeled the hand with their name. I took the hands to Fed Ex/Kinko's and copied them onto cardstock. Fed Ex had almost all of the colors we needed for the colors of the petals. There were two or three colors they didn't have for which I had to buy 12×12 scrapbook paper and trace the hands.
I knew time would be short at our final event and this was a lot of hands for each girl to cut out. My husband, Mr. T, volunteered to cut out all the hands for me one night…wasn't that nice of him! It took him an hour.

I used 12×12 scrapbook paper for the blue center patch, stem and leaves (we earned 2 leaf petals this year as well). I cut out the circles and the leaves using my Cricut. I used the
Cricut Essentials cartridge

that comes pre-loaded on the
Cricut Expression 2.

The stem is 12″ x 1 5/8″. The leaves and the circle are 3.75″.

The girls started their craft by gluing the blue circle to the green stem.

They were then instructed to glue the plain side of their hand face up to the center of the blue circle. Above, you can see the back of one of the completed flowers.

After gluing the hands, they were able to glue the leaves onto their flower. During the craft, we did talk about why we had all these colors of hands and talked a little bit about the Girl Scout Promise and Law.
Here are two ideas for modifying to this craft.
To make this craft faster: Use circles or petal/leaves for each of the petals rather than the hands. It would mean there would be no cutting of all those little hands.
To make this craft a reminder of all the girls in the troop: This will work best if you have 10 girls in your troop or some number that works well with the ten petals. Copy one girls hand all on the same color. Do that for each girl. When you put the craft together, each girl gets one hand from each girl in the troop. So, they will have one of their own hand on their flower and one hand from each of their Daisy friends. (Thanks so much to the Daisy parent in our troop who gave me this idea! I only wish I had thought of it before we did this craft. I would have done ours this way.)
What do you think? Great craft for a reminder of all we learned. Do you have any great last meeting ideas? Please share them in the comments, I would love to hear them (and may use them next year!).
More Girl Scout Fun For You: