I recently sewed a couple of other projects for my girl's American Girl Dolls.
In addition to the other things I sewed, I let them each chose one special project that I would sew for them.
Pumpkin chose a vest, skirt and t-shirt. These are from the
Simplicity 2296

pattern.She picked out the fabrics…I did the sewing.

I love the ruffle Pumpkin chose for the bottom of the skirt.
This pattern was a moderately challenging project to me.
It wasn't too bad, but it wasn't super simple easy either. The skirt is a gathered waist which is do-able with patience. The vest was also not too bad nor was it super simple. The hardest thing about making the vest was turning it right side out. That took a lot of time and patience. In my case it also seemed to slightly distort the vest because of the small little place they tell you to turn it from. I am sure if I made another one, I would figure out a way to get better at that part. As far as the t-shirt that goes with this set, you can read my tips/suggestions on making doll t-shirt's in another post I wrote:
Sewing American Girl Doll T-Shirts
I feel certain that I will be making this pattern again as I can see it being used a a Girl Scout uniform for our American Girl Dolls. Can't you see that? I think it would be so cute! That would mean I would be making 2 more, 1 Daisy blue and 1 Junior green! When I make more, I'll let you know and add some tips as I learn them.
Snowflake said her doll really likes to cook, so she needed a chef set for her doll.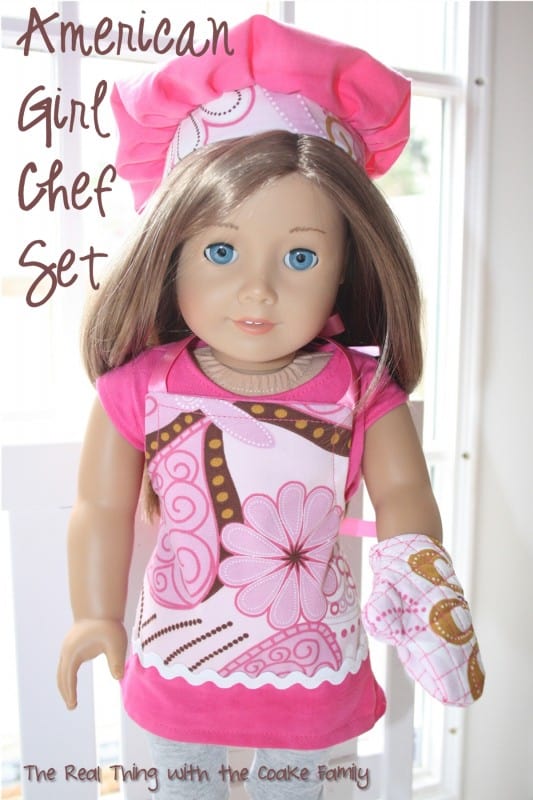 It was fairly easy and fun to make.
My main tip for you on the apron is to use a grosgrain ribbon. The satin ribbon that I used has pulled out on one side of the apron. I think using a grosgrain ribbon would hold up to the use of a child better. I also learned to reinforce that area when sewing the ribbon. Gotta make it work in real life with the kiddos!

View from the back.

Apron – it is reversible. It has the tie-dyed pink that is at the bottom on the other side.

Chef hat

The oven mitt.
 I am so proud of this mitt.
It took a lot of patience to make, but I made that whole thing…I quilted the fabric to make the mitt. I had never done anything like that before. I feel so proud that I made an oven mitt for a doll that looks like a real oven mitt!
The oven mitt is just 2 pieces of fabric with a piece of felt in the middle. Then sewing soooo many diagonal lines to make the quilting. It takes time and patience, but it is so worth it. If you do make these, I found that if I marked out the first 45 degree line in each direction, then used that line and my presser foot to maintain that line for all the following lines. So darn cute!
I may even open an Etsy shop and sell them some day in the sort of near future!
Update: The sort of near future will hopefully be next week. I am working on a few sets this week. So, check back on my sidebar for a link to my Etsy shop. If you want to make sure you don't miss it, you can follow this 
link
 and favorite my shop so when I do add something you don't miss it (at least that is how I think it works…I really know very little at this point).
More American Girl Doll Fun: