I'm super excited to show you my latest creations for our dolls! I found another free American Girl Doll clothes pattern for you and I have some tips to help you in making your own skirts for your dolls.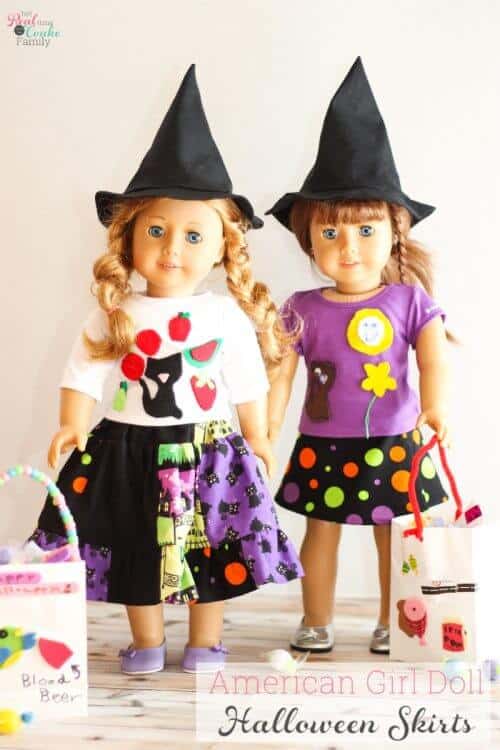 In our quest to have our dolls ready for Halloween, I made the
dolls witch hats
and my girls made them
trick or treat bags
. They still needed something else to have a complete outfit. 

I found a new skirt pattern to try, which one of my girls wanted for her dolls. My other daughter wanted a reversible wrap skirt for her dolls. So, we ended up with Halloween skirts 2 ways. I have tips for both free patterns for you.

First up, is my favorite (and easiest) skirt to make for our dolls. It is from a free pattern for a
Reversible Wrap Skirt
. This skirt is so easy to make. It literally takes me 30 minutes to make. I LOVE that!
The tips I have for you remain the same. Follow the pattern as written, but before you turn the skirt, make sure you clip the corners to remove excess bulk. Also take the time to press the seam back before you turn the skirt. This will result in an easy to press skirt once it is turned right side out. It will also make it less likely that you will be able to see the fabric on the other side of the skirt.

This
twirl skirt
is another free pattern, it is actually part of the download with the wrap skirt. It was my first time to work with this pattern. It was fairly easy to sew together, but because of all of the pieces it was a little more time consuming. I'm going to guess it took me 1.5 hours to put together (it might have been longer, but I'm not really sure).
When you sew this pattern, I recommend modifying the pattern just a smidge to simplify it.
When working on sewing the bottom tier and the middle tier as well as again when sewing the middle and the top tier together, the pattern calls for first stitching the strips together with a zig zag stitch, then a straight stitch. The pattern then has you remove the gathering threads that you used for making your ruffle.
I don't know about you, but there is no chance I'm going to take the time to remove gathering threads, especially when this project is making me late for a Girl Scout camping trip (but truthfully anytime because I don't have the patience for that kind of thing). I also don't see removing the threads as being necessary.
If you agree with me, modify your pattern as follows: after pinning your middle tier to the bottom tier and again when sewing the middle tier to the top tier, sew above your gathering stitches so they won't be seen when you turn the skirt. It will be a 1/4″ to 1/2″ seam depending on where you sewed your gathering stitches. Then go back and sew your zig zag stitch along the edges. Continue following the pattern, omitting the step of removing the gathering threads.

I only used four fabrics for the twirl skirt I made. It probably would have looked a little better with 5 fabrics. When I layed the fabric squares out, I was very careful to make sure the patterns were all different, so it wouldn't come out with all the same fabric in a row. As you can see, it didn't work out like I planned because each row has a different number of squares. Oh well. In the end, we have cute Halloween skirts for our dolls.

Now our dolls are set for Halloween. They have
witch hats
,
trick or treat bags
and cute skirts. In case you are wondering, my girls made the shirts for their dolls from the
AG Doll Tees Felt Fashions book

.
What have you done to get ready for Halloween? Anything for your dolls?