Hi everyone – I'm back with another cute idea from our American Girl Party. We were having food for the girls. (Felicity American Girl Party ~ Food Ideas) I wanted the dolls to be included so I made doll accessories for each of the girl's dolls. Last week I showed you the cute cups I made for each doll. (Felicity American Girl Party ~ Drinking Cups for Dolls & Girls!) Today I'm showing you the doll napkins I made for each doll. I'm also going to show you how I made a cover for our bar/pass through area.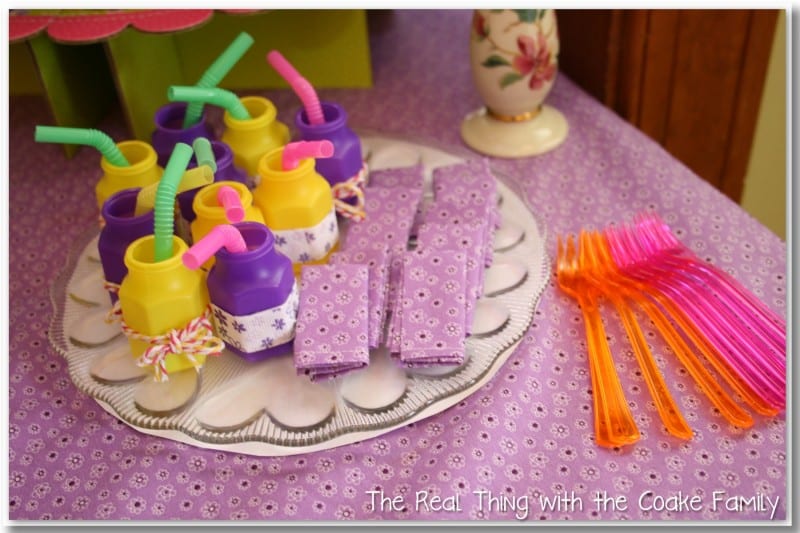 Above, you can see the cute little napkins I'm showing you today as well as under them the cover I made for the bar/pass through area. This area is where I place all the food and drinks for the party. I'm showing you a tutorial for both of these simple sewing projects.
To make the napkins for the dolls, I had to start by doing some math. I measured our napkins. They measured 16.5″ square. I knew the dolls were 18″. I wanted the napkins to be the same relative size as a napkin would be for us. I used 5'5″ as the average human divided that by 18″(the size of the doll) and got 3.6. 16.5″ divided by 3.6 equals 4.5″. I decided my doll napkins would be 4.5." I started by cutting out 4.5″ squares. I forgot to add for the seam, so my finished napkins ended up being more like 4″. All that math and I forgot the basic of adding for the seam. Oh well, right!?

If you want your napkins to be 4.5″ finished, I would recommend cutting them at 5″ squares. Once you have your squares cut, use an iron to iron down where your hem will be. I started trying to be precise, but when making 10 of these, if you are like me, it will take forever(not really, but I get bored with these type of tasks) and you will begin to not care if the hems are precise.
I found it easiest to iron the top and bottom hem, then carefully fold over the edges of the others and iron those.

Pin your ironed hems to hold them in place. I pinned the corners because they seemed to want to come undone the most.

Sew your hems. Then you will need to iron your napkins to hold them in a napkin fold. They won't stay on their own without ironing them. Thankfully, in the very early hours of the morning, Mr. T was willing to rescue me from this task. It could be that he was willing because we weren't going to bed until I was done….but no matter he helped out! While he was ironing, I was sewing the cover for our bar/pass through.

Don't they look cute! They went very well with the cups and the forks as well. The girls really liked having things for their dolls. Even though the napkins were a little bit of a pain to make (because they are a bit tedious and I don't like repetitive tedious tasks- the sewing itself was easy), I think they were worth it to add to the party.

Now that we have the napkins done, let me show you the cover I made for our bar/pass through area. Originally, I was going to make matching napkins for the girls with this fabric, but I totally underestimated how much fabric I would need to make napkins. So that idea got ditched and I bought the American Girl napkins and plates instead.

This is what our bar/pass through area looks like normally. Well, without the pom pom flowers and such. It is dinged up, stained and needs something done with it.
I started by measuring. It measured 47″ long, 24″ across, and 2 inches deep. That meant I needed my finished cover to be at least 49″ x 28″. (I would normally recommend 51″ by at least 28″ but there is no way to tuck the fabric in to the ends of the bar, so I can't cover the ends completely and I wasn't going to go to the math and trouble of making cut outs for that portion of the bar.) Using what fabric I had left, I ended up with a cover that was 48.5″ x 27.5″. It worked.
To make the cover for this area, I cut my fabric, including the extra for the hem allowance. Mine was 49.5″ x 28.5″. I first ironed the seams/hem and pinned. Then I decided to add the lace detail as I had it on hand and thought it went well with the theme.

I sewed the lace on first, then sewed the hem. This was super easy. For me the hardest part, was remembering on which side to place the lace. Yep, I put it on the wrong end first, had to start over. It was really late at night or early in the morning depending on which way you look at it and I am more prone to mistakes then. Mr. T used that to try to talk me in to stopping…nope, gotta get it done!

Doesn't that look better than my ugly bar/pass through. I sure used the fabric I purchased well. I made the
favor bags
, napkins, and this cover all from 2 yards, I bought on sale at Hobby Lobby!
The extra unexpected bonus of making this cover….it fits on the girls new craft table perfectly. (
Organizing Ideas: Crafts & Office
)They often use their craft table for tea parties with Momo (my mom), now they have a pretty tablecloth for their tea parties!

All put together ready for the dolls to come and enjoy the party!
I'll be back next with my last post about this party. This time I'm going to show you the games/activities we played and a cute idea for the Thank you notes.
More American Girl Doll Fun: