I'm back with my last post about our recent Felicity American Girl Party. Today, I'm going to give you all kinds of Girl Birthday Party Ideas. I have links for you about the games or activities  we had fun with at our party. I also have a bonus for you, I'm showing you the idea I came up with for the Thank You Notes Pumpkin sent to each of her guests.

Party Games
I always like to start our parties with something that I can leave out on the table for the girls to do while other friends are arriving. It has never happened yet that everyone arrived at the same time, so it works well for something to do. It also usually works well for girls that don't know each other to begin to talk or begin to get to know each other.
For our Felicity American Girl Party, I found some cute
printables
on the
American Girl Publishing
website. Pumpkin's favorite thing about Felicity is that she loves horses, so we used this printable teaching the girls how to draw Penny (Felicity's horse). (
Draw Penny)
 I also had out a printable where the older girls could try to decode a message, which is referenced in the Felicity book series. (
Stitch a Message)
Once all of the girls had arrived and had a chance to work on drawing penny or decoding the message, we moved on to a more active game.
Hide the Thimble
 was our next game. I found the idea for this game on
Birthday Party Ideas
.
I modified the idea from what is on the page I just linked to. I had two thimbles because two came in the package I bought. I let two of the girls stay in the room while all the other girls left the room. The two hid the thimbles then all the girls came back. They searched the room until they found the thimbles. The two who found the thimbles were then the new hiders. We played that way, making sure everyone got a turn to hid.
They had so much fun and it was funny to watch them looking for the thimble. One time it was hidden under a Build-A-Bear's pant leg. The girls had the bear in their hand and still couldn't find it. The adults got a great laugh watching them try to find it!
Next up is another modified idea. The
kit for Felicity on the American Girl Publishing site
has an idea to make a pencil flower craft as Felicity enjoyed gardening with her Grandfather. I decided that since my girls love doing any craft with Duck Tape, we would make
Duck Tape pencil flowers
. Other than the fact that I can't cut Duck Tape to save my life, the girls had a good time with this one. My girls had made these flowers before, so they were able to help the other girls learn how. I don't have directions for you here, but I am sure you can do an internet search for Duck Tape flowers and easily find how to make them.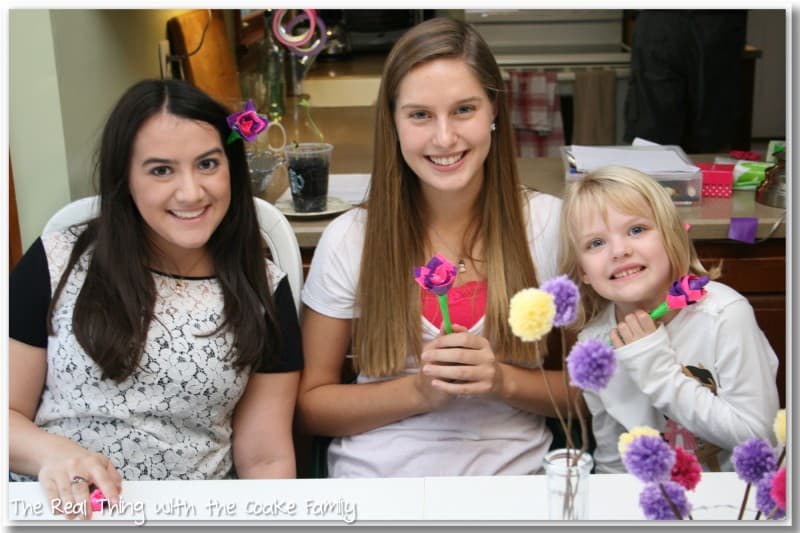 Beautiful girls and beautiful flowers! This is Pumpkin's 2nd cousin (is that right? She is my cousins daughter) and her best friend who came to the party with their dolls.

If you are like me and can't cut Duck Tape to save your life and your husband is great at it, your cousin may tease you endlessly and you may give your best friend a great laugh. Then if they count wrong and have extra pieces for the flowers, they will get silly and forget that their friend is a blogger and that these things will come back to haunt them…so I guess we see who has the last laugh now….haha!! I love you guys and I do thank you very much for all of your help and helping me with that tape!
After our crafting time, we moved on to our last game. The girls had so much fun with this game they did not want to stop. As the party was already going kind of long, I did stop the game, but I really think they girls would have played this game for quite some time. In that same
Felicity activity planner
on the American Girl Publishing, they have a game called
Take No Tea
. Essentially it is a game of spoons, but instead of using spoons, you use tea cups. Each girl has a tea cup turned right side up. Once the cards are passed and any girl has 4 cards that are the same, she quietly and discreetly turns the tea cup over. The other girls, when they notice, turn their cups over. The last girl to turn her tea cup over is out of the game. We played for fun and just played a couple of rounds with all the girls, rather than girls leaving the game. Once they got the hang of the game, they didn't want to stop playing.
This game was easy for me to implement as my mom has been slowly giving Snowflake her tea cup collection. The same collection I played with as a kid. We have plenty of tea cups, so we just used those and asked the girls to be gentle with their cup. If you don't have lots of tea cups or a child size tea set, you could use mugs or cups, even plastic cups that you may be using for your party. They will still have fun!
Thank You Notes

If you have been reading these American Girl Party posts, you have probably noticed that our main party color was purple. For the Thank You notes, I found some very reasonably priced purple note cards at Target. We wanted to add a little something to them to make them feel a little like they went with the party.
I used the same
punch

I used on the
invitations
on the edge of the Thank you notes. I thought it was a tad busy, but Pumpkin loved it and as they are her Thank you notes, I went with it.

She then used one of her new presents, a stamp set, to decorate each of her cards. Each one was different and very cute.
I realize that very few people write Thank yous or have their children write them anymore, but I feel that it is good manners and polite to thank someone who has come to your party and brought you a gift. I want to try to teach my girls to write Thank you notes even though they don't always like it.
I hope you have enjoyed seeing our American Girl Party. It was so much fun to put together! I think it may be my favorite party I have done thus far, but Snowflake just announced her theme for her upcoming 11th birthday….so I may have another super fun party coming soon into the new year. Can't wait to show it to you!
What is your favorite birthday party you have ever thrown?
More Party Ideas: