This school year, I've been missing having some more carefree time with my girls that we can do crafts and just hang out together. It has felt so hectic. Last week, we found some time to hang out and start our Real Summer of Fun. I picked activities for kids that would work for both of my girls and would add some fun to our porch for the Fourth of July.

If you have perused Pinterest much, I'm sure you have seen this craft or something similar, however we had to change it up and make it just a bit more glittery. I've been working with Offray Ribbon, they offered to send me the ribbon as well as sponsor this post. I knew that the Offray glitter ribbon would be perfect. It certainly did not disappoint! I love how the glitter ribbon reminds me of fireworks and sparklers. We love sparklers for 4th of July.

So let me show you how to make this adorable recycled tin can windsocks. They are a great craft to do with your kids this summer.

Supplies:
Empty and clean tin cans (with tops and bottoms removed)
Blue indoor/outdoor paint
White indoor/outdoor paint
Star stencil
Stencil adhesive
Paint brush
Hot glue
Hot glue gun
Hot glue gun finger caps (affiliate link)

Start by painting your tin cans blue. You may need more than one coat in order to get good coverage.
Use your star stencil and white paint to add stars onto your tin cans once the blue paint is fully dry. There is no need to plan things out, just randomly place your stars.
When stenciling, make sure you are using a very dry brush. Just put a small amount of paint on the brush. You can put the paint on the brush and pounce the brush a bit on another surface to make sure it is not too wet. Pounce the brush up and down on your stencil to get the coverage you like. Using a dry brush helps so that the paint doesn't seep under the stencil.

She likes her work! We had a little bit of an issue with the stencil adhesive that I used pulling some of the blue paint up when we removed the stencil. We could have gone back and touched it up with blue paint, but for us this was more about spending time together than having a perfect craft. We left it as is.

Now we need to add a way to hand your windsock. I selected to use baker's twine. I had never worked with Offray's baker's twine before. I love it! It is the softest baker's twine I have ever used. So pretty and lovely to work with. My girls may have taken to petting the roll of twine. Lol!
For this craft, I decided to teach my girls how to use the hot glue gun. At 13 and 8, I think they can handle it…well with my secret weapon(the hot glue gun finger caps

– affiliate link). If your kids are younger or not ready or able to use the hot glue gun, just use regular glue or some type of glue that is good for indoor/outdoor use.
Place a small dab of hot glue inside the can near the top.

Place the twine into the hot glue and press down with the finger cap on your finger.
Repeat this process two more times to form a triangle of bakers twine at the top.
I started with my baker's twine about 15 inches long and think I probably should have made it just a bit longer to make it easier to tie the top ribbon loop.

Tie the three strands of twine together at the top making a loop at the top from which to hang the windsock.

Next up, we need add the pretty Sparklet Ribbon. Cut them in random lengths.
I started with one ribbon cut at 12″ and randomly cut the following ribbons longer and shorter. I didn't want them all the same length.
Place a dab of glue inside the bottom of the can and add the ribbon on top. You will want to alternate red and white Sparklet ribbon to simulate the stripes of the flag.

We each had the same size can but we each had a different number of ribbons. We had one can with 10 ribbons, one with 12 and one with 14 ribbons. It just depends on how closely together you want your ribbon.

I can't tell you how much I love the Sparklet ribbon for this craft! It is so pretty and really reminds me of the 4th of July. I love seeing the ribbon glitter in the breeze on our front porch.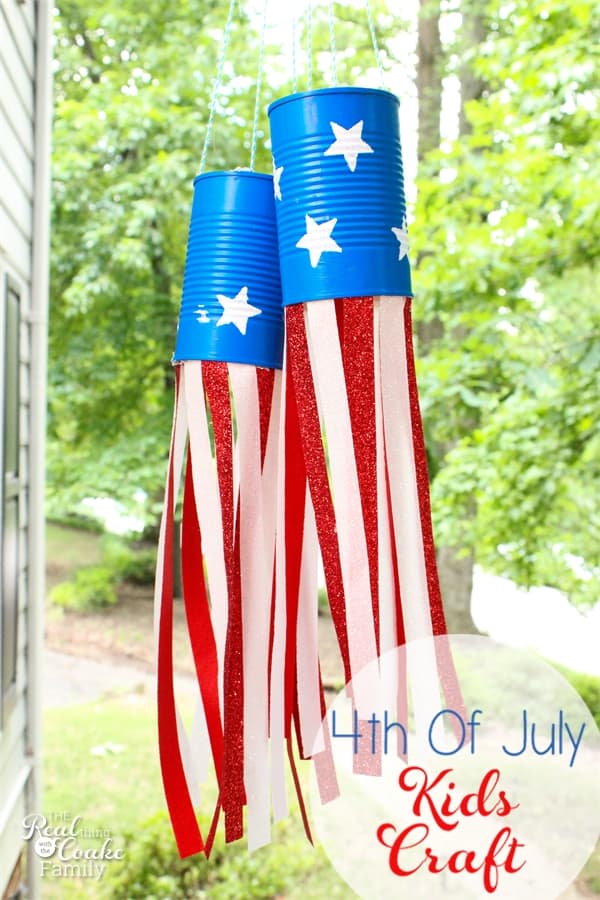 Even better than how our summer fun craft turned out, it was so nice to spend some time crafting and chatting with my girls. I've missed that kind of time with them.
That is the whole goal of this Real Summer of Fun series. I hope you will try this or some of the other activities for kids and enjoy some time with your kids this summer.