We recently went apple picking. We picked 20 pounds of apples! I knew exactly what I wanted to make with a big portion of those apples…this fantastic and super simple cinnamon applesauce made in a slow cooker. It is so quick and easy to make and is oh so delicious to eat. My kids gobble it up. The cinnamon is a subtle flavor in this recipe and not totally overpowering like some recipes I have tried.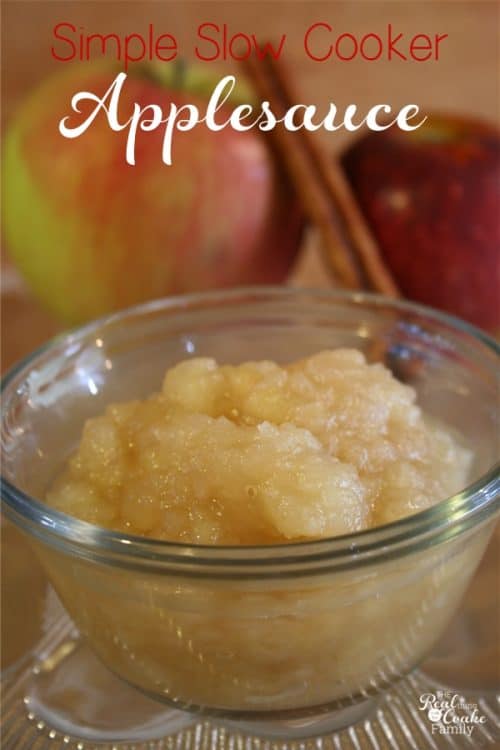 Doesn't it look delicious? I have a printable version of this recipe at the bottom of this post.

Start with some good apples. These are a few of our 20 lbs we picked. This year we picked Jonagold, Winesap, Pink Lady and Fuji. I used mostly Jonagold and Winesap but I did add some Fuji. It really doesn't matter what type of apples you use. The Jonagolds were enormous! One of them was almost 1 pound! I was able to make a batch of this applesauce and a couple loaves of this delicious
apple bread
, too!
Peel and core your apples. Cut them into 1.5 to 2 inch chunks. Place them in the
Crockpot

(affiliate link to my crockpot…which I LOVE. It works really well) with the water, sugar and cinnamon sticks. To me, the cinnamon sticks are the key to the subtle cinnamon flavor. Other recipes I have tried use ground cinnamon and that is all I could taste. In this recipe, you can taste the apples with a hint of the cinnamon. Love!

Turn your slow cooker on for 4 hours on low.

At the end of 4 hours, this is what you will have. Remove the cinnamon sticks. Use a potato masher to mash the apples into a chunky applesauce. We like it that way and it keeps it really simple, so I leave it at that, but you could process the sauce until smooth in a blender or food processor if you prefer it that way.

This year I doubled the recipe. 6lbs of apples did fit in the slow cooker. I also canned it so we can have some throughout the year (or more likely for the next month as it goes really fast when I make it). I tried canning using a boiling water bath for the first time. I got a little scared off of my inversion method after all of the comments on my
Inversion Canning post
. I had never had a problem, but after thinking about it, I decided not to take a chance. I also didn't want to be doing things the old way just cause that is the way it was done and not necessarily the best method presently.
Anyway, I was intimidated to try canning via boiling water bath. It wasn't too bad. It did feel more fussy to me than my inversion method, but it is do-able. I plan to use that method again and now that I know how, I can make salsa next year when tomatoes are in season. There is nothing like fresh salsa!

Anyway, back to the applesauce. It is super yummy and simple. I hope you love it if you try it. Just fill in your info. below to get the free recipe. Enjoy!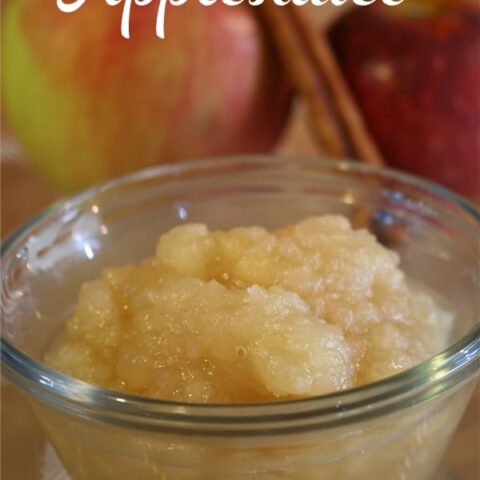 Slow Cooker Applesauce Recipe
Total Time:
4 hours
15 minutes
Ingredients
• 3 Ibs Apples
• 1 Cup water
• 2 Tbsp Sugar
• 2 sticks cinnamon
Instructions
1.Peel and core apples.
2.Cut into 1.5 to 2 inch chunks. Place in slow cooker with remaining ingredients. Cook on low for 4 hours.
3.Remove cinnamon sticks.
4.Use a potato masher to smash the cooked apples into a chunky applesauce. If you prefer a more smooth consistency, place in a blender or food processor and process until smooth.
Recommended Products
As an Amazon Associate and member of other affiliate programs, I earn from qualifying purchases.