Don't you just love fall? It is such a fantastic season filled with so much fun and yummy fall food. Normally every fall we head to the apple orchard and pick apples. We love it. It is a fun family fall tradition. So far this year, we haven't been able to fit it in. I didn't let that stop me from making a few apple recipes so we could feel like we had gone to the apple orchard. Apple bread was the first thing on my list of recipes to try this fall.

My cousin shared this recipe with me about 4 years ago. Yep, I'm quick like that. I finally got around to trying it this year. She made some modifications from the original recipe and I modified it a little bit more. This apple bread certainly didn't disappoint. It was moist with great flavors and a crunchy, delicious topping. 
When we do make it to the apple orchard, it is on a mountain, which means we spend the day hiking up and down the hills, not to mention carrying all those pounds of apples around. After a day in the apple orchard, the last thing I want to do is spend a long time cooking. This recipe is easy to mix together. Then it just bakes in the oven for 50-60 minutes. Easy Peasy. Perfect for an evening following the apple orchard, a day at work or a busy weekend.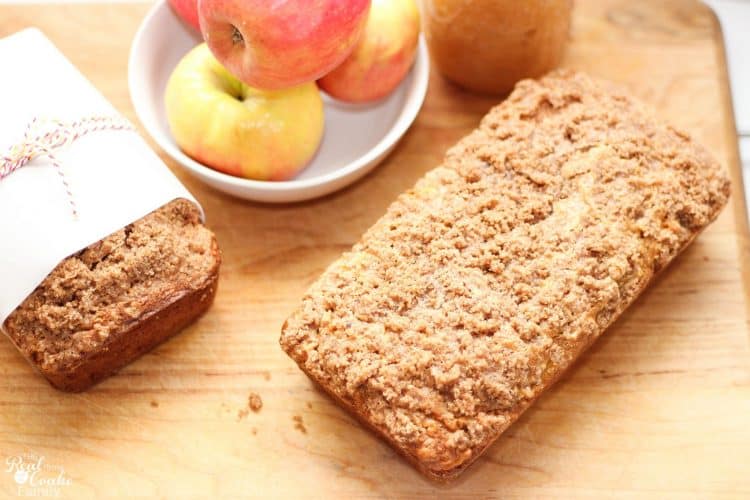 The original recipe called for oil and white flour as well as full-fat sour cream. My cousin gave me the idea to change a few of those things and I then changed a few of her ideas as well. In the end, you have a recipe that is a little bit healthier by using
applesauce
rather than oil and light sour cream rather than full-fat sour cream.
I also always cook with
white whole wheat

(affiliate link) as it adds some additional healthiness over traditional white flour. My cousin added the toasted oat bran to the topping on the bread, which adds some additional fiber among other things. Putting all of these little changes together makes the overall end result a little bit healthier. It doesn't lose anything in the flavor department, if anything the use of the applesauce for the oil ups the apple flavor in the bread.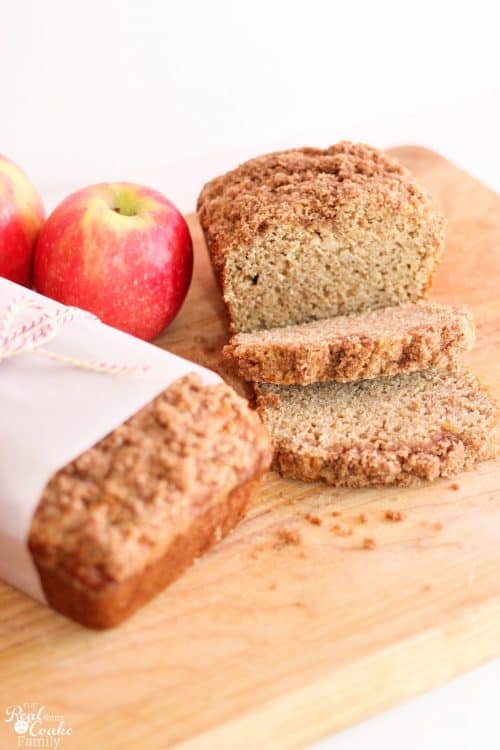 The recipe will make two loaves of apple bread. If your house is like mine, it will go quickly. I couldn't even get them to wait until I had taken the pictures (hence why the one loaf is never fully in the other pictures). Can you tell that we had already eaten a few slices before I got to the pictures….the cut up loaf is a bit smaller than had I just cut those slices for the pictures. We just couldn't wait…it was too delicious!
There are so many delicious ways to use apples, what kinds of things do you like to make with apples?
Follow me on Facebook for even more great recipes and ideas.