For us, it is almost back to school time! I know for many of you school has already begun or begins this week. Since we homeschool, getting ready for school around here often involves re-organizing and changing things up a bit. We use our kitchen and living room as our primary school areas. I changed things up this year and zhuzh'd up a bit in our school area. I took our plain cork board and added a few very simple and easy touches.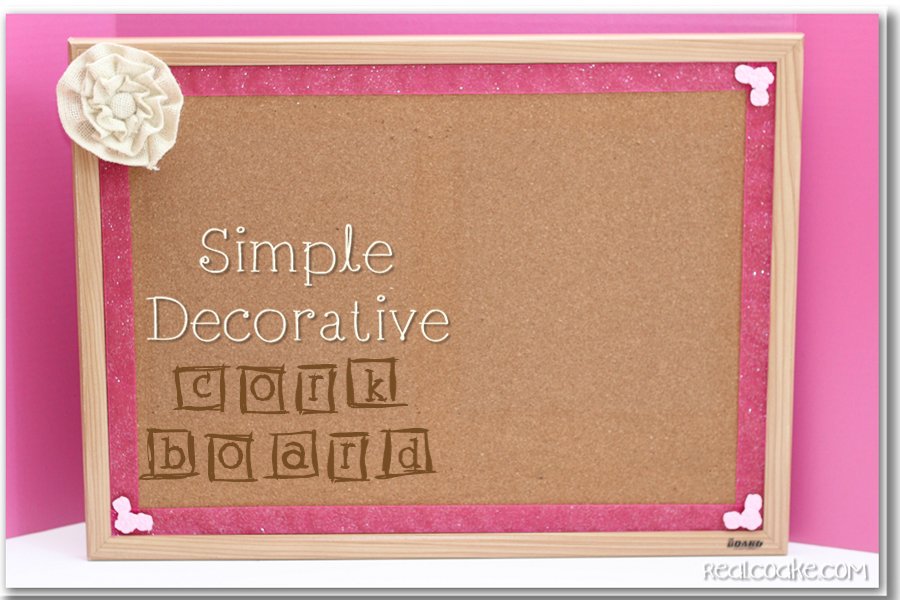 Now we have a cute decorative cork board for our school area!
It couldn't be much easier to zhuzh up your own cork board. I'll show you what I did so you can either gain some inspiration for your own cork board or copy mine.


Supplies:

Start by cutting your ribbon as precisely as you can to fit in each corner. Mine ended up being a little long in each corner, but once I got it close I could easily trim small amounts until it fit well.
Use your thumbtacks to hold the ribbon in place. If you are adding Mod Melts or other embellishments onto your thumbtacks, hold off on this step.

I didn't want my thumbtacks showing, so in one corner I added a burlap flower. It matches the flower I added on my
Pencil Holder – Mason Jar Craft
, which sits just below this cork board.
As you can see, remove the clip on the back of the flower. Gently lift the felt and put thumbtacks under the felt. Use those thumbtacks to adhere the flower to the bulletin board.

Ahhh..so pretty! I'm loving having something a bit more cute and pretty to look at in our school area.
I didn't want the other thumbtacks to show either, so I headed to my craft stash to figure out what to add to cover them up. That is when I remembered my Mod Melts. They were perfect to add on top of the thumbtacks.

Melt the Mod Melts and use any mold you prefer. I used this cute corner flower. After the Mod Melts cool, paint your flowers (or whatever you used) with acrylic craft paint.

Use your favorite craft glue to adhere the flowers to the thumbtacks. Wait until the glue has fully dried…I think this is the hardest part! The torture of waiting for the glue to dry.
Once the glue has dried, you can use your new cute thumbtacks to hold your ribbon in place on your cork board.

See, I told you this was very simple! Here is my cork board in our school area. You can see the 
Pencil Holder – Mason Jar Craft
 on the shelf below the cork board. They all go together and helped me glam up our school area.
I'm going to show you our school area and how I re-organized it later this week. So tune back in if you want to see how we fit a classroom into our living room.

So much better than the plain cork board that has hung in my living room for 3 or 4 years!
What other ideas do you have to glam up a cork board?