My girls had so much fun having cards for their dolls and themselves at
Valentine's
that we decided to make some
printable Easter cards
 as well. Of course, I didn't want to leave you out of the fun, so I have them in a pdf format for you to download and use as well.

We made the large cards with envelopes and the small sized cards some with envelopes and some without.

Our American Girl dolls have been busy giving each other Easter cards…their mailboxes are already full. As you can see, we use our small sized printable Easter cards for the
mailboxes we made for our American Girl dolls
. Well, we really use the mailboxes for the dolls and my girls. Sometimes, I leave little notes or little cards in their mailboxes for them. Though, I get in trouble if I forget to put the flag up to let them know I have put something in there. 😉

The little envelopes are so cute. They have a seal or button that comes with each envelope to give it a fancy way to close the envelope.

The big printable cards each have their own envelope and seal with which to close the envelope. My girls have declared the 'Wishing You Springtime Fun, 'their favorite big card. Their favorite of the small cards is, 'Wishing You Hippity Hoppity Easter Fun!'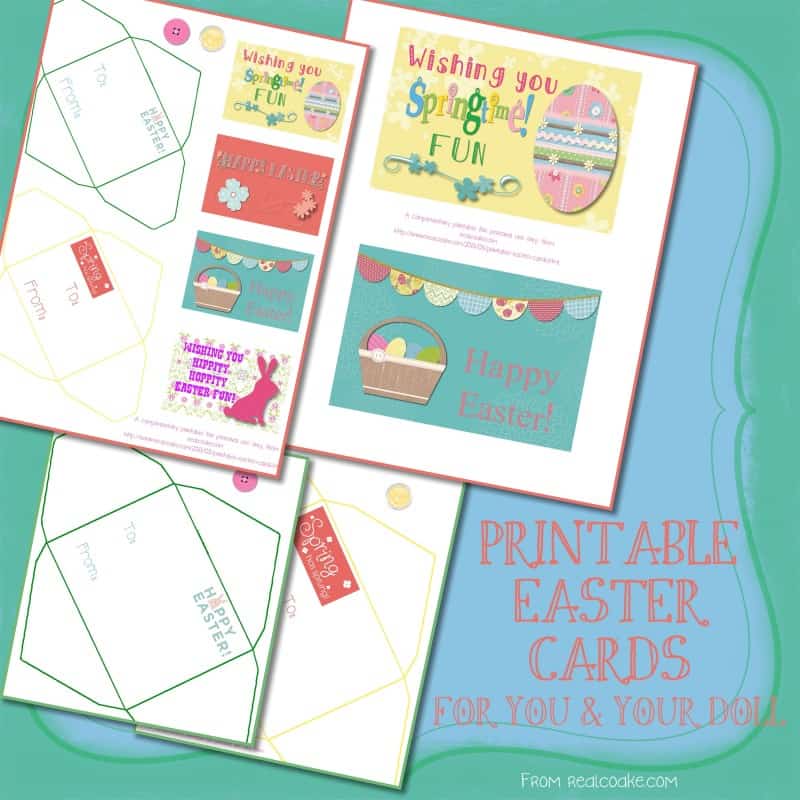 This free download is for personal use only.
What's included: 2 large Easter Cards, 2 large envelopes, 2 large envelope seals, 4 small Easter cards, 2 small envelopes, 2 small envelope seals.
I hope you enjoy them and make sure you put the flag up if you are putting any of these cards in a mailbox for your child or their doll!
More Easter Fun for You: