We are starting to get things ready for Christmas here. Yes, I know Thanksgiving hasn't passed yet, but every year my girls and I plan our table centerpiece together. Then I get busy making the elements. I like to have it done before Thanksgiving, so the day after Thanksgiving I can go Christmasy at our house. Part of our table centerpiece for this year involved learning how to make a glitter candle. It was really easy and could be some fun DIY home decor for any time of year.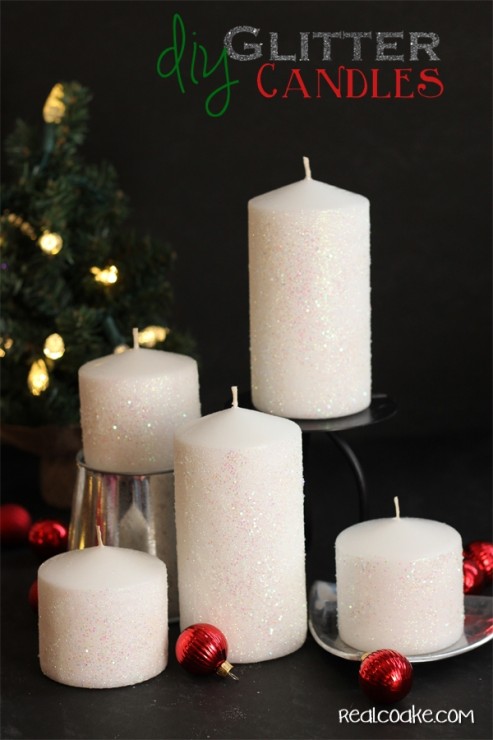 Making glitter candles is surprisingly easy. For how much they charge for candles, I think that decorating my own may become a standard thing around here. It is so easy and in this case makes them so pretty and sparkly. Is it just us or does anything with sparkles and glitter seem a little bit better? Let me show you this easy and quick DIY home decor craft.

Supplies:
Candles
Mod Podge
Paint Brush
Glitter


Start by painting all sides of your candle on which you want glitter with Mod Podge.
There are two slightly tricky parts to painting your candle with Mod Podge. The first is only with the larger candles. They are hard to hold because they are tall. The second is that the Mod Pode will streak and leave holes in it as it doesn't really want to adhere to the waxy candle. You can see that in the picture above.
I found that if you paint your candle with two coats of Mod Podge, even though you will see the streaks and the holes, there is enough Mod Podge that the glitter will stick to the candle and you won't be able to see them.

I ended up using two types of glitter. If you want to do the same, start with a larger glitter and gave the candle an initial light sporadic coating. Go back over your candle with your fine glitter (the glitter that is pictured in the supply picture).
Let your candle dry. I like to leave mine on a piece of
parchment paper

 to dry so it doesn't stick to the surface and lose glitter in the process.

By using the two different sized of glitter, you get a varied and pretty texture to your glitter candle.

Like I said, this is an easy and pretty craft. Those are my favorite kind…how about you?

I'm using these glitter candles on my Christmas table, but they could easily be used for so many other seasons and holidays. Oh and by the way, please check your glitter packaging to make sure it isn't listed as being flammable. Mine was not, so I think it will be fine to light the candles. Just make sure to read your packaging, because burning glitter would be a bad sparkly!
Have you started to get ready for Christmas? Any glitter and sparkle in your Christmas plans for this year?
You may also enjoy: