I don't know about you, but I love decorating and creating fun ideas for Valentine's Day. The colors are so fun and where I live the winter is cold and often dreary. Adding some Valentine's cuteness around the house makes me feel like spring just may come and we may see the sun again. Is it like that for you?

I have wanted to make this garland for a couple of years now and for one reason or another, I just haven't. I think I was waiting to get the idea of adding the cute little buttons, which came to me this year.
I made felt hearts like this a few years ago when I made this cute Valentine's wreath and had planned to make this garland at that time as well. Two years later, I got it done!
Now, I've got the tutorial to show you how to make your own felt and button Valentine's garland. Oh and by the way, this cost me less than $7 to make! How is that for some cute cheapness? Love that!
Supplies:
Felt
Ribbon
Thread
Needle
Buttons
Scissors
Hot glue or fabric glue
Polyfill
White and red embroidery thread
Embroidery needle

Start by deciding on how many hearts you will need for your space. Cut the hearts out of the felt. I have a free printable template for you that you can use to get them all the same size. Just pin them on the felt and cut away.
Hot glue (or use fabric glue) the ribbon in place on the inside of the back heart.

Arrange and sew your buttons in place on the front of the top heart.

When I make things like this, I really like to hide all the knots. I like the polished finished look better. To do that with these hearts, start by hiding your knot inside the heart. Sew down through the bottom heart near the edge, but inside a bit (as pictured above).

Place your two layers of hearts together and go up through both layers of heart near the edge of the heart and the knot that is now hidden inside the heart.

Sew the stitches around the edge of your heart. When you get back to the edge upon which you started, fill the heart with your polyfill. Finish sewing the stitches to close the heart.

Once again, we want to hide the knot so it won't be seen. When you get back to the place where you started sewing, bring your needle up through the bottom layer of felt only. Do this right near a stitch, as you can see above.

Take your needle back behind the stitch.

Create a knot before you tighten your thread around the stitch. Pull the knot tight as close to the thread as you can. Tie an additional knot and clip your thread as close to the knot as you can.
Use your needle to gently push the knot in under the stitches.

Your knots are now totally hidden and you have a finished adorable felt heart for your garland.
Repeat the process for each heart that is needed. I like to do all of one thing at a time, so I started by hot glueing all of the ribbon. Then I sewed all of the buttons, etc. Until I had completed 12 hearts, 3 of each of my 4 colors.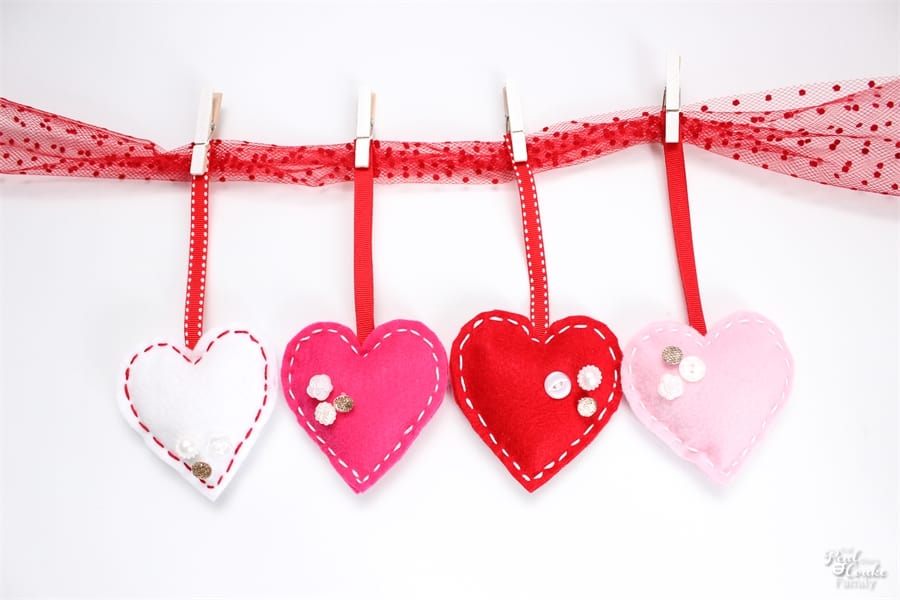 I decided to use the glittler clothespins I made last year and hang the hearts from this adorable polka dot tulle. The glitter clothespins sure are handy! I've used them to many times.

I just love the button detail on these hearts!

I still haven't decorated for Valentine's Day. I often like to wait until February and in January have a winter theme in the house. However, writing this post has me excited to get out my Valentine's decorations and see all the fun colors. My oldest daughter has her 13th birthday coming up and as her nickname is Snowflake, I will have to check with her if she wants winter or Valentine's day things out for her birthday. 🙂
Anyway, getting back to the garland, it was easy to make. I sat and worked on the sewing while watching TV at night. It was kind of soothing, which is really surprising because I usually really dislike hand sewing. I know you can make this or something similar. If you do, I'd love to see a picture! You can show me that on Facebook or tag me on Instagram.
Once I get my Valentine's decorations up, I'll take a picture of my mantel (which will have this and the rose ribbon wreath I made this year) and put in on Instagram for you to see. So, follow me there if you want to see it.
More Valentine's Idea for You: