My youngest daughter recently celebrated her 6th birthday! She loves American Girl Dolls and decided to have a Felicity themed American Girl party. I've got all kinds of ideas and tutorials for you so you can have your own Felicity American Girl party.
Today, I'm going to show you a bit of the overall party as well as show you all the food I served for the party.

I made tons of pom poms to use for the decorations. I used some in these vases on the table.

Above, you can see the food I prepared and served. I normally don't serve much food other than cake at my daughter's birthday parties. It just seems as though the kids could care less about the food, so I don't worry much about it.
For this party, however, it seemed appropriate to serve food. Felicity Merriman is a historical doll from the American Girl line. She is from colonial times. Tea and proper tea service is a factor in the books about Felicity. So, it seemed like it needed to be a part of the party. We didn't do a 'real' tea service, but rather a fun snack type tea for the little and big girls who came.

Pumpkin requested lemonade for her party, so we had lemonade or water as the choices. We served them in the cute mason jars.

Originally, I was planning to sew napkins for each girl. I underestimated how much fabric I needed as well as the time it would take to make the napkins. I ended up finding the plates on clearance at Michael's and used the fabric to sew a cover for our bar area so that it would match the theme of the party.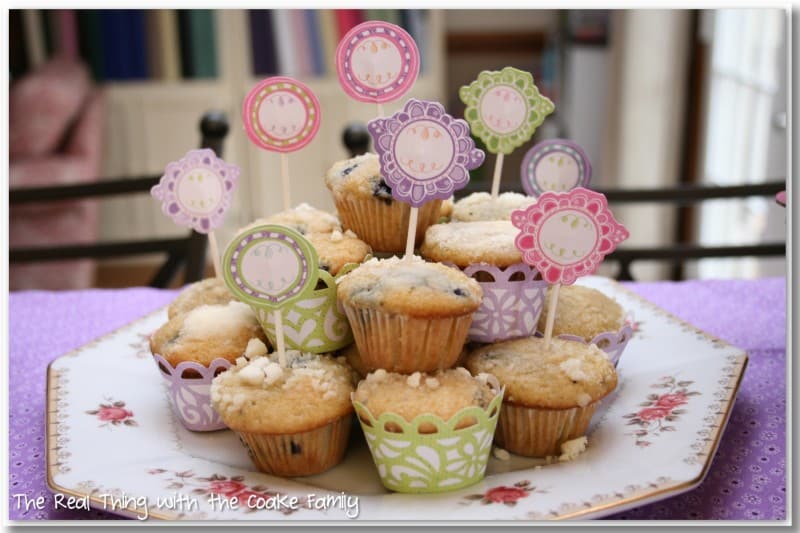 Mr. T made these cute mini muffins to help out. We used a mix for them. The girls loved how they looked and tasted.

I made these cute 'tea' sandwiches. They were super simple. Just a piece of turkey and a piece of cheese between the bread. The girls gobbled them up. I used mini cutters I got years ago from Pampered Chef to cut some of the sandwiches in flowers and the others in pumpkins (in honor of Pumpkin's nickname).

For me, one of the most fun parts of this party, was coming up with cute ideas on how to include the dolls in the party. I will have some tutorials for you on how I made each of these, so this is mostly a teaser. I made cute little doll cups and napkins for each girl. I also happened to find those little forks you see at Target in their party section! I was so excited to find them, they are perfect.
The girls all really liked sitting around the table drinking their lemonade and eating. They loved that I had something miniature for their dolls and that they could share their food with their dolls.

On a trip to Michael's during the summer, Pumpkin and I found tons of American Girl stuff on clearance. We carefully chose things we wanted for her party. One of the things she wanted was this display on which to put cupcakes. We also found the cupcake liners and decorative signs for the mini cupcakes as well as these cupcakes on clearance. Love it when that happens!


Happy Birthday Pumpkin!
Now let me give you a little sneak peak at the rest of the party ideas and some of the other posts I have coming for you with ideas and tutorials.

More of the decorations I made for the party. I will tell you more about how I made these in another post.

I tried to keep the decorations in line with the colonial theme.

I also tried to keep the favors in line with the theme. I made these favor bags from the same fabric I used for both the doll napkins and the cover for the bar. I will have a tutorial for you on those in another post.
I can't wait to show you all of the other ideas I have that we used for this Felicity American Girl Party. I've got lots of ideas and tutorials coming for you.
More American Girl Doll Fun For You: