Are you ready for another American Girl Doll craft? Today I've got American Girl Doll Patterns for you to make a sleeping bag(and a few other things if you want to) for your doll.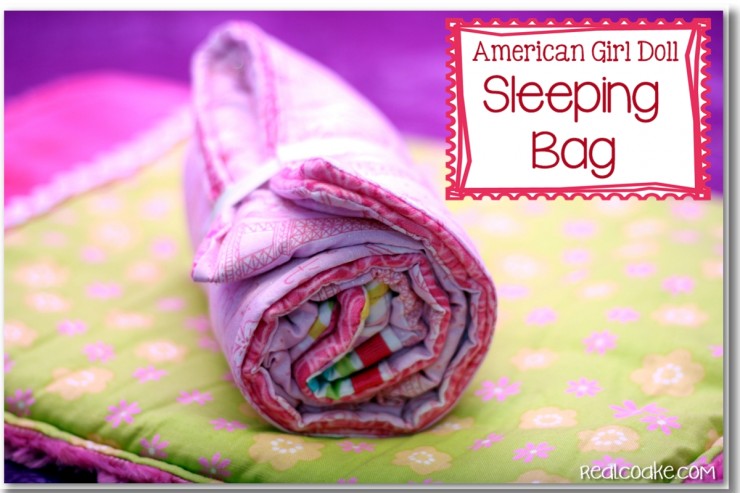 This past weekend we went camping with our Girl Scout troop. I thought before we left, our dolls needed a sleeping bag so they could go camping in our absence. The dolls went camping in the wilds of our playroom, while we were at camp with our Girl Scout troop. 
I searched for a free pattern for a sleeping bag. The one that I found that I liked the best had a zipper, which I really liked the idea of, but never having sewn a zipper before, I didn't want to deal with it this time. I finally settled on a pattern from
Schoolhouse Patterns
. The pattern was $7. It is a pdf download and includes patterns to make the sleeping bag, pillow, pillowcase, and pajamas. You can see the pattern or purchase it on Etsy: 
Sleeping Bag Pattern
. (I am not affiliated with Schoolhouse Patterns in any way….just writing about what I bought and made.)
The pattern from Schoolhouse Patterns was very easy to follow and the direction were well written. I won't go through the tutorial or how to make this here because, if you decide to make this sleeping bag, it is all in the pattern.

I added one thing to the pattern. In step 6 under Getting Started, the pattern tells you to stitch your seam allowance in place. I thought it was a perfect opportunity to add a little something to the sleeping bag. I added rick rack to Pumpkin's sleeping bag and grosgrain ribbon to Snowflake's during this step. It worked perfectly and I love the little added extra it adds to the sleeping bags.
I was a little concerned about making these and sewing all the layers and such and so on, but it all went together very easily. This was a pretty simple and quick sewing project.

The pattern calls for 1/4″ wide elastic, to use at the bottom and allows you to roll up the sleeping bag. I had 1/2″ on hand so that is what I used. it definitely looks more bulky, but It works fine and was better for my wallet. 🙂

The sleeping bag easily folds in half and rolls up just like a real sleeping bag.

The sleeping bags all completed and ready for some doll fun!

I think the sleeping bags look really cute all rolled up. The only draw back to rolling them up….they get really wrinkly. They are sleeping bags so I shouldn't care and really don't, but the wrinkles don't look as nice for taking pictures. 😉

We set up our kid sized tent in our back yard before our camping trip and let the girls and their dolls' have some fun 'camping."

Put out a tent and doll sized sleeping bags in the backyard and guess what happens? Dolls just start appearing! I'm not sure how they heard about our doll camping trip, but there they were. Then their pets joined the fun, too. Felicity and Chocolate Chip were the first to arrive.

Samantha found her sleeping bag next. Both girls were already in the pajamas ready for a slumber party. I guess they forgot that this was a Girl Scout camping trip and forgot the 
Girl Scout Uniforms
I made them. Hummph! 😉

Their pets came to join the fun and keep them company.

After a campfire and some s'mores, it was time to sleep. Coconut kept a good look out for Samantha.

While I normally prefer to find free patterns, I really wanted to make sleeping bags for my girls and their dolls. The pattern I found was simple and easy to follow with no zipper, so that makes the $7 worth it to me. My girls are really happy with their sleeping bags and that makes this Mom happy, too!
Have you sewn a zipper? Is it hard or not really too bad?
More American Girl fun, just for you!