I'm back with another in my ongoing series of activities for the family. This month, since Valentine's Day is quickly approaching, I came up with a simple and inexpensive idea that incorporated the upcoming holiday into our family activity.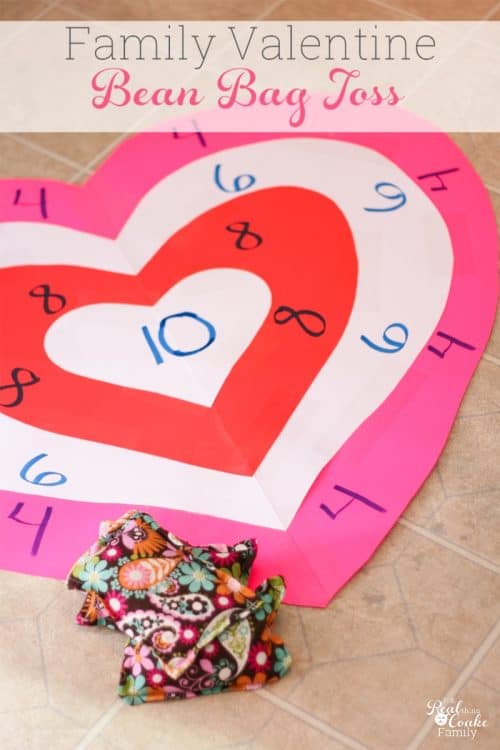 This month our
family activity
idea for you is a Valentine bean bag toss for the whole family. It cost me $3 to put together and we had a fun time playing. Let me show you how I put it together and tell you the rules we used to play.

Supplies for the Heart 'game board':
4 sheets of poster board (I used 2 hot pink, 1 white and 1 red.)
1 sheet of 8.5″ by 11″ white card stock (you could use plain white paper)
Packing tape
Large marker(affiliate link)
Pencil
Scissors
You will also need bean bags. I made mine long ago. You could make your own or you could buy some for fairly inexpensive. I found bean bags at a local teacher supply store for less than a dollar each.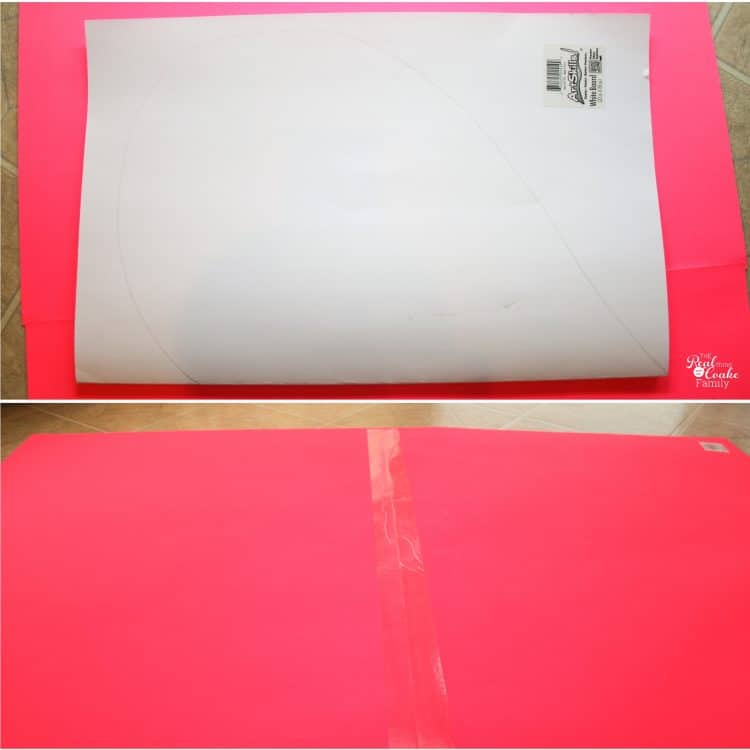 To make the game board, start by using the one sheet of white poster board. Fold it in half. Draw a heart on half, using the majority of the poster board for the heart. Cut the heart out.
Tape your two hot pink sheets of poster board together, taping the wide or longest sides together.

Place your white heart on top of your taped together pink poster board. Freehand draw a heart on the pink, making it larger than the white heart and filling the height of the pink poster board.
Cut out the pink heart.
Continue drawing hearts by folding the red poster board in half, drawing a heart smaller than your white heart on it and cutting it out. (You could trace your white heart on the red poster board and draw a smaller heart inside the heart you traced, if you want all your hearts to be really exact.)
Finally, cut the smallest heart out of your piece of white card stock.
Tape all your hearts together.
Label the different sections with your point values using your marker.
Your game board is complete!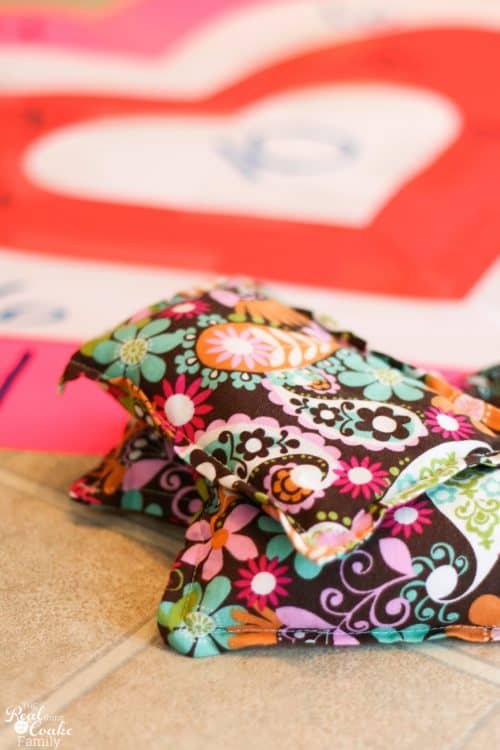 You just need some bean bags and some family or friends with which to play the game.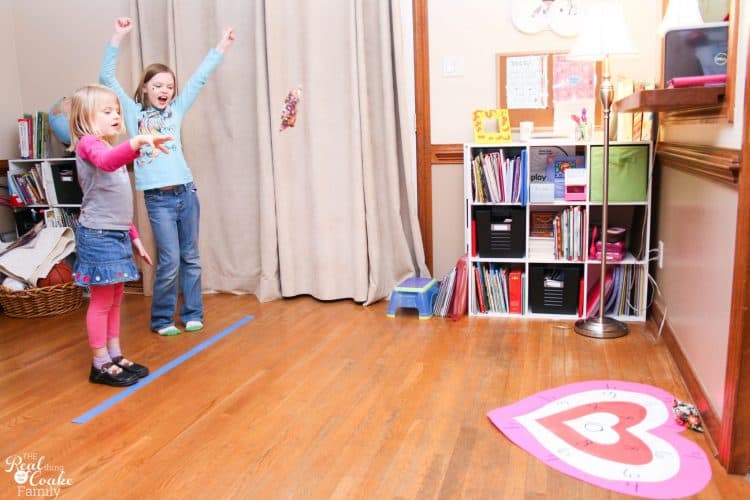 We thought of lots of different rules and decided to team up. We played our game 3 times using these rules. We played so everyone had a chance to partner with each family member.
Each team of two people had two bean bags. Each person on the team got to throw their bean bag one time per turn. They had to stand with toes behind the line. They had to wait to collect their bean bags until both players on the team had taken their turn. Then they needed to add up their points, write them down and total them up. We played to 100 points.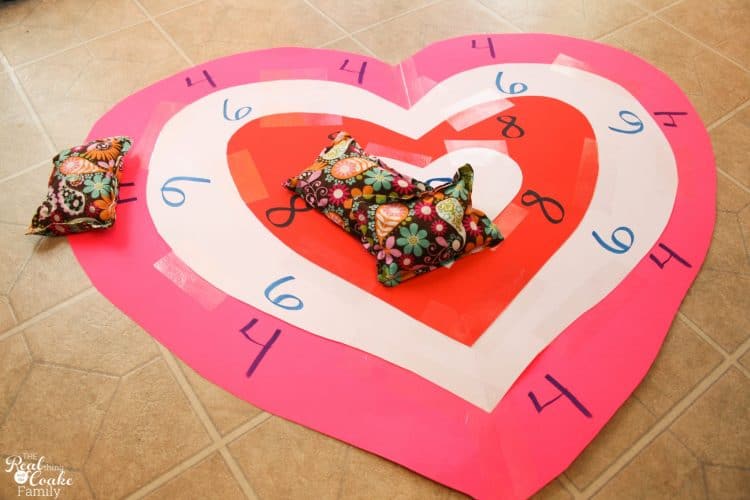 The points added up quickly!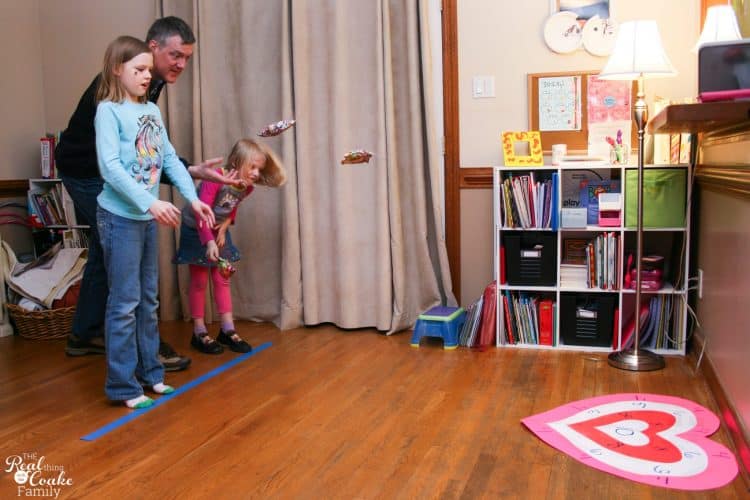 Everyone had fun tossing and seeing how many points they got. We had thought of playing the game as a family team and competing together to see how many turns it took us to get to 100 points. We did try it once and it was much too fast of a game. If you play it that way, I would recommend using a higher point total or lower point values on the game board.
I had really wanted us to play as a family because Pumpkin and Snowflake are 5 years apart in age. As Pumpkin is the youngest and quite a bit younger, she often feels like she is the worst at things(that is how she says it). She isn't, she is five years younger, but it is hard for her and I don't like it. I had thought that playing together as a family would work better for her to feel part of the team.
As it was, everyone wanted to play team against team and she did get frustrated not being able to toss as well and get as many points as everyone else.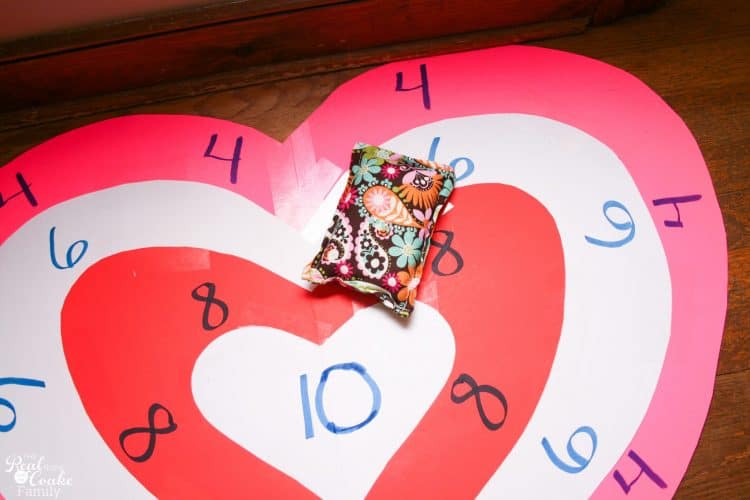 In a lot of cases, when Pumpkin had a throw like this, we gave her 8 points rather than the 6. Well, really, we did that a lot, but we made sure to give Pumpkin more points to try to lessen her frustration at being the youngest. You, of course, can choose how you score the game in your home.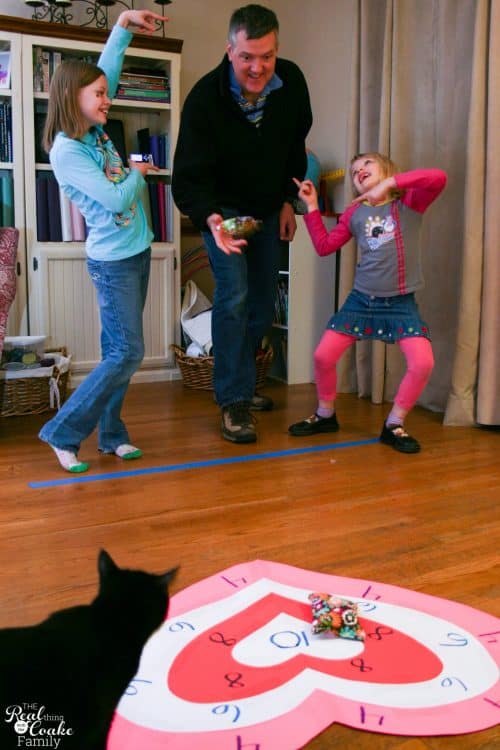 We managed to have a fun activity together despite a few tears. We even managed to have a lot of laughs and some silly moments, too. Our cat, Pepper, had to get involved as well. Apparently, he really likes our wacky family and our family activities! We had fun being good sports and cheering for each family member regardless of which team they were on. We even managed to scare the begeezus out of ourselves by causing a candle set to come crashing down to the floor. I guess we were rocking it out a little too much while playing or maybe it was all that jumping and cheering. 😉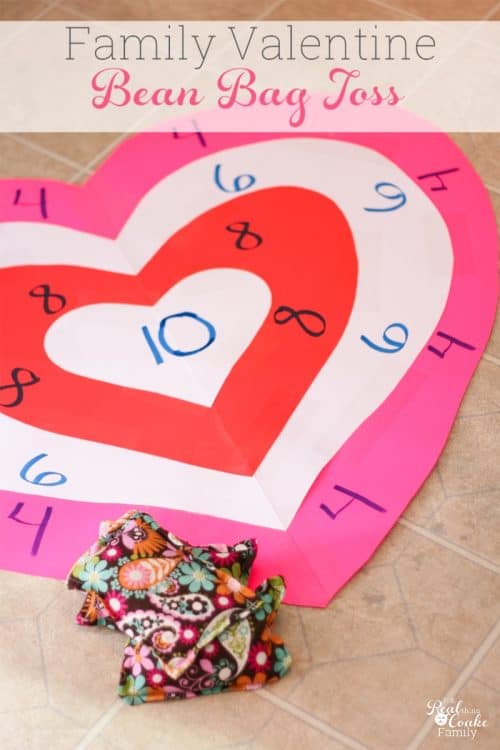 I will say that this wasn't our best or most favorite of our family activities. It was fun and we did enjoy a night together as a family. That is the goal of my creating these activities, so in that respect, we nailed in out of the park!
I hope you and your family have a fantastic Valentine's Day, enjoy some time together and have a little fun…maybe playing a Valentine bean bag toss game!
I've got more ideas and inspiration on my
Facebook page
. Follow me there for more family fun. ♥