Are you looking for Memorial Day activities for the family? I'm always looking for ideas and thinking of things we can do together as a family that are fun. I've got a relay game for you that would be perfect for a family or group to play for a Memorial Day weekend get together or barbecue. It is a hamburger relay race that only requires a few inexpensive pieces of felt and a small amount of time to prep in order to play.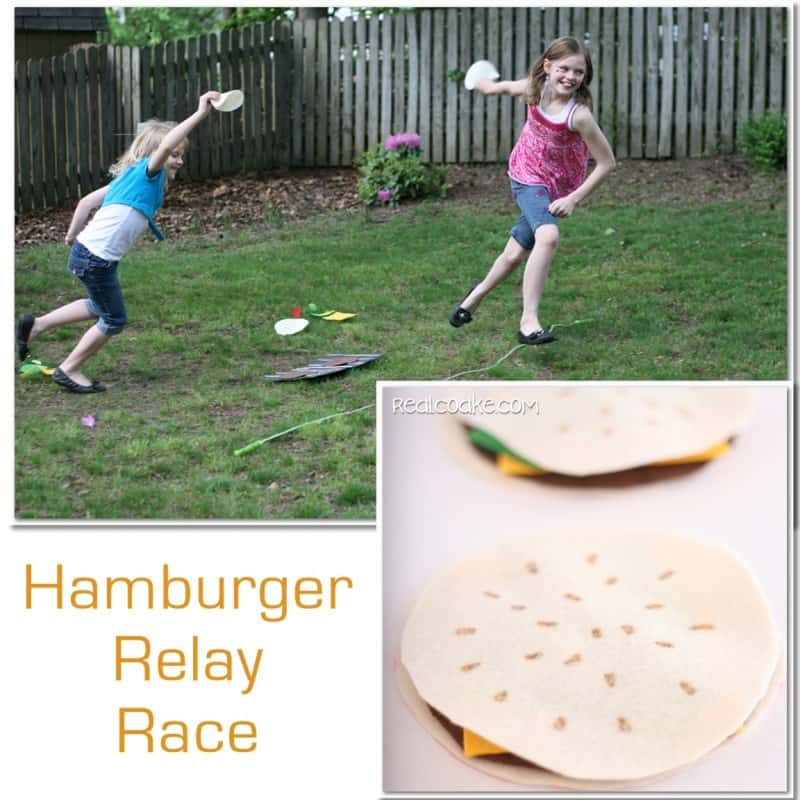 I came up with this game idea for our family. We tried it out and have declared it fun….so now we are sharing it with you. This is a quick and active game. I will give your forewarning that if you play person against person, it is a tiring game and if you play multiple rounds, you will be sweating and feel as though you got a workout. If you play as a group or as teams, it won't be quite a tiring and it will still be lots of fun.

You will need to make your felt hamburger in order to play this game. It won't cost a lot since felt is usually 4 pieces for a dollar (at least where I live). If you are like me, you many have some of this felt already in your stash.
Supplies needed:
2 pieces of ivory felt
1 piece brown felt
1 piece orange felt
1 piece light green felt
1 piece dark green felt
1 piece red felt
1 piece yellow felt
Dark green, black and brown markers
Plate or other circle to trace on felt
Scissors

Use your plate to trace circles on your felt. I found a plate that was just about the size that two could fit on one piece of felt. Cut on the inside of your circles so you won't see the pen marks.

Make your burger a touch smaller than your bun. Use your black marker to add grill marks. For the cheese, just cut a square out of the orange felt. Use a small round object to make your three pickles in the light green felt and use the green maker to add the seeds. The ketchup and mustard were both just free cut out of the red and yellow felt. Once I got a shape I liked, I just used it as a pattern to cut the others. For the lettuce, free cut a lettuce leaf shape and add the veins with the green marker. To add a distinguishing feature to the top bun, you can add seeds with the brown marker. All in all, making the burger was easy and only took a few minutes to pull together.

For your Hamburger Relay Race, you will need a start line and and end line. You can use jump ropes, or whatever you have on hand that works, to mark both of those areas. I had a piece of black foam and added some silver pipe cleaners to it to make a grill. You can do this if you like, but it isn't necessary.
At the start line, you will want all the pieces of your hamburger laid out and mixed up. At the end of the course, you will want your plates.
We played that you had to get the pieces in a certain order. If you did not get them in the correct order, then you didn't win.
Our winning order:
Bottom bun
Burger
Cheese
Pickle (Each pickle had to be taken one at a time)
Ketchup (Each taken one at a time)
Mustard
Lettuce
Top Bun
You can play this game as a team and do it as a relay or as individuals racing against each other or against the clock.
When we played as a relay, our rule was that teammate #1 had to be behind the start line and tag out teammate #2 before teammate #2 could take off to run the next piece.

The first race was among our girls. They raced individually. Snowflake won, much to Pumpkin's disappointment.
We then race with every combination of teams we could make out of our family. (I just couldn't take pictures of those because we were all racing in them) I lost 2 and won 1 race…it seems that my husband being 6'2″ is a bit of an advantage in this game, any team he was on won.

Our next individual race was a dual of parents. Now, since he had won every race he had tried as a relay, I was feeling the need to beat him! 😉 This was our first time to run the course by ourselves and not in a team. Whew! This race is a workout. I had to work hard, even though I am the runner and he isn't, to beat my husband, but I managed it (just barely).

Finally, in a state of exhaustion, I raced Snowflake. We were neck and neck for the whole race even with Pumpkin running interference and trying to help her mom win. Since I am a runner, I practiced saving just a smidge of energy to pull out a last minute sprint to the finish and I managed to win(thanks for the help, Pumpkin). My Snowflake is quite the competitor, she pushed me hard!
We had a lot of fun with the activity for the family. Our Hamburger Relay Race sure did burn off some energy and was a great way to spend some time together. Do you have Memorial Day plans? Any fun activities for the family you have planned? Do share, we would love to hear and gain some new ideas!