Have you ever wondered what you tech items you need for a road trip? There are so stinkin' many options out there you could spend a small fortune and fill up your car with all the fun tech gadgets, but do you need them all? What do you really need?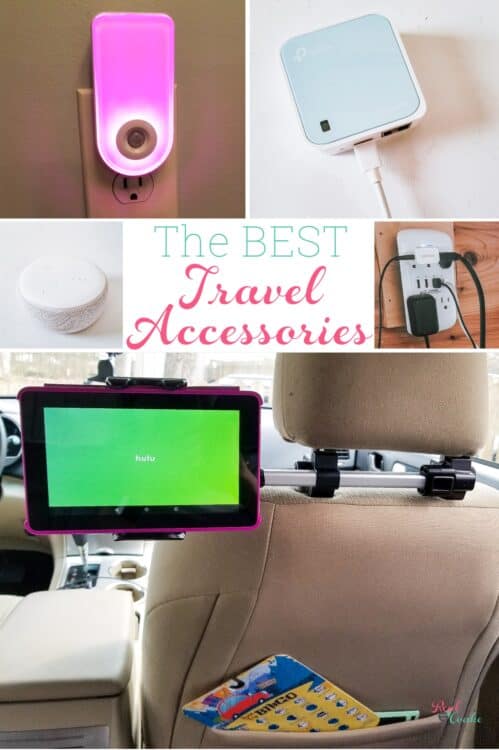 When I went on my first road trip, I felt scared not knowing if I could handle taking a road trip with my 2 daughters. Then I started researching what to bring and I felt so overwhelmed and confused about what we needed versus what was extra fluff and would be a waste of money.
It shouldn't be hard to figure out what you need for a road trip, but it sure felt like it.
I talked to some friends who'd taken road trips and went for it not sure if I had what I needed or not. Now, after 3 successful road trips totaling over 12,500 miles, my daughters and I have you covered!
I'm going to be real about what we like and why and at the bottom of the post, I'll add a short list of what we found to be a waste of money.
That way I can help you not overspend on tech gadgets for your road trip and know what works and what you need for a successful and fun family road trip.
All you have to do is decide which items your family will need and click the link to buy them on Amazon. These are affiliate links, so I'll get a small amount of money from Amazon when you order. It won't cost you any extra and it'll help fund our next road trip. Yay! Thanks!
Road Trip Tech Essentials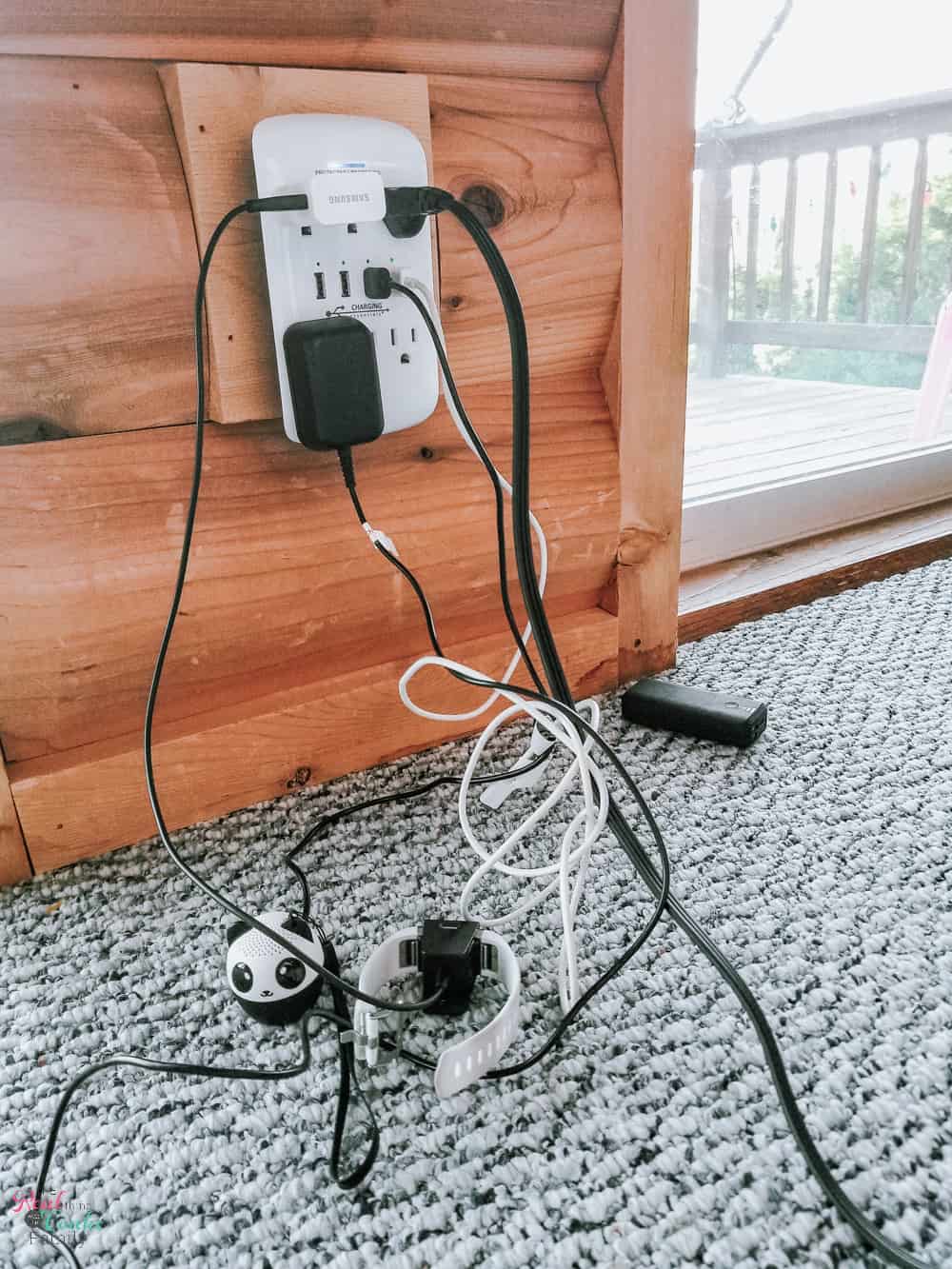 Like the name says, the charging essentials plug is essential especially for a family traveling together.
You're going to have many devices, and they are all going to need charging, often in the same short time span. Add to that the fact that a lot of hotels and Airbnb places don't have enough plugs or enough USB outlets and you'll need some extra plug power. It makes this plug the tech hero of your trip.
The plug also adds the benefit of having surge protection. So you won't have to worry about devices getting fried or ruined if there is something funky with the power.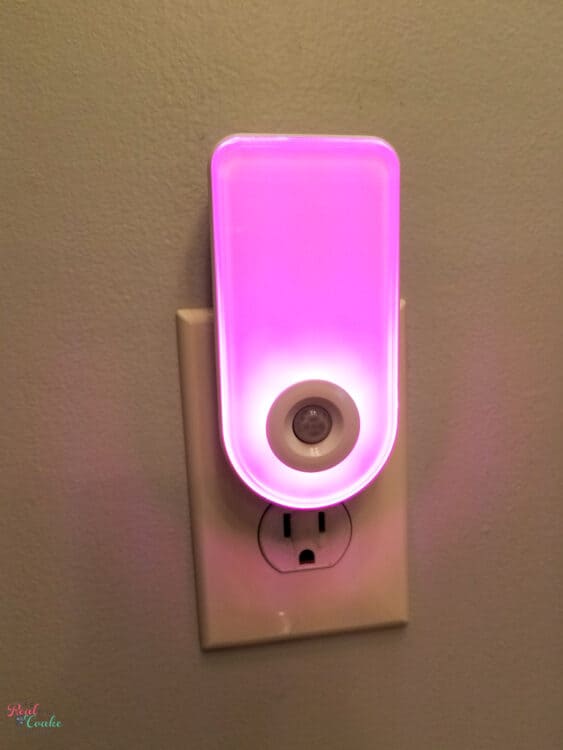 When you're on a road trip you're often in a new place every night or at least often. It's so nice to have a little extra light to be able to see at night in a space your not familiar with.
If your kids are like mine and like some light in their room at night, this offers that light. It can be set to lots of different colors so you can pick a darker color. The beauty of that is that it offers you a way to see to get to the bathroom in the middle of the night and it lets your kids have that little bit of light they want.
The night light pictured above is the one we took on our NE road trip. I love that it has a power failure mode that lights up if you lose power and that it can also double as a flashlight. Just don't forget to get it out of the bathroom (or wherever you plug it in) when you check out. Ours got left in a great hotel in Vermont on week 1 of our trip.
3. Cell Phone
I know this seems obvious, but my cell phone is my top tech essential on the road along with a wireless charging car mount so I can use my phone for navigation, listening to podcast, etc.
I couldn't live without it. I have a post with all my favorite apps for road trips, so I won't go into that here, but when you're done reading here, that post can help you get your phone ready for your road trip.
Are you a Samsung fan or an Apple fan? I've been a huge Samsung fan since the Galaxies came out, but recently I've been thinking of switching to Apple because they seem to have better parental features.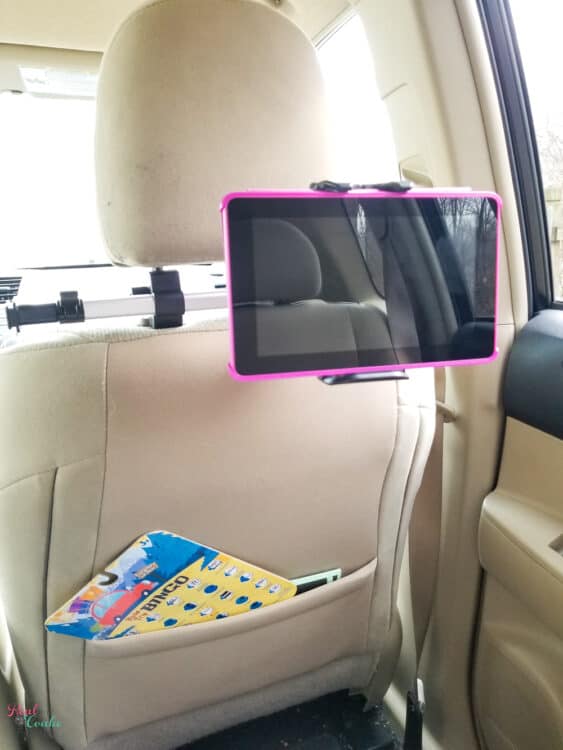 The iKross car tablet mount was my kid's favorite tech item. It attaches to the headrest and will hold any tablet from 7″ to 10.5″. It will even hold it right in the case if the case is not an extra thick case.
In the past, we'd used a car DVD player/tv that attached right to the headrests as well, but as we've moved more toward digital movies and just downloading things from Netflix or Amazon Prime, the DVD player isn't needed anymore. On our NE road trip and I think the kids only used it 1 or 2 times.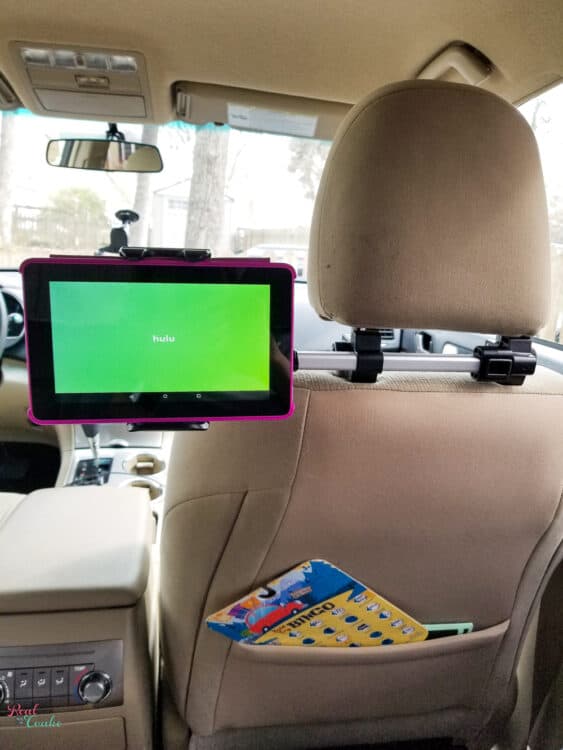 This tablet holder has two options for set up, one where it's right in front of the person using it(first picture of the tablet holder), or you can attach it to the end of the mount and use it for everyone in the back because the arm telescopes and the mount swivels. It worked so well for us and was so easy to install and set up.
The only hard part was getting my kids to learn to charge and download each night before we'd have a day of driving. They seemed to forget that part. ?
5. Car Diffuser
A car diffuser is another essential for road trips.
If you or anyone in your family tend to feel sick or queasy in the car, try a diffuser with some peppermint essential oil.
Every one of us gets a little sick feeling, especially on any curvy roads. Anytime that happens we add some peppermint to the diffuser with the water we have in the car (you can see how we pack the car here), and it fixes the issue for us. I also keep a little baggy with cotton balls with the essential oils. If someone is feeling yucky, we put a few drops on the cotton ball and they can sniff away. It truly helps!
We also love using lemon and doTerra Elevation in the car as we tend to be more tired on road trips and those seem to help us feel a little more awake and less cranky and we all know less cranky is always a good thing. ?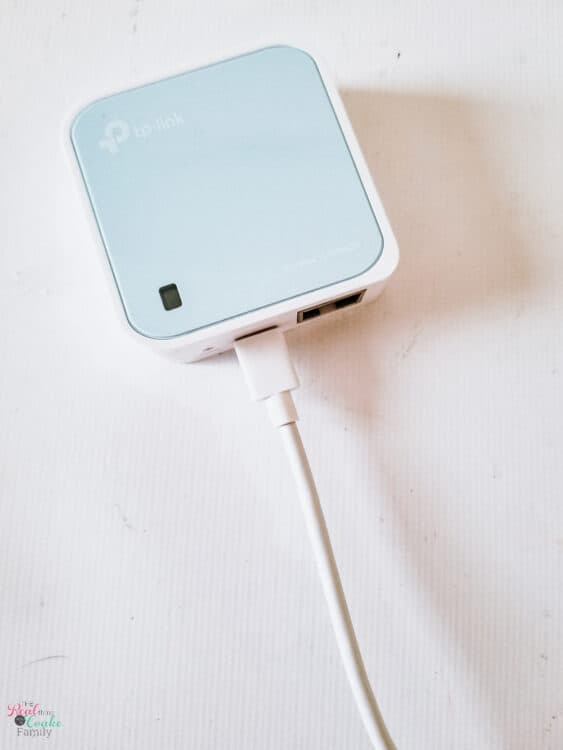 I'm saving the best for (almost) last! This is my FAVORITE tech gadget for a road trip ever!
I'd never even heard of a travel router until my daughter's 16th birthday party. She had 4 friends for a sleepover at a hotel. I thought I was so smart to bring my Echo Dot so we could easily play music for the night. Nope! Alexa was a pain in the rear end. I learned that night that both Google and Alexa wouldn't connect to open wifi sources even if you try to log in and add your hotel password. I tried everything I could do; nothing would work.
I did some research that night in my frustration and found people talking about having a travel router and how that solved the problem. I assumed they were going to be expensive. Nope, the one I got that we used all summer on our road trip was under $30.
In case you're like I was and don't know what a travel router is or why you'd want one, let me explain.
As I'm sure you know, when you travel with your family(if they're above 8-10 years old) the first thing everyone does when you get to the hotel or Airbnb is asking for the wifi code and get connected.
No, it's not hard, and yes this is a first world problem, but as their mom, I'm unpacking and making sure we locked the car, and we brought everything in that we need. It adds to my stress when everyone is asking me the same questions or wants help connecting their devices.
That's where the travel router comes in.
You plug in the travel router and log into the app or website. You connect the travel router to whatever the wifi is for your current stay. Everyone else connects to the travel router. Bonus – after they've connected once; their devices will auto connect, so they never have to ask you again.
There are a couple of other benefits. First, it creates a secure connection (if you buy one like I bought) even from open or insecure connections. That keeps anything you do while online safe and secure just like your home wifi connection.
Second, you can now set up any other devices, like a Google Home mini or Echo dot to your secure wifi connection and use it like you would at home. They will also connect every time you set up your travel router. So, set them up once and plug them in the next time and you should be good to go.
Which is why #7 makes my list of essential tech items.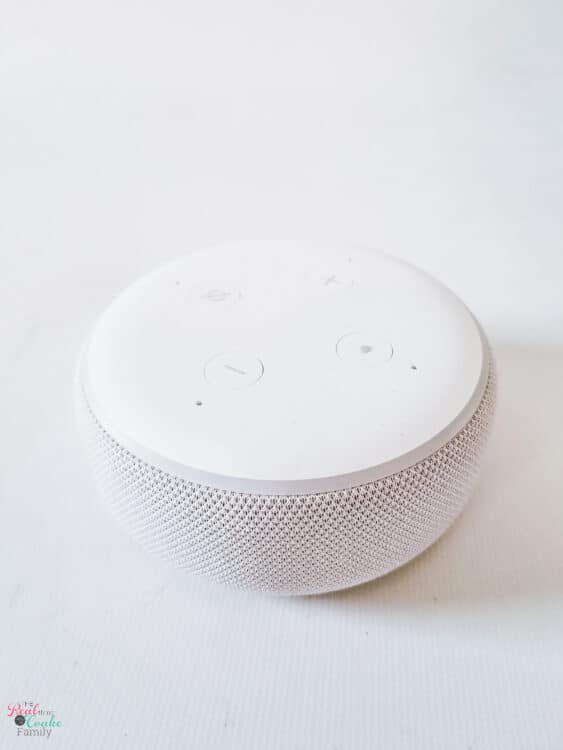 This one makes me feel like I'm high maintenance, but when you're on the road for a month, sometimes it is the little things that make life nice.
Last summer was our first time to travel with Alexa. We have Amazon Prime and an Amazon Music Unlimited account so it made sense to use Alexa versus Google.
It was great!
We love music and knowing the weather, etc. We also all like having ambient noise when we sleep. Especially when we are all in a hotel room together, the ambient noise helps block out the sounds of the hotel as well as some of the snoring, etc. I noticed that we all slept much better between taking our diffuser and our Echo dot.
My motto is a family who sleeps well travels well and has more fun….maybe not a motto, but it works for us.
It feels like a luxury tech item and you could do without it, but if you're going to be on the road even for a few days and you can do things that set you and your family up for good sleep, do it!
Losers:
Canon Selphy Wireless Printer, Case, and Ink/Paper set – I had grand ideas that I was going to print pics as we traveled and keep up with a scrapbook of sorts. Yeah…not sure why I thought I would have time for this, but it was an epic fail. I still haven't finished the printing and scrapbook and it's 9 months after our trip as I write this. It's a great little printer and has some really neat features….so I'm telling myself that I'll use it for one of my daughter's birthday parties where the kids can send their pics from the party to the printer. Not sure that will happen either, but it makes me feel better, so let me have it. ?
Cigarette Lighter Extension Cord – I bought this so the kids could use the power outlet in the back of the car to plug in their DVD player. That would keep extra cords out of my way and I thought it would be easier. Then it turns out the kids barely used the DVD player and the only way to plug it in is to pull over and get out to plug it in. Then sometimes it would pop out of the socket and….you get it….it was a pain.

If you need to plug something into the power adapter, I'd recommend using one that is accessible by yourself and/or the kids anytime not the one in the back

.

Packing Cubes – I feel like an organization traitor putting this one here, and yes it's not a true tech item. I've heard how great these are to pack in. I ordered them and then got them and don't get it. They say they help keep you organized and easier to find things, but I couldn't figure out how it would work and not add extra stuff to how we already pack for our trips.

In the end, I got this

backpack

from Target because it was a backpack suitcase combo that would also hold my 17″ laptop

.

It still isn't my favorite solution, but I did like how the part of the backpack that holds clothes felt more like a suitcase and would hold my clothes in place

.

Essential Oils Bag – Another one that isn't a true tech item. I'm planning to write another post about how to travel with essential oils, so I'll have more info. there, but suffice it to say, I tried many bags to hold the oils so they don't spill, etc. This one is OK, not great. I like the other cases I've found because they seem to do a more secure job.

That's my list of our top 7 essential tech gadgets for a road trip and a few duds. What's your favorite tech gadget for a road trip. Leave me a comment below with what you love and why. I'd love hearing about more fun techy stuff!
When it comes to planning your trip, don't let the stress and overwhelm of how to plan a fun family trip get to you. Use my experience from planning 3 successful road trips. I share it all in my Road Trip Planner along with printable worksheets for you to use my experience and plan your own fun family road trip. Snag yours now.