This shop is part of a social shopper marketing insight campaign with Pollinate Media Group™ and Home Depot & Rubbermaid, but all my opinions are my own. #pmedia #AllAccessOrganizers  https://cmp.ly/3/8vNxcO.
It is pretty much a guarantee that if you have kids you have toys and if you are like most families I know, the toys are ruling the house. They are everywhere and always in use. It can be hard to figure out how to organize toys because they come is odd shapes and sizes. I've got some ideas for you for toy storage. Hopefully, you can get a few new ideas today that will help you in your own home.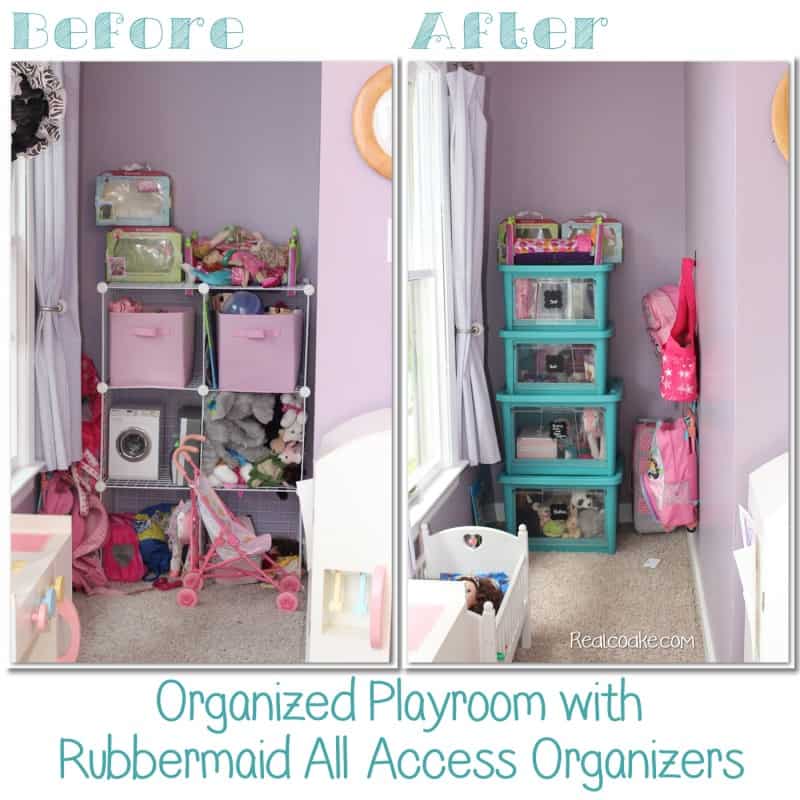 We have this odd corner of our 3rd bedroom. When we turned this room into our playroom, I had thought that this corner was going to be great for play and storage. It has mostly turned into a dark corner with too much stuff.
My daughter's and I were walking through Home Depot one day looking for organizing bins for another project. We saw the
Rubbermaid
All Access Organizers and all really loved them. We loved how you could stack the bins but still be able to get to everything with the neat clear drop down doors. We all had the same thought of using them in the playroom, but it wasn't in the budget or in the plans for that trip. A short time later the opportunity to work with Rubbermaid for a post here on the blog that featured the All Access Organizers came up and you guessed it….my family and I jumped at the chance.

Here is our playroom corner before. As you can see we had a puppet theatre in this area, a play baby crib, the wire shelving and a bunch of bags shoved up next to the shelving. It worked, but it was a bit messy and the wire shelving never really did a great job of holding things without some things falling through.

First, we relocated the puppet theatre to another location to make the space more open. Then it was time to take everything out of the area, sort and purge a few things.

Now the fun part! We bought two large and two small Rubbermaid All Access Organizers at
Home Depot
. They were a bigger than I thought they were going to be, which really worked perfectly in our space. We stacked the 4 bins but even though they are stacked, the girls will still be able to access everything through the clear drop-down doors.
The top two bins are one each for each of my girls to have some space to store things that are theirs and not for joint use. The other bins hold toys and stuffed animals.


Easy to get to what is inside from the front.

One of the things we like about the bins is the ease of accessing the things stored in them. For example, Snowflake has a bank in her bin (the top bin in our stack of 4) that won't quite fit through the door, but that isn't a problem because these bins also allow access through the top like traditional storage bins. So, she can just get her bank out from the top.

To finish out our new playroom corner, I used adhesive wall hooks to give the bags a place to be put away rather than shoved in the corner. I love having bags up off the floor, it just seems to make a big difference to me.

We couldn't be happier with our little playroom corner makeover, it sure lightened the area up and made it a lot easier to get to everything we had stored in the corner. Some day when we don't need these bins for our playroom, I think they would work great for storage in our attic or shed, easy to get things in through the top and out through the clear drop-down doors.
You can find Home Depot and Rubbermaid on Facebook as well for more ideas.
Hey, do you follow me on Facebook, Instagram, or Pinterest? If not, why not? You are totally missing out on more fun ideas and cuteness.
What ideas do you have for the Rubbermaid All Access Organizers? It seems like they could be used so many different ways.
More Organizing Fun for You: