Oh yum! I've got a super yummy and fun dinner idea for you today. Have you ever heard of taco pizza? I hadn't but it is so yummy and I've got the pizza recipe for you today.

If you are among those who have never heard of taco pizza, I don't think you are alone. I had never heard of it until our 2015 summer road trip. When you cover 7,000 miles in one summer, you are bound to try some new food. I rely heavily on Foursquare when we are traveling because I seem to get great places to eat using Foursquare. It is one of my top 15 favorite apps for our road trips.
When we were in North Dakota we visited the Theodore Roosevelt National Park (which remains one of our favorite National Parks of all time). We left late at night and needed to find somewhere to eat…in a small town in North Dakota at 9pm….I didn't figure we had many options. However, Foursquare suggested Badlands Pizza and Saloon. There were a bunch of great reviews, several of which said to try the taco pizza.

My girls were not terribly thrilled to go to the restaurant nor were they eager to try the taco pizza, so we only ordered half of the pizza as Teddy's Taco Pizza. Yum! It was so good! You can read more in my first post about our 2015 summer road trip.
Suffice it to say, we loved the pizza. There was none left and we continued to talk about that pizza for a long time.

We have pizza night every Friday night. I've got a post on how to make the best crisp crust pizza if you want to start your own pizza night. We ended up recreating our own taco pizza. The taco pizza is a regular visitor to our pizza night.

It works out handy that we like this pizza because I can plan two meals easily on the weeks we want taco pizza. I plan tacos earlier in the week and save the leftover taco meat for our taco pizza. I use my homemade taco seasoning for our tacos and our taco pizza….yum!

We have tried the pizza with the Nacho Cheese Chips from Trader Joe's since they are more natural than Dorito's. They work, but they just aren't the same as having Dorito's on your pizza.
You can serve your pizza with taco sauce and/or ranch dressing. We usually leave both of those things off and just enjoy the pizza, but as I remember, that is how they serve it at Badlands Pizza and Saloon.
What is your favorite pizza recipe? Leave me a comment below…we would love more new ideas for our weekly pizza night.
For even more yumminess, you need to follow my Real Yummy Pinterest board. So many great recipes!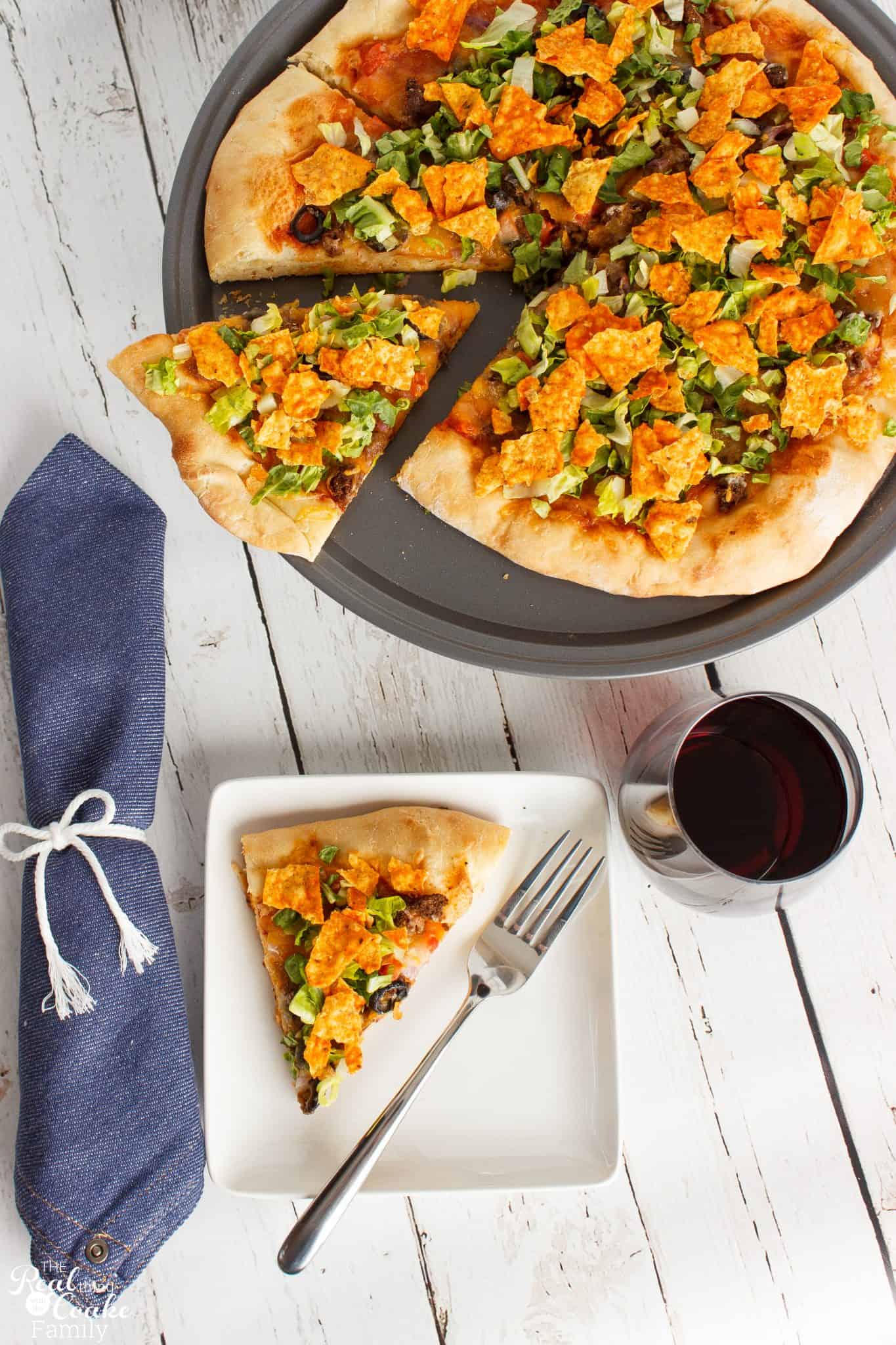 Taco Pizza
Ingredients
l lb Pizza Dough
2-3 Tbsp Pizza Sauce
1/2 cup Taco Meat
2-3 Tbsp roughly chopped Red Onion
2-3 Tbsp chopped Tomato
3 Tbsp sliced Black Olives
1 cup Mexican Cheese Blend
1/2 cup shredded lettuce
1/4 to 1/2 cup crushed Dontos
Flour for dustmg counter
Cornmeal for dusting pizza peel
Instructions
1. Preheat oven to 450 degrees and place stoneware pan in oven. Pull pizza dough out from fridge and allow to come to room temperature.

2.Cook beef and add taco seasoning (or save leftover meat from tacos another night in the week).

3.Chop tomato, red onion and lettuce.

4.Flour counter and roll out pizza dough. When it hits the point that 1t won't roll easily. Set a 5 minute timer and allow the dough to relax. After 5 minutes roll dough to desired thickness.

5.Place dough on a pizza peel that has a light layer of cornmeal. Poke dough with a fork to help prevent air pockets.

6.Add pizza sauce to dough and spread evenly.

7.Add taco meat, red onion, black olives and tomatoes to pizza.

8.Slide pizza into oven and onto hot stoneware pan. Cook for 4-5 minutes.

9.Remove pizza from oven on the stoneware pan. Add cheese.

10.Place stoneware/pizza back in oven. Cook for 2-3 more minutes. Depending on your oven and how hot your stoneware is you may need to add a few more minutes.

11.Remove pizza from oven on the stoneware pan. Add lettuce and Dontos.

12.Eat and enjoy Can be served with taco sauce and ranch dressing
Notes
You can mix taco seasoning in your pizza sauce for a fuller taco flavor.
You can also mix refried beans with taco seasoning and use a thin layer of the beans instead of pizza sauce.
Recommended Products
As an Amazon Associate and member of other affiliate programs, I earn from qualifying purchases.