This month, in my year long series of my Grandma's recipes, I'm veering off course a little bit. I'm giving you a soft pretzel recipe this month.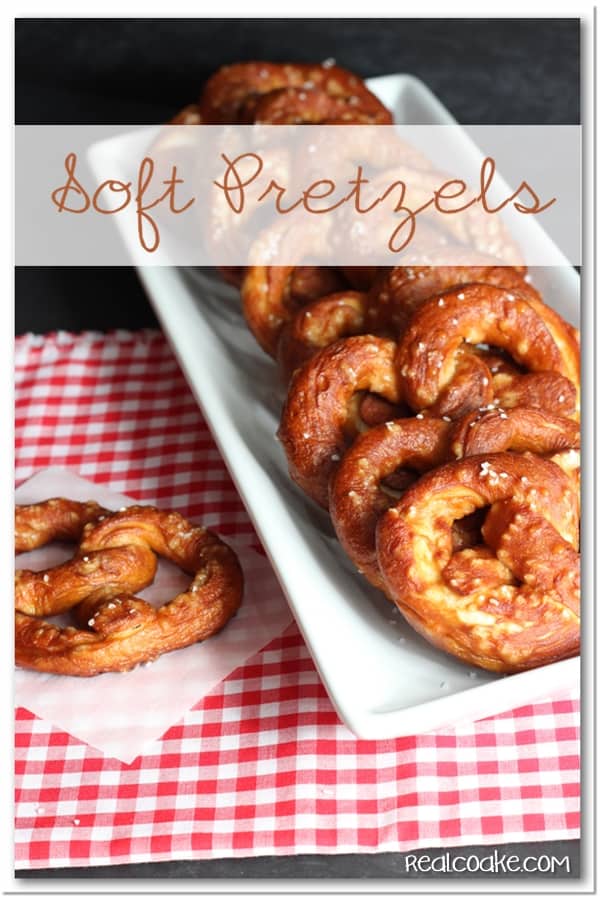 You might wonder why that is veering off course from my Grandma's recipes a little bit. It is because this isn't my Grandma's recipe. Huh? Stick with me…it will all make sense.
My heritage from my Grandma's side of the family is Pennsylvania dutch. To me (and lots of other people), pretzels are a huge part of the Pennsylvania dutch culture.
I remember visiting my Great Grandma in Pennsylvania and thinking she was the coolest thing in the world. We knew we could head to her basement and we would find pretzels and Coke (in bottles). Growing up with parents who ate wheat germ, whole wheat everything and very few processed foods (which is so awesome to me now, but back them I wanted to eat the foods my friends ate), I really loved going to my Great Grandma's house for those pretzels and Coke. While they were hard pretzels, I have always loved any variety of pretzel.
Adding a pretzel recipe to this year long look at my Grandma's recipes, just seemed to fit. I searched her cookbooks and recipe box and didn't find a recipe. I then turned to my next favorite source for recipes, America's Test Kitchen or Cook's Illustrated. I have the 
Baking Illustrated

cookbook and love it!
Thankfully it contained a soft pretzel recipe. I was a little intimidated to make soft pretzels because when cooked traditionally, they require boiling. Now, one of my college roommates swears we made pretzels together once to help get her through a break up. I vaguely remember it, very vaugely…so to me this was the first time to make soft pretzels by boiling.
It really wasn't hard at all. Very do-able.
Let me show you a few tips and tricks to get you through making your own soft pretzels.
Of course, I have a printable recipe for you at the bottom of this post.

Once your dough has risen and you have divided it into 12 equal pieces. Roll it out to about a 20-inch long rope. I did this just like I would playing with playdough. Rolling it between my hands. Then, form the shape of the pretzel. We don't want the ends to come undone.

Use a small amount of water on each end to help it stick to the other dough.

One of the great things about this recipe is that they suggest using a pot like this one, a low
12″ skillet or 3-Quart Saute Pan

as opposed to a stock pot or dutch oven. It makes it easy to work with getting the pretzels in and out of the pot.
If you don't have a pot like this, a stockpot or dutch oven will work fine as well.

To make sure my pretzels were well drained following the quick boil, I set my cooling rack in the sink and set the pretzels on the rack after boiling.

The pretzels are then placed on a rimmed baking sheet and salted with course salt.

Cook them for 12 to 16 minutes or until they are well-browned. If you have more will power than I do, wait for them to cool a smidge before eating them warm. Or you can devour 3 of them like I did. 🙂 They are sooo yummy!
Now a quick note to any other bloggers reading this…if you plan to photograph food the following day because you finished the project at midnight and need to go to bed, just leave them sitting out. I put them in a container. See how gorgeous and golden brown they are right out of the oven.

Not quite as pretty after sitting in a sealed container for the night. Oh well…they still taste delicious. I just learned a food blogging lesson with that one. These pretzels did not last long at all! Next time, I want to double the recipe and freeze some for some yummy late night snacking.

or see nutritional information at

.
Enjoy! Just don't get mad at me when you become addicted to these pretzels. 🙂 Want to learn to make more delicious breads? Try the Artisan Bread Making Class at Craftsy. Looks so yummy! Let me know what you think if you give it a try.