Do you dread that regular afternoon question? "Mom, I'm hungry. Can I have a snack?" Uugghhhh…what can I give them for a healthy snack that doesn't take long. Today, I'm showing you how I tackled our afternoon snack problem with some ideas for healthy snacks for kids. I'll also show you some ideas for storage solutions and organizing ideas.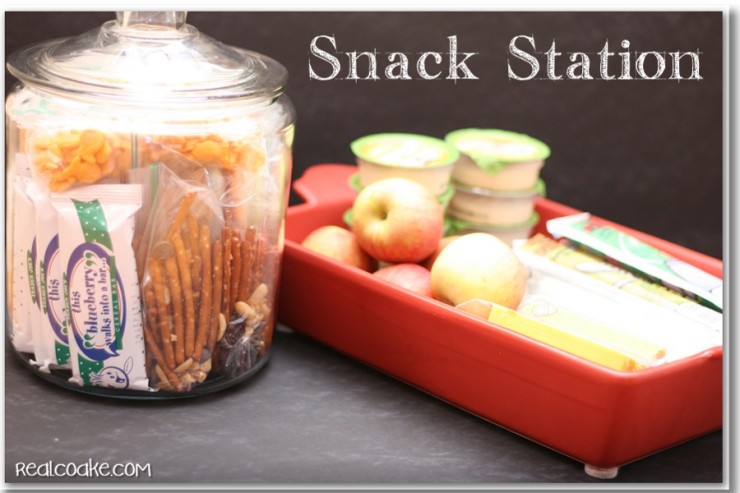 I always seem to be in the middle of something else when the afternoon snack train hits our house. I usually tell the kids to wait (which means they get nothing until dinner…such a great mom, right?) or tell them to go grab a bar. They are sick of it and so am I.
I decided I could make them in charge of their own snack. Yay! Independence…gotta love that! I wanted healthy snacks for my kids. I needed snacks that were at the ready for them and healthy. For our house, that meant some snacks could be in the pantry and some needed to be in the refrigerator.

I spent a long time looking for what I wanted at Target and finally settled on the
glass jar

(which was only $7) and the
baking pan
($14). The pan is called a loaf pan…I have no idea why as I've never seen a loaf of bread this big. Anyway, it was the right size and shape for what I wanted. It also added a little color to the fridge, which was also on my list. I also figured, since it is a baking dish, it would be fine in the fridge and when we no longer want a snack station in the fridge, I have a gorgeous baking dish I can use! Love double duty!

The bottom of the pan was slightly rough. I didn't want the sliding of the pan to scratch my refrigerator up, so I bought some
felt floor care pads

to solve my problem. Sounds weird, right?

Just stick the floor pads in the corners of the pan. Problem of scratched fridge, solved. It also makes the pan slid in and out very easily.

Here are my ideas of what I consider to be healthy snacks. Right now we have, hummus, yogurt, cheese sticks, and apples. They are small apples, which seem to work best for the space and for what my kids like. I also plan to add applesauce, baby carrots, and the correct organic yogurt(my husband bought the wrong kind).
In terms of organizing this snack tray, I put the stacks in the back so they wouldn't get knocked over. Same thing with the apples. Then I just keep like things together to make it easy for the kids to find what they want.
Let me also say that my little eco-self had a problem with buying the individual hummus, yogurts and eventually the applesauce. I don't like the additional trash and plastic containers. I also really wanted my kids to be able to get their own snacks. So I decided to go for convenience in this one instance.
If you have any simple and low cost solutions, I would love to hear them. I had thought about portioning things myself, but I don't want to use plastic containers(I would use glass) and I'm concerned about things going bad more quickly that way.

I filled the glass jar with dry snacks. We have our usual bars as well as baggies filled with pretzels or goldfish. I also have some baggies filled with what we call our 'mix.' Our mix is: pretzels, nuts, raisins or dried cherries, and a few chocolate chips. To keep this jar organized, I put like things together again.
Once again, I am using plastic bags, which I'm not super happy about, but the girls know not to throw the bags away. We have a spot for them to place empty bags so I can refill them. I considered using our fabric bags that we use to pack lunch, but I have noticed that things go stale very quickly in those. If you have inexpensive, eco-friendly ideas, I would love to hear them. For now, we are just re-filling our bags.

Once I had the containers filled, it was time to find a home for them. The baking pan fits perfectly on the bottom shelf of our fridge. It will occasionally make fitting everything in the refrigerator a bit more challenging, but in general it fits and works fine. The snack jar ended up on the counter between the pantry and fridge.
My kids now know they can help themselves to a snack anytime after lunch that they are hungry. They love it!
I have set two rules for them.
They can pick up to 2 items for their snack, for example, baby carrots and hummus.
They may not get a snack past 5 p.m. We usually eat dinner at 6 ish or later, so cutting them off at 5(with 2 items max) should help them still be hungry to eat dinner.
I will now need to refill the containers once a week. Once a week should work great and be easier than the daily, "Can I have a snack?" 🙂
What eco-friendly ideas do you have for snack storage? Do you have other ideas for healthy easy snacks? Please share in the comments below, myself and other readers would love to hear them.
More Great Posts for You: