So do you have Green Bean Casserole every year for Thanksgiving? I know we do and I always liked it because of those yummy, crunchy fried onion pieces on top, but I didn't like what it was made from. We prefer to eat whole, real foods rather than processed foods. One year when shopping at Trader Joe's I found a can of those oh so delicious crunchy fried onion pieces. Guess what? It had a recipe for Green Bean Casserole on it!

They have since changed the recipe on the side of the can, but I have stuck with this one because we like it so much. It is a gourmet, whole food version of Green Bean Casserole and it is simply delicious!
I will be honest and tell you that this recipe is so amazingly delicious, but it will use 2 or 3 pans to make and it takes at least an hour to make. It is not quick and it uses a lot of dishes. There are worse things in the world, right? I actually really enjoy cooking, so I don't mind taking my time to make something, especially when the result is as good as this dish. You will have plenty Green Bean Casserole because it bakes up in a 9×13 pan (
I use one similar to this
 – affiliate link)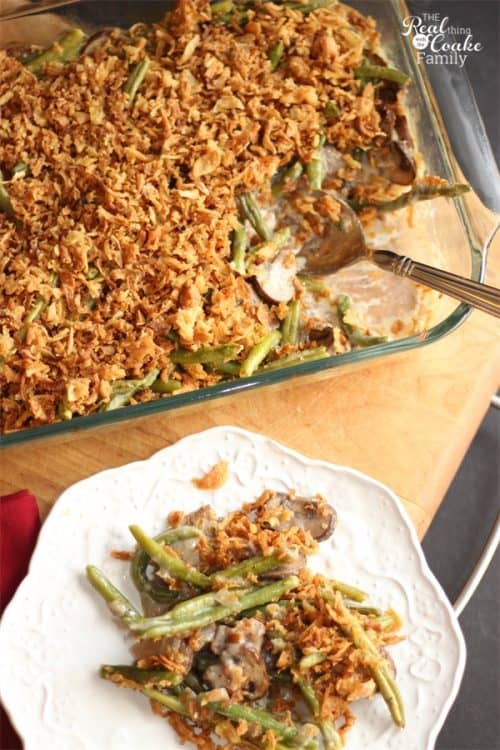 Over the years, I have found that the recipe that was on the can wasn't accurate in terms of the times listed for cooking. I have modified those for you based on my experience with how long each step will take. Please keep a watch on your dish and if you feel it is done before the times listed, move on to the next step. The times I have listed are what works on my stove and are longer than those that were on the can.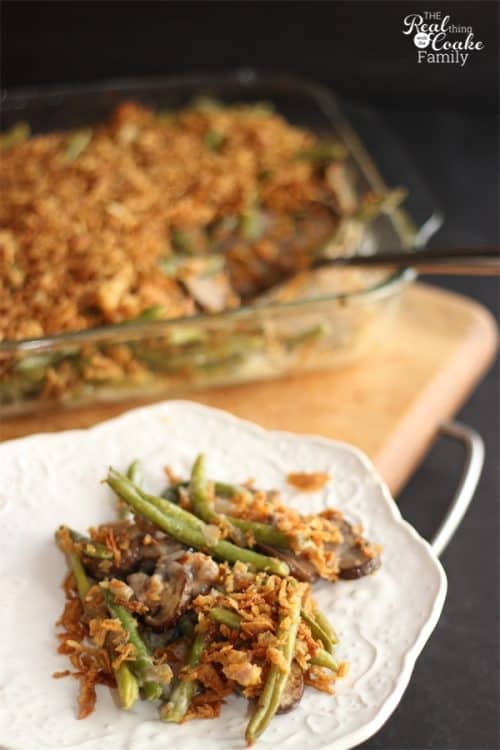 Look at all the whole, real foods in this Green Bean Casserole. You can see all the yummy green beans and real mushrooms. The crunchy fried onions just put this casserole over the top…at least if you love crunchy fried things like I do (even though I know I shouldn't). It pairs really well with my
recipe for light and fluffy mashed potatoes
. Yum!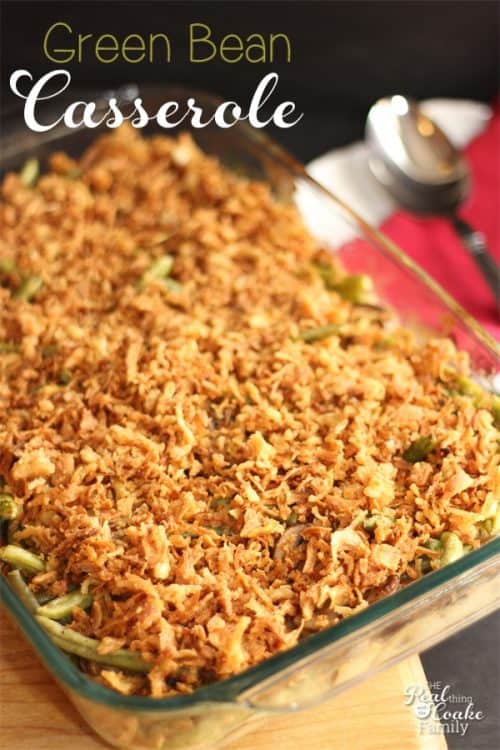 Happy Eating and Happy Thanksgiving (if you are reading this near Thanksgiving)!
Do you have any whole food recipe makeovers like my Green Bean Casserole makeover that you use and love for the Holiday's? Please share, I would love to add to my collection.
Follow me on Facebook or get my free emails to see all the latest recipes. Yum!