I've been doing some simple sewing for Easter for my girls' dolls. Today I'm showing you my favorite free doll clothes pattern. This reversible wrap skirt is so quick and easy it is my go to pattern for making something cute for my girls' dolls.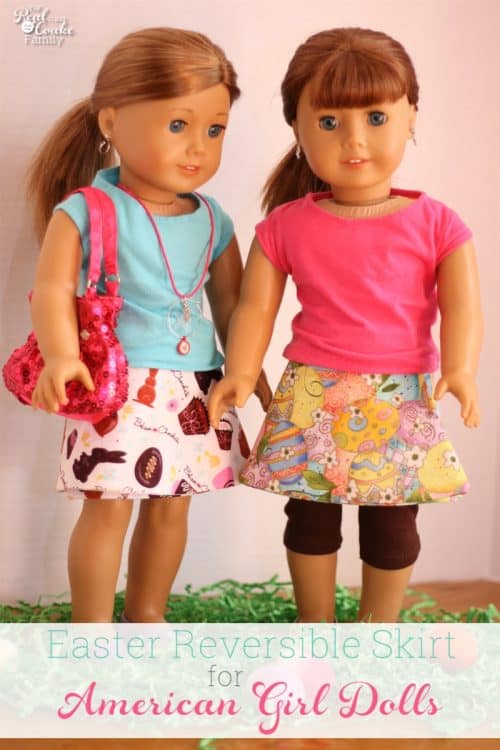 I showed you our
reversible Easter tote bags
on Monday. In case you haven't figured it out, I really like making reversible items (like the
reversible table runner
I made) because it is like getting two items for the time it would take me to make one. Love that! Today, I wanted to show you our reversible Easter/spring skirts.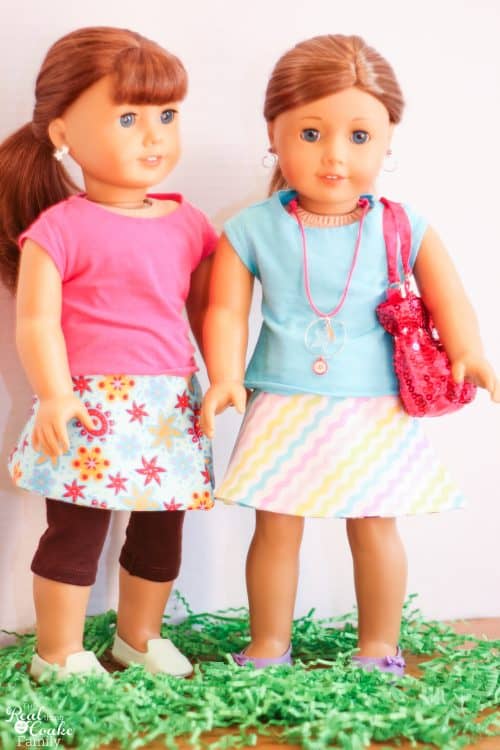 You can get the free pattern here: 
Twirls for Girls Dolly Wrap Skirt
. The pattern is really easy to follow and understand. I think it takes about 15-30 minutes to make one (I'm never making one and get interrupted so many times, I not exactly sure of the time).
I recommend the same two tips I gave you in my first post about these skirts (
Sewing American Girl Reversible Wrap Skirts
). Those two tips, in my opinion, help with getting things to lay flat and such when you turn the skirts. Since Pumpkin usually picks two fabrics that are quite different, I want the opposing pattern not to show. My tips help with that issue.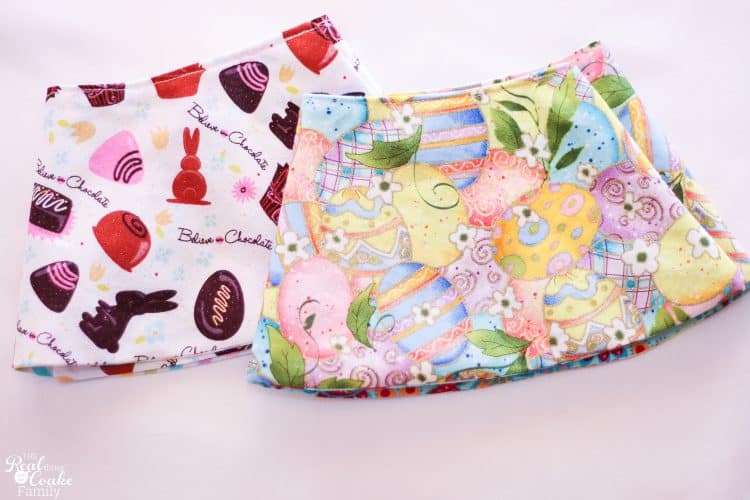 For Easter, my girls selected some fun fabrics. One Chocolate and one watercolor looking.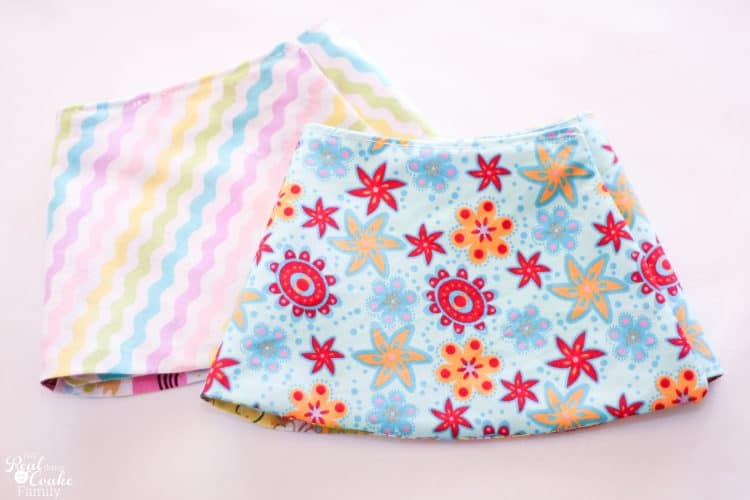 For the other side, we decided to go with fabrics that could be used for any season. That way the skirts are useable all year round.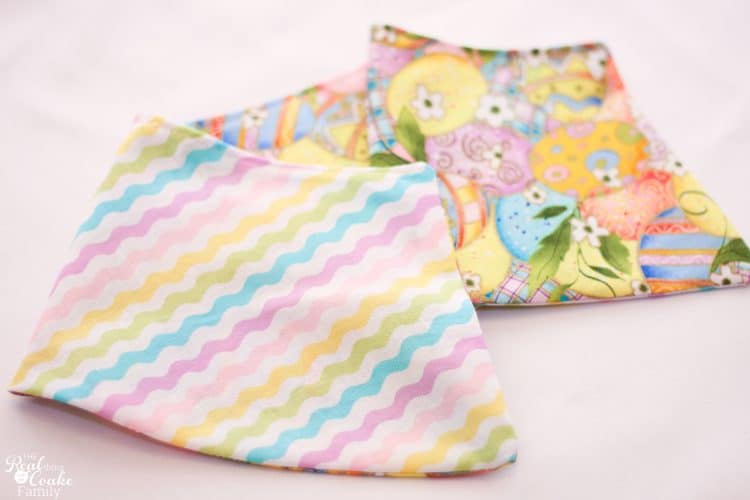 If you are careful with pressing before turning the fabric right side out, you can get the seams so that it barely shows the reverse fabric.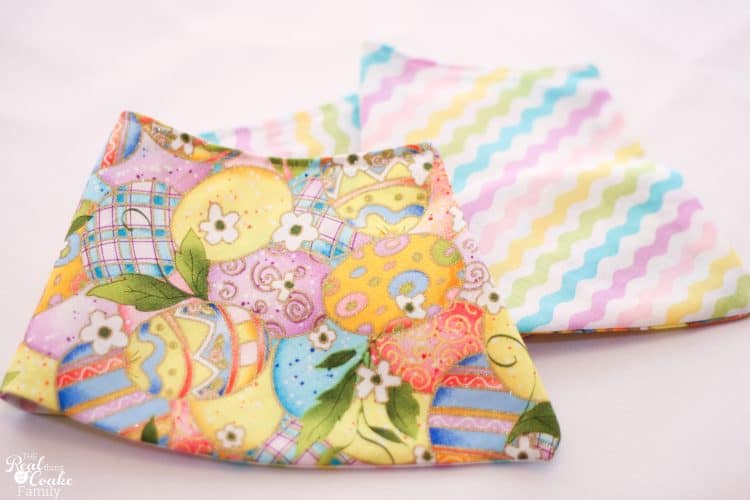 Fun Easter skirt for the dolls! Love these fabrics!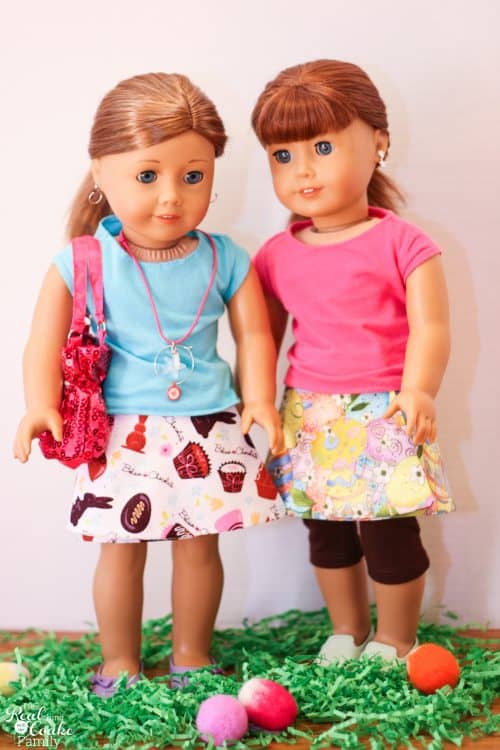 Samantha and Felicity were out for a spring walk in their Easter reversible wrap skirts. They were willing to pose for a few minutes for me. Thanks, girls!
 How about some more American Girl Doll Fun – Check out my Spectacular American Girl Doll Board on Pinterest
Follow The Real Thing with the Coake Family's board American Girl Doll Ideas on Pinterest.