Today, I've got
Easter decorating ideas
 for you. Do you remember the
apothecary jars I showed you how to put together
? Then I showed you how I filled them for Valentine's day? Well, we have changed the fill in the jars for Easter. It looks so cute, I wanted to share it with you…maybe help you with an idea for your Easter decorating.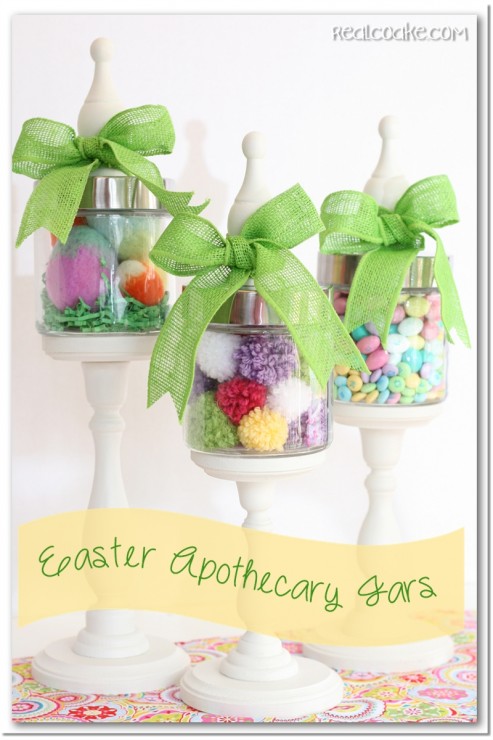 What do you think? I didn't want to do all candy or even as much candy as we had in the jars for Valentine's day. We have Girl Scout cookies and too many other treats…so I had to come up with non-sweet ideas.

I like having variety in my jars rather than all the same, but you could easily pick one of these jars and use it as fill in all three jars. The jars look like spring and Easter to me. I love all the fun colors for Easter and spring time. They seem so cheery to me.

I found this pretty spring green burlap ribbon and snapped it up with a 40% off coupon. It makes such larger bows than what I had on the jars before. I really like them.

I used pom poms again, because I might be addicted to them and I think they look cute in the jars. Also, I have all the yarn, so it doesn't cost me anything extra to use them as a decoration. Love that!

Of course, since I love M&M's and look for any excuse to have them around, they found a way into one of the jars.

I used the same trick I used at Valentine's day to fill the jars without needing a small loan. I took a child sized cup, turned it upside down in the middle of the jar and filled around the cup. You could do the same thing with a soup can or empty toilet paper roll…whatever will fit in the center of the jar that you have on hand.

I wanted something Eastery in the jars as well. I was planning to put some plastic eggs in the jars and use these cute felted eggs I found at Target on the table in some paper grass on my
reversible table runner
. Our new cat had other plans for me. He apparently really likes the felted eggs and the paper grass. I really don't want him eating them and I don't want him on my table….so the felted eggs and paper grass are now protected behind glass where Pepper can't get to them. Silly cat!

We are enjoying the new scenery at our table. We also have a new Easter/spring wreath on the wall in our kitchen, which I am going to show you on Friday. Oh la la!
Do you do much decorating for Easter or spring? I find it so refreshing at this time of year to imagine the possibility that it will feel nice outside again and we will soon see flowers and such…doesn't that sound nice?
Here are all the other apothecary jar posts I've done in the last year with the tutorial and other decorating ideas. Just click on a picture to be taken to that post.