We had so much fun with our
New Year's celebration
and you all seemed to enjoy the post so much, I've decided to make a monthly series for you with
activities for the family
. This month, with it being winter and all, I came up with the idea for us to have a family snowball fight.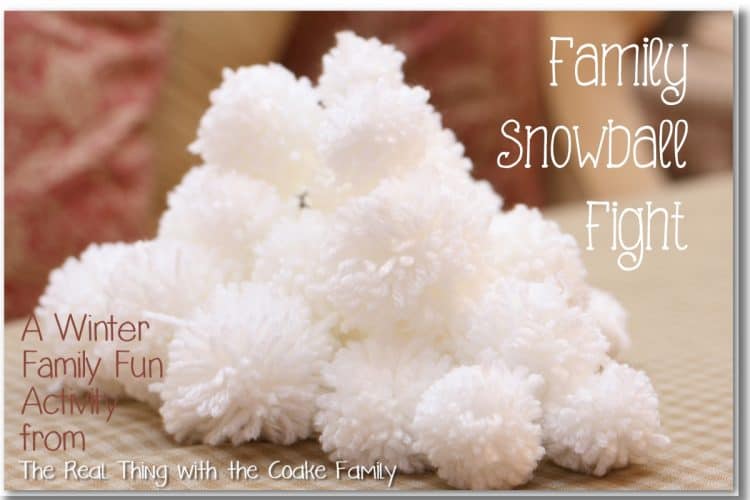 In order to get in on the fun, you will need pom poms…lots of white pom poms. I would think that if you wanted to skip the step of making your own pom poms, you could buy some packages of the small fuzzy pom poms that stores sell. If you chose that option, just know that they will get lost. We lost some of ours, which are much larger than those pom poms, and still don't know where they are…maybe behind the bookcase or TV…not really sure…don't really care.
For our family fun night, I used this (affiliate links) 
pom pom maker

and
this pom pom maker.

I made 2 of each size of pom pom for each family member. Since we have a family of 4, we each had 8 pom poms of 4 sizes for a total of 32 white pom poms. This is a super easy task to do while watching TV. I completed plenty while reading with my Kindle in my lap. It does take some time, but it isn't hard and it doesn't require much concentration. If you need it, I have a
tutorial on how to make pom poms.

The different sizes really don't matter and aren't necessary, I had just thought having different sizes would be fun. I liked the 2 sizes in the clover large pom pom maker linked to above the most for our fight. You do need to know that they use the most yarn, so you may need 2 skeins of yarn rather than one.

This is my living room on a typical evening (well minus the toys and dolls that usually liter the floor).

I thought it would be so much more fun to have our indoor, no real snow, snowball fight with 'forts.' We rearranged the furniture to accomplish this. You can skip this step if you want to, but it sure did add to the fun.

My living room, transformed and ready for the fun and mayhem of our family snowball fight.

Pumpkin and Snowflake. They may look all cute and sweet, but let me tell you, they take their snowball fights pretty serious! I'm pretty sure they were the winners, though we weren't really keeping track.

The girls in the PJ's, fighting with Daddy. They chose the big couch for their 'fort.' It was parent's vs. kids and the kids totally won (see I'll already admit it)!

We just started playing, trying to hit each other with the snowballs from behind our forts. The forts fell and had to be readjusted…which would be the perfect time for the kids to attack us with tons of snowballs. Once we were out of snowballs, we had to run to the center or behind another persons fort to get more snowballs. Usually, us grown ups got blasted with snowballs when we tried to get more…which kind of worked because then there were more snowballs to get. 🙂

The girls took to
hoarding
 keeping large stashes of snowballs and got quite mad if Mr. T or I tried to get back behind their fort to steal them…but our motto was, "All's fair in love and snowball fights!"

This is the point where I'm trying to get more snowballs (I may possibly have stolen a few…) and the girls are attacking me. I'm also laughing and having so much fun I can hardly defend myself…but I managed to keep hold of the snowballs! This whole activity was so much fun!

This is the moment during the insanity that we realized we totally adopted the right cat for Christmas! Our new cat(Pepper) had fun and even joined in the craziness. He fits right in!
We all had so much fun! I highly recommend this activity for your family. It was very inexpensive. I bought one skein of yarn. It was on sale for $2.50. (I already had the pom pom makers and you don't have to have them, you can make pom poms the old fashioned way if you prefer.) Super fun for super cheap = Love, Love, Love!

Please pardon the weird expression on my face, but here we are all sweaty and tired after our fun snowball fight.

To have your own family snowball fight, you will need:
Lots of pom poms snowballs
Forts for your snowball fight
You could make rules if you feel the need. Our rules were that there really weren't any rules. Just have fun throwing snowballs at the family (and don't destroy the house).
As I said already, we had so much fun with our family snowball fight! I'm so glad that I blog and came up with the idea and put it all together for you all because we totally benefited.
I hope you and your family give it a try and have as much or more fun than we had!
More Family Fun for You: