My sewing machine has recently gotten some use and I wanted to show you what I have been working on.
We homeschool year round and therefore take our breaks at times other than the traditional school breaks. We just had a 2 week break, during which I made use of my extra time to sew some clothes for my girls American Girl dolls.
I got together with a friend and while our girls played, she and I worked on sewing. It was so nice to have the moral support of someone else while taking on this endeavor. We both felt intimidated to sew these clothes and yet we both wanted to try since our girls all love their American Girl Dolls.
A friend of mine, who has sewn many doll clothes, gave us some advice as far as a good place to start. So, Chiriga and I downloaded a free pattern and we were off!
You can check out this free pattern here: Liberty Jane Heritage Drawstring Dress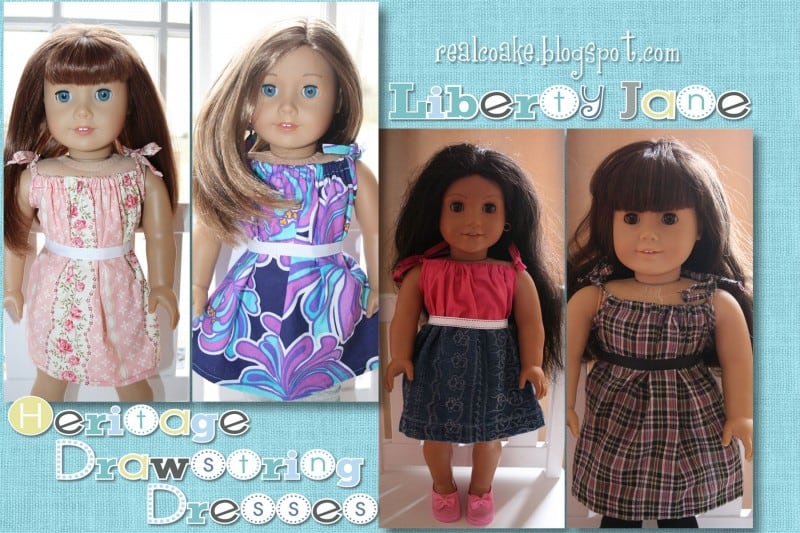 This pattern is fairly simple. However both Chiriga and I struggled a bit with the arm band and the drawstring. We think that if you want to make this dress and make it easier, you could use an appropriate sized ribbon (probably 1/4″) for the drawstring, rather than sew your own. We also think that you could do the same thing for the arm band although that ribbon would need to probably be 1/2″. It would change the way the dress looks as you would have contract from the ribbons instead of matching fabric, but we both thought it could be much easier and more simple. All that being said, the arm band and the drawstring are doable. Chiriga found that making the armband just a bit bigger than the pattern calls for made that process just a bit easier. I think we both found our second dress much easier than the first – because of course we had a clue what we were doing by that point.

The dress can be embellished with a ribbon at the waist or worn without.
In my house apparently the dress with the ribbon is day wear and without it is a nightgown.
Who knew….right?!

Chiriga made both of the dresses above. She said she was feeling froggy one day and decided to make a dual fabric dress. To make the dual fabric dress, pictured above on right, she cut out the dress pattern from both fabrics. She cut the bottom of the dress a bit longer than the pattern to allow room for the seam in the middle. Then she cut them in half and sewed the halves together. Doesn't it look great!

The details are so pretty!

Snowflake and "J" with their dolls modeling their new clothes.
(Somehow Pumpkin didn't make it into any of the photos….bad mom award for me on that one…boo!)
We both made other items as well and I will post about those later…so tune in next week for some more tips and ideas for sewing clothes for your 18″ or American Girl Doll.
It is a lot easier than we both thought. AND it is fun too! I sure have gotten lots of hugs and kisses of appreciation! LOVE THAT!
More American Girl Doll Fun For You: