It is back to school time! We didn't want our dolls to be left out of the back to school shopping and fun so we found a cute American Girl Doll pattern to make backpacks for our dolls.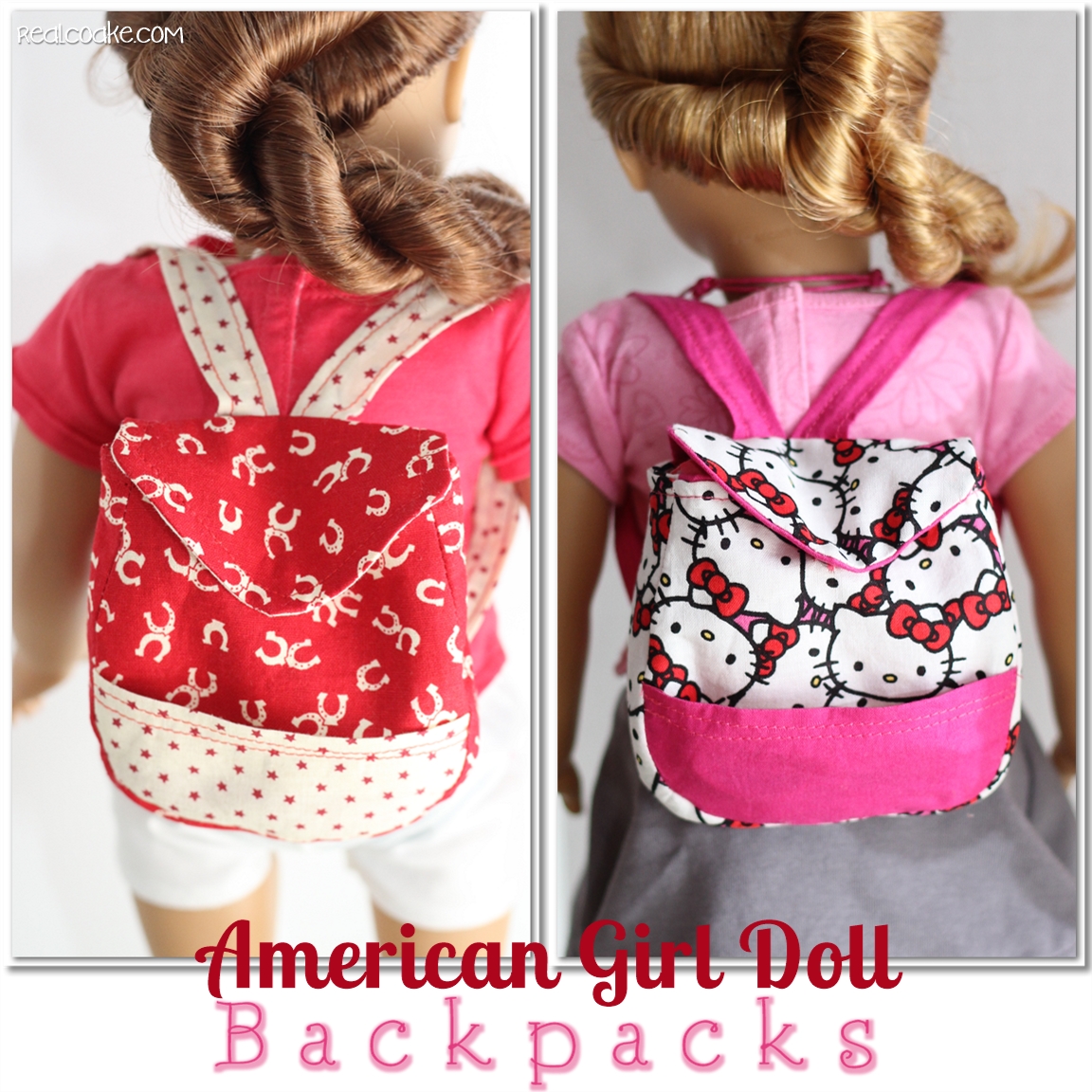 They turned out sooo cute! My girls and I are quite happy with the results. Of course, I didn't forget about you. I got a few tips for you if you decide to make backpacks for your dolls as well.
The sweet people over at Liberty Jane Patterns gave me a few patterns to try out. My girls and I poured over all their fantastic patterns. We had quite the list that we narrowed down to three patterns. These backpacks are one of the patterns and if all goes well, I'll show you the other two next week. The Urban Backpack for AG Dolls is $4.99 and is listed as a medium skill level pattern.
Honestly, I didn't think the pattern was that difficult. I found the American Girl Doll shorts I made to be more challenging. It also isn't a simple quick pattern like the free doll clothes pattern for reversible skirts I've made so many times.
I think I would have found this pattern not too bad had I not made about 100 mistakes before I even got started. I started my list of mistakes by cutting things out wrong more than once. After I finally got things cut out correctly, I sewed the straps wrong (which is step one). After that, I finally got on a roll and got both of these backpacks made in probably 4 or so hours.
My first tip for you is to pay attention to the pattern and cut on the fold when it says to cut on the fold. Pretty basic, right? Yet I got it wrong multiple times.  I guess that is what I get for doing these things late at night when I am tired.

The other big tip for you is to press before you turn. Multiple times in the pattern they say to turn something then press it. I find it so much better to press, turn, and press again. With the straps (above) pressing first made it so much easier to press them easily once they were turned.

Now I'm going to guess that there is a way to press the flap of the backpack so it will stay closed well, but the iron and I are not really on speaking terms. It only gets used when I am sewing. Even with pressing, I couldn't get the flap to stay closed very well. To fix this issue I hand sewed a snap onto each backpack. I hate hand sewing almost as much as I hate ironing, but in this case I really think it was necessary.

Cute American Girl Doll backpack ready for the first day of school! Snowflake picked out her fabrics. Can you tell she likes Hello Kitty?

Pumpkin picked out her fabrics. Her fabrics show her love of horses.

Saige and Paige are ready for the first day of school (they even did matching hair for the occasion). They seem to be a little confused about which direction to go to get to their classroom.

The backpack pattern offers endless possibilities of combinations. You can add a pocket on the front or leave it off. You can use contrasting fabric for the side or the flap or straps…there are so many possibilities with this pattern. I think you could make these so many times and each time they would look totally different, which is fun to me.  They also hold a good amount of doll sized accessories, which is super fun to my girls.

Saige needed a little help getting something out of her backpack. Her cousin, Paige was eager to help her.

Whew, they are in the right line now and they found the way to their classroom on the first day of school. Hope you have a great first day of school girls!

We LOVE our new backpacks. They are so stinking cute! Thank you so much Liberty Jane for the pattern. It was a fun pattern with which to work. I love how many possibilities there are for making different variation of this same bag.
Are your dolls ready to go back to school? Any first day of school plans for the dolls in your family?