I want to talk with you about the Family Time Fitness Homeschool Co-op Module. I think physical activity for kids is so important and finding fun ways to do it is the best. For this school year, I've been teaching a P.E. class at our Homeschool co-op.

Playing a group game during one P.E. class (indoors because it is raining again)
I've been using the
Family Time Fitness co-op module
for teaching the classes. It has made planning a breeze. I don't have any planning to do in order to be ready to teach. Just pull out the lesson plan or print it off for that day, gather the needed supplies, and head out the door. Works fantastically for me! If our co-op location had internet access, I could easily have the file on my Google Drive and access it that way, but since we don't, I have to print mine out.
The co-op module starts with all kinds of recommendations for class size and age breakdowns, safety, equipment, etc. It is all informative and helpful. At the beginning of the year, our co-op was to have 30 kids. They do not recommend having classes this large. I planned to be teaching all of them at the same time. I decided to split the class up into 3 groups and had planned to have one helper or adult per group. For whatever reason, or co-op experienced a lot of attrition this year. As the year progressed the need for the groups was unnecessary. Now, I have 10-15 kids in the class per week. The kids range from 4 to 13. It works fine to have them all together and for me, the group size works fine as well. I think the only downside to this size group is that there is more waiting on everyone else to do the task than if we had a smaller group.

There are 52 lessons in the co-op module. They are grouped together by the skills on which you are working. For example, lessons 6 through 10 are working on hand and ball skills. Our co-op does not meet 52 times during a school year. I picked out about 2 lessons per skill set for us. It worked out to be the number of classes we would have. We are still hoping for a nice spring day on which to plan a field day. The curriculum includes two fully planned field days as well.
The equipment required for completing the program is nothing too expensive or hard to find. You will need things like playground balls, hula hoops, jump ropes, bean bags, etc. Our co-op is normally free, so I just charged a $5 per student fee to cover the cost of the equipment.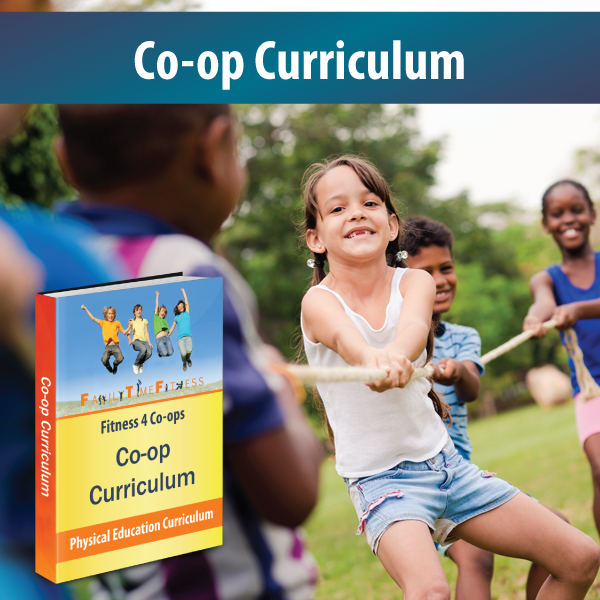 For the most part, the curriculum has worked really well for us. Here are some things that we have liked:
We have had lots of rainy or cold days this year, so we have had a lot of our P.E. classes indoors. Other than that more space for a few of the games would be nice, it works just fine to have the class indoors.
The games are lots of fun for the kids.
I like that they get to experience some of the games and learn some of the skills they would learn in a P.E. class in a traditional school setting.
The kids have gained skills and strength.
They have learned about different sports.
There are YouTube videos for almost all of the exercises, so if you are not sure what the directions tell you to do, you can watch a video to see the correct exercise.
Things that didn't work for us:
A few of the lessons are far too long for a 45-minute long class. For me, this is an easy fix. I'm good at modifying on the fly.
A few things that you could view as a positive or negative:
The kids complain sometimes about the 'harder' activities. These are things like the squats or frog squats, plank pose, push-ups, etc. These activities are not in every lesson. I'm also pretty sure they would complain whether it was here or in a traditional setting. I'm also not sure it is a bad thing for them to work hard…so you can take this one as a negative or a positive that they got a good workout/learned something new.
Our co-op has a majority of girls. The girls (especially the 9+ year old girls) really don't like doing bear crawls. I can totally understand why. They are in a lot of lessons. I just modify and we do crab walks, something else, or just skip it. I guess maybe some people would make them do it, but quite frankly, since I do most of the exercises with them, I don't want to do a bear crawl in front of them either. 😉
Sometimes we are sore the day after our lessons….is this really a negative? Not really in my book. It means we got a real workout, but I think there are some people who think that kids shouldn't be pushed in that way. So, you will have to make up your own mind on this one.
Now that I have put the things that didn't work out there or are a mixed bag, I want to make sure and go back to the fact that I have been very happy with this program. It has worked really well for our mixed gender and age group. I have loved how easy it is for me to plan and teach the class. I just invested some time last summer to pick out the lessons I planned to teach for this year, made a list of needed supplies, purchased the supplies, and now show up every week…mostly on time(not really). Couldn't ask for it to be any easier.
Let's get out there and get fit and raise fit children! I think it is really important to teach our children these skills.