What started as one project turned into two projects…does that ever happen to you? I started trying to organize the wire shelves in my laundry room. I ended up with a DIY cleaning solution for you.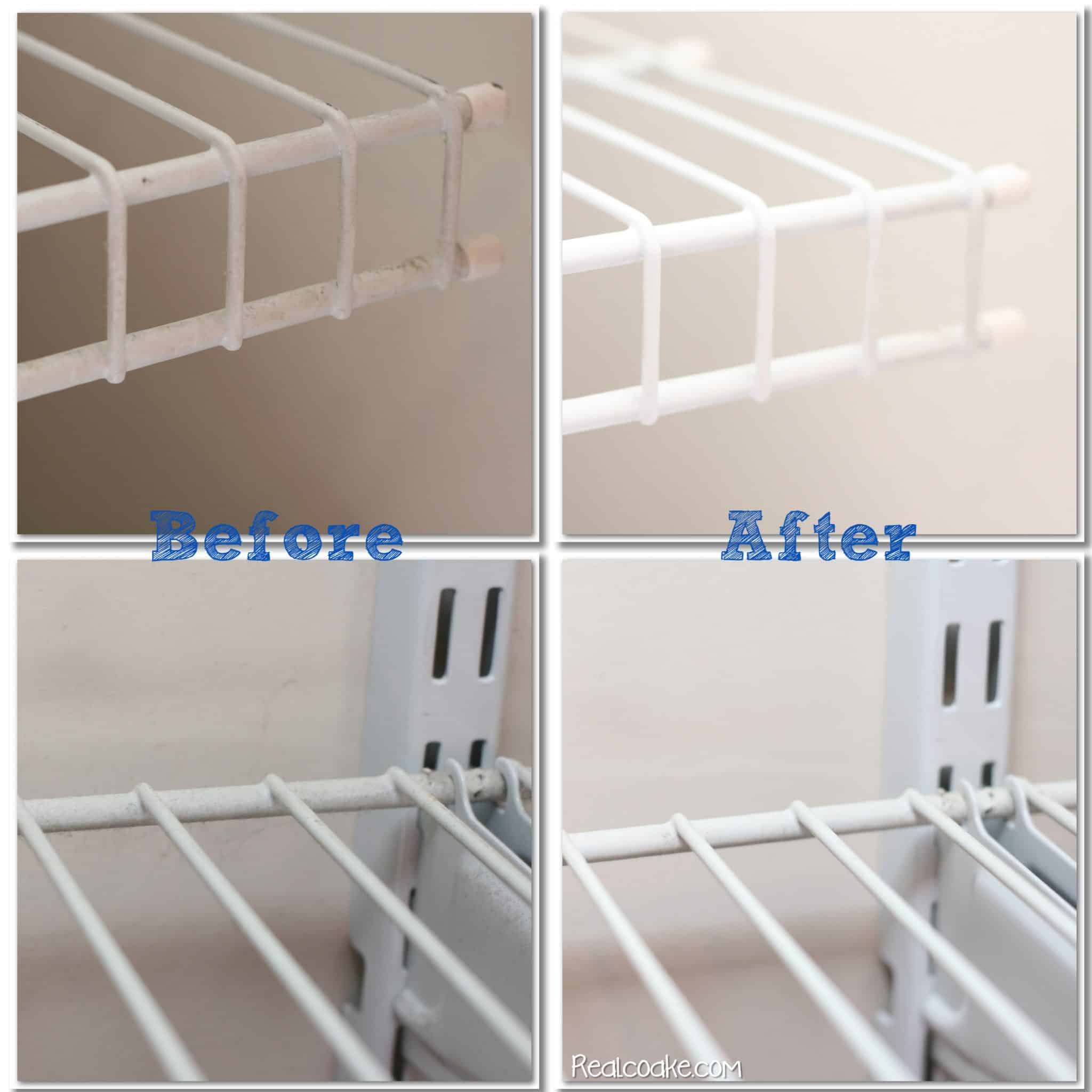 You can see above, the gross dust and dirt that clung to the wire shelving. I had tried dusting it many times, but it never seemed to truly clean the shelves. With a little elbow grease a few supplies I had on hand…you can see I got my shelves all sparkly clean and looking new again. What a difference! Let me show you what I did.

Mostly for this project, you need elbow grease. I found it super helpful to have the all purpose cleaner, rag and the toothbrush. The large brush was somewhat helpful, but not totally necessary.

In my defense (since it looks yucky and I am a little embarrassed to show you the before), we moved into this house 6.5 years ago. It is the longest I have ever lived anywhere as an adult. Anyway, the house had this wire shelving in the laundry room. Not my favorite thing, but it works, so it hasn't been replaced. It was dirty when we moved in, but as I was 9 months pregnant when we moved in, it was left for another day. 6.5 years later, that day finally came. The laundry room has been the most neglected space in our house…it has been fun to clean it a bit and add some life to it.

To clean the shelves, I held my rag underneath to catch drips from the all purpose cleaner. (Mine would drip back behind my washer and dryer and I didn't want another mess to clean up.) Since my shelves were so grimy, I gave them a good dousing with the spray.

A little elbow grease with the toothbrush for this portion of the shelves worked perfectly. For the top portion of the shelves, the rag or the brush worked really well. Use the toothbrush again around the middle wire. It just helps get into those connection points and get it really clean. For my one long shelf, this process took me about 30 minutes. Not too bad.

The result is a shiny clean wire shelf. Doesn't that look much better?

As I said, this was one project that turned into two. My nice clean shelf now needs a little something to make is shine even more.
Next week, I will show you the other part. The picture above is how my laundry room has looked for 6.5 years. It works fine and is organized, but I took it up a notch. Now when I walk into my laundry room, I'm greeted by some fun pops of color and an even more polished, organized look.
Can't wait to show you!