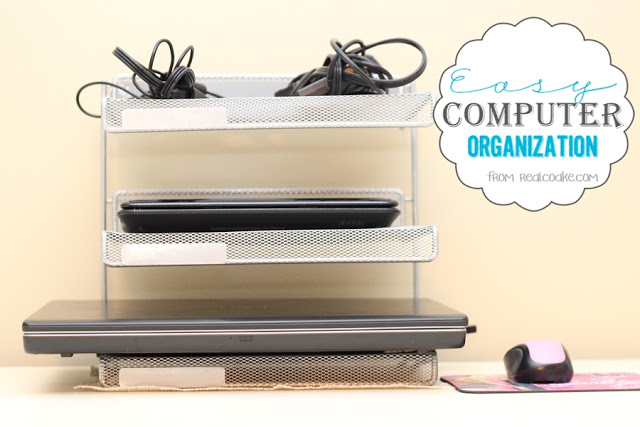 I have got the easiest and most simple tip for organizing your home today. If your house is like my house I'm quite certain you have more than one computer. I have found a simple way to organize the computers when they are not in use. It keeps them easily contained and easily accessible.

We own 3 computers and my husband also has a company issued computer. There are two computers that are for the kids to use. We don't allow them unlimited time and access to the computers. So, when the computers are not in use, I don't want them left around on the floor and/or other places my kids seem to think are good places to leave a computer. I needed to find a place that was 'home' for our computers.

When I was doing our
craft area organization
in our office recently, I rearranged a few things and had an extra desk organizer. It is a sturdy metal desk organizer (
just like this one).

I decided to give it a try as our way to organize our computers. Guess what? It worked.

As you can see, I placed the largest and most heavy computer on the bottom. It is my old 17″ computer. The netbook easily fits on the middle shelf with the power cords neatly bundled on the top shelf. The whole thing sits on top of our craft cabinet which is in our office/craft room. It is the room where the computers get used the most.
It works really well. The kids know where to put the computers away and they do so a lot of the time. The only slight downside is that Pumpkin, my 6 year old daughter, can't reach the computers without one of us helping her. We are OK with that as this is working so well to keep the computers and cords in safe place where we can find them.
See, I told you it was super simple! Do you have a great way to store/organize your computers? Please share…we would love to hear.
More Organizing Ideas for You: